Ryan Giggs
RYAN GIGGS is a Welsh football coach and record-breaking former player for Manchester United and Wales. He was the manager of the Wales national team for 2018-2022 and a co-owner of Salford City.
Giggs played his entire professional career for Manchester United and briefly served as the club's interim manager after the sacking of David Moyes in April 2014.
The son of rugby union and Wales international rugby league footballer Danny Wilson, Giggs was born in Cardiff but moved to Manchester at the age of six when his father joined Swinton RLFC.
Predominantly a left-winger, Giggs began his career with Manchester City, but joined Manchester United on his 14th birthday in 1987.
He made his professional debut for the club in 1991 and spent the next 23 years in the Manchester United first team. He replaced Moyes as manager at the end of the 2013–14 season and was named as assistant manager under Moyes' permanent replacement, Louis van Gaal, in May 2014 when he also retired from playing.
Giggs holds the club record for competitive appearances and is one of the most decorated footballers of all time. During his career at United, he won 13 Premier League winners' medals, four FA Cup winners' medals, three League Cup winners' medals, two UEFA Champions League winners' medals, a FIFA Club World Cup winners' medal, an Intercontinental Cup winners' medal, a UEFA Super Cup winners' medal and nine FA Community Shield winners' medals.
A skilful and dynamic left–footed player, Giggs usually played as a traditional out–and–out left–sided midfielder who would take on opposing defenders, although he was versatile enough to play on either flank.
A quick and technically gifted player, in his prime, his main traits were his speed, acceleration, strength, ball control, flair, dribbling skills and trickery in possession, as well as his vision. He also refined his crossing and passing ability as his career progressed, which made him an excellent assist provider, and saw him take on more of a playmaking role for his team in later years.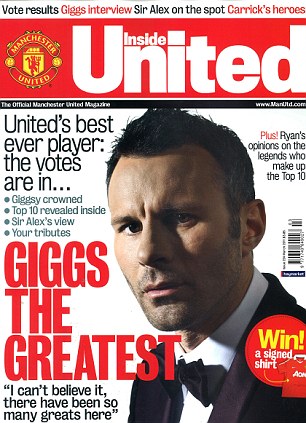 Giggs was the first player in history to win two consecutive PFA Young Player of the Year awards (1992 and 1993), though he did not win the PFA Player of the Year award until 2009. He was the only player to play in each of the first 22 seasons of the Premier League, as well as the only player to score in each of the first 21 seasons.
He was elected into the PFA Team of the Century in 2007, the Premier League Team of the Decade in 2003, as well as the FA Cup Team of the Century. Giggs achieved the record for the most assists in Premier League history, with 162.
He was named as BBC Sports Personality of the Year in 2009. In addition to the many honours Giggs has received within football, he was appointed an OBE in the Queen's 2007 Birthday Honours List for his services to football.
At international level, Giggs played for the Wales national team 64 times between 1991 and 2007, although never at a major international tournament, and was named as the captain of the Great Britain team that competed at the 2012 Summer Olympics. He is one of an elite group of players to have made over 1,000 career appearances.
Giggs was appointed manager of the Wales national team in January 2018, succeeding Chris Coleman, who had left the role to take up the manager's position at Sunderland the previous November. Giggs successfully led Wales to qualify for Euro 2020, following a 2–0 win over Hungary in their final encounter on November 19, 2019.
Giggs was born at St David's Hospital in Canton, Cardiff, on November 29, 1973, to Danny Wilson, a rugby union player for Cardiff RFC, and Lynne Giggs. Giggs is mixed race – his paternal grandfather is from Sierra Leone – and has spoken of the racism he faced as a child.
He grew up in Ely, a suburb of western Cardiff. Giggs spent much time with his mother's parents and playing football and rugby league on the roads outside their house in Pentrebane. In 1980, when Giggs was six years old, his father switched from rugby union to rugby league, and signed for Swinton RLFC, forcing the whole family to move north to Swinton, a town in Salford, Greater Manchester.
The move was a traumatic one, as Giggs was very close to his grandparents in Cardiff, but he would often return there with his family at weekends or on school holidays.
After moving to Salford, Giggs appeared for the local team, Deans FC and was soon recommended to Manchester City. He was signed up to their School of Excellence, but was later offered a trial with neighbours Manchester United over the 1986 Christmas period.
On his 14th birthday, United manager Alex Ferguson turned up at Giggs' house and offered him two years on associate schoolboy forms.
Using the name Ryan Wilson, Giggs captained England at schoolboy level, playing at Wembley Stadium against Germany in 1989. He changed his surname to that of his mother at the age of 16, two years after his parents' separation.
Giggs was given his first professional contract at Old Trafford on his 17th birthday, making his League debut against Everton on March 2, 1991, as a substitute in a 2–0 defeat.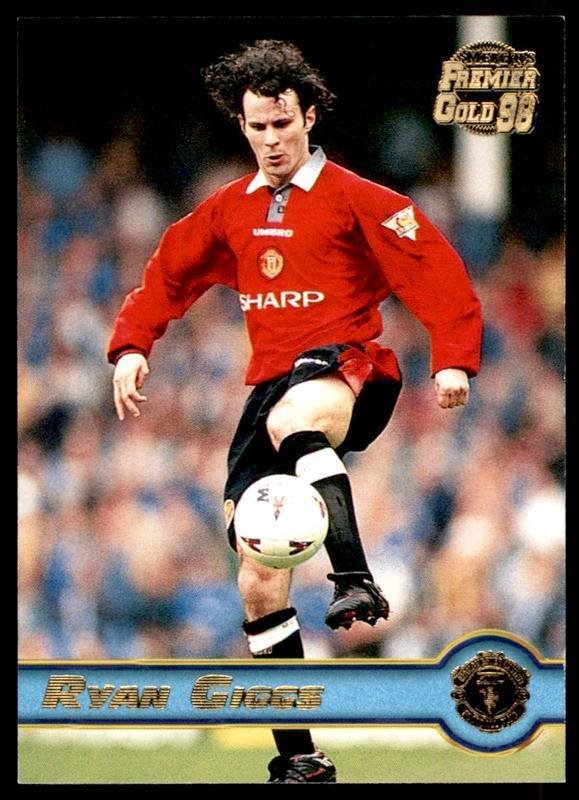 He became a first-team regular early in the 1991–92 season, yet remained active with the youth system and captained the team, made up of many of 'Fergie's Fledglings', to an FA Youth Cup triumph in 1992.
Giggs broke into the first team even though he was still aged only 17, and paved the way as the first of many Manchester United youth players to rise into the first team under Ferguson.
He collected his first piece of silverware on April 12, 1992, as United defeated Nottingham Forest in the League Cup final after Giggs had set up Brian McClair to score the only goal of the game. At the end of the season, he was voted PFA Young Player of the Year.
In the 1992–93 season, Giggs helped United to their first top-division title win for 26 years. His emergence and the arrival of Eric Cantona heralded the dominance of United in the Premier League. Ferguson was protective of him, refusing to allow Giggs to be interviewed until he turned 20, eventually granting the first interview to the BBC's Des Lynam for Match of the Day in the 1993–94 season.
United won the double that season, and Giggs was one of their key players alongside the likes of Cantona, Paul Ince and fellow Welshman Mark Hughes.
Off the pitch, one newspaper claimed Giggs had "single-handedly revolutionised football's image" when he appeared as a teenager "with pace to burn, a bramble patch of black hair bouncing around his puppy popstar face, and a dazzling, gluey relationship between his impossibly fleet left foot and a football."
Despite his aversion to attention, Giggs became a teenage pin-up and was once described as the "Premiership's first poster boy". He was hailed as the first football star to capture the public imagination in a way unseen since the days of George Best.
At the end of the 1993–94 season, Giggs won a second title in a row, and became the first player in history to win two consecutive PFA Young Player of the Year awards. He proved to be a scorer of great goals, with many of them being shortlisted for various Goal of the Season awards.
In 1995–96, Giggs played a vital part in United's unique second 'double' and was in the side for their FA Cup final win over Liverpool.
The highpoint in the 1998–99 season was when Giggs set up the equalising goal scored by Teddy Sheringham in the 1999 UEFA Champions League Final that set United on their way to the 'treble'.
Giggs continued to excel and United were Premier League champions in three of the four seasons following the treble, as well as reaching the UEFA Champions League quarter-finals three times and the semi-finals once.
Giggs celebrated his 10-year anniversary at Old Trafford with a testimonial match against Celtic at the start of the 2001–02 campaign. On August 23, 2002, he bagged his 100th career goal in a draw with Chelsea at Stamford Bridge.
The 2002–03 season saw Giggs play one of his most memorable games, in a 3–0 victory against Juventus. After coming on as a substitute in the eighth minute, Giggs scored twice, including a strike that would later be heralded as one of his greatest goals and one of his finest Champions League moments.
In November 2003, he was found guilty of improper conduct by the FA due to his behaviour during the 'Battle of Old Trafford' game against Arsenal (one of two United and six Arsenal players charged over the incident); Giggs received a £7,500 fine, but avoided suspension.
He played in his fourth FA Cup triumph on May 22, 2004, making him one of only two players (the other being Roy Keane) to have won the trophy four times while playing for the club.
He was inducted into the English Football Hall of Fame in 2005 in recognition of his contribution to the English game and, as his career progressed, Giggs abandoned his position on the left wing for a more central role.
On May 6, 2007, with Chelsea only able to manage a 1–1 draw with London rivals Arsenal, United became the champions of England. In doing so, Giggs set a new record of nine league titles, beating the previous record of eight he shared with Alan Hansen and Phil Neal (who won all of their titles with Liverpool).
Giggs scored his 100th league goal for United against Derby County on December 8, 2007, as United won 4–1. More landmarks were achieved; on February 20, 2008, he made his 100th appearance in the UEFA Champions League in a game against Lyon and three months later he came on as a substitute to equal Sir Bobby Charlton's record of 758 appearances for United. Giggs scored the second goal in that match, sealing his, and United's, 10th Premier League title.
Just 10 days later, on May 21, 2008, Giggs broke Charlton's appearance record for United when coming on as an 87th-minute substitute in the Champions League final against Chelsea. United won the final, defeating Chelsea 6–5 on penalties after a 1–1 draw in extra time, with Giggs converting the winning penalty in sudden death.
In April 2009, Giggs received the PFA Player of the Year award, despite having started just 12 games in the 2008–09 season, the accolade seen largely as recognition of Giggs' long-term contribution to the game. The following month, United won the Premier League yet again after a goalless draw with Arsenal, both United's and Giggs' 11th Premier League titles.
On the eve of his 36th birthday, Giggs scored his 100th Premier League goal for United – netting the final score in a 4–1 victory over Portsmouth at Fratton Park, and becoming only the 17th player to reach the milestone in the Premier League.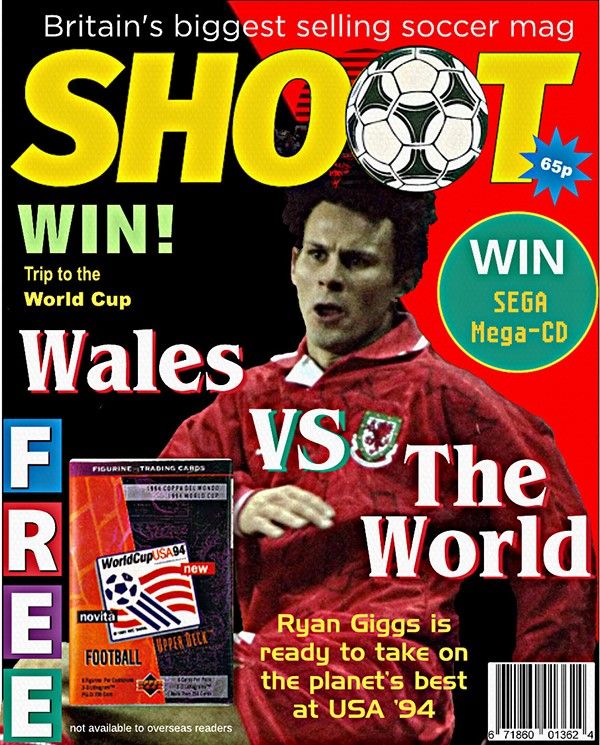 Giggs went on to surpass countryman Gary Speed's outfield record of 535 Premier League games and, at the end of 2009, he was named the Manchester United Player of the Decade.
In March 2011, Giggs surpassed the United league appearance record of Bobby Charlton by playing his 607th game against Liverpool and, on February 26, 2012, he made his 900th United appearance in a 2–1 away win against Norwich City. He marked the occasion by scoring the winning goal in the 90th minute and, after the match, Alex Ferguson told BBC Sport he believed that a player playing in 900 games for one club "won't be done again".
Giggs went on to make his 1,000th competitive appearance in a 2–1 home loss to Real Madrid in the second leg of the round of 16 of the UEFA Champions League before announcing his retirement from professional football on May 19, 2014, in an open letter to all United fans posted on the club website, when he took up the post of United assistant manager.
On the international front, Giggs maintained that he would always have chosen to play for Wales ahead of England. He stated in 2002: "I'd rather go through my career without qualifying for a major championship than play for a country where I wasn't born or which my parents didn't have anything to do with".
In his one year with the England Schoolboys team, Giggs played nine times, all as captain, winning seven matches and losing twice.
Among the wins was a 4–0 victory over his Welsh peers, many of whom he would play alongside when he made the step up to the Welsh youth team the following year.
In May 1991, Giggs made his debut for the Wales Under-21s, a 2–1 victory over Poland in Warsaw. It would turn out to be his only appearance for the team, as he received a call-up to the senior team later that year.
Giggs made his international debut away to Germany in October 1991, coming on as an 84th-minute substitute at the age of 17 years, 321 days to become the youngest player to appear for the Welsh senior team.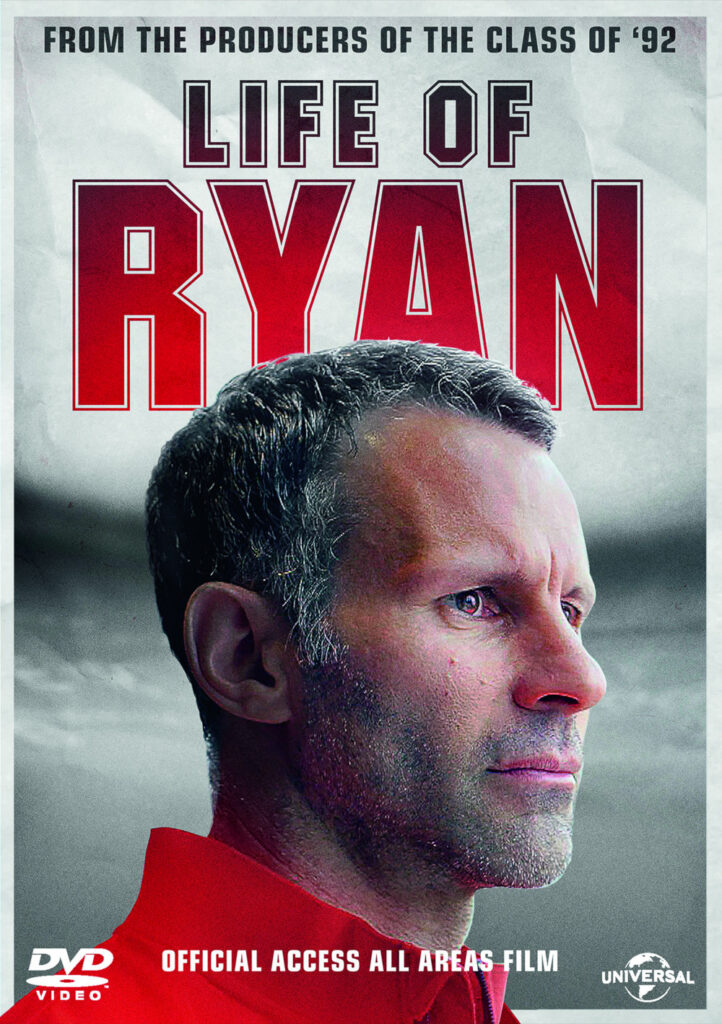 Wales were still in contention to qualify for UEFA Euro 1992 before the game, but a 4–1 victory for the Germans, who went on to win their remaining games against Belgium and Luxembourg, meant they qualified at Wales's expense.
Giggs' first senior goal for Wales came on March 31, 1993, in a 3–0 win over Belgium in Cardiff in a World Cup qualifying game, the same match in which Ian Rush scored for Wales for a record 24th time.
Following his international debut, Giggs missed 18 consecutive friendly games before finally making his first friendly appearance for Wales against Finland in March 2000, by which time he had already accrued 25 caps.
The reason for his continued absence from non-competitive fixtures was largely a protective measure against unnecessary injuries; in his autobiography, Giggs stated: "At that time, whenever I played two games in one week I always seemed to pick up an injury, so [Alex Ferguson] and I sat down and looked at it game by game. If the international was a friendly, the feeling was that I didn't have to play."
Regardless, his regularly withdrawing from Wales squads and routinely missing friendlies left him open to criticism from fans and the media.
In a qualifier against England for the 2006 FIFA World Cup at Old Trafford where Wales lost 2–0, Giggs played against some present and former Manchester United team-mates including David Beckham, Gary Neville, and Wayne Rooney.
During a 2006 World Cup qualifier against Azerbaijan on October 12, 2005, Giggs scored a rare double in a 2–0 win, but Wales failed to reach the play-offs.
In September 2006, he played in a friendly against Brazil at White Hart Lane where Wales lost 2–0. Brazil coach Dunga complimented Giggs' performance by stating he would not look out of place playing for the five-time world champions alongside stars such as Kaká and Ronaldinho.
Giggs announced his retirement from international football on May 30, 2007, at a press conference held at The Vale of Glamorgan Hotel, drawing the curtain on a 16-year international playing career. He cited concentrating on his United career as the main reason for stepping down.
His final game for Wales, and as captain, was the Euro 2008 qualifier against the Czech Republic on June 2 at Cardiff. He earned his 64th cap in this game and won the Man of the Match award as Wales drew 0–0.
Giggs was confirmed as one of three over-age players selected for Great Britain to compete at the 2012 Summer Olympics alongside Craig Bellamy and Micah Richards, and he was subsequently named team captain.
He scored with a header against the United Arab Emirates in a 3–1 win on 29 July to become the oldest goal-scorer in the football competition at the Summer Olympics at the age of 38 years and 243 days, beating an 88-year-old record.
Giggs was appointed as a player-coach at Manchester United on July 4, 2013, as part of the coaching staff under new manager Moyes. When Moyes was sacked after less than 10 months in the job, Giggs took over as the club's interim player-manager, compiling a record of two wins, a draw and a defeat in the final four games of the 2013–14 season.
When Louis van Gaal was announced as Moyes' permanent replacement in May 2014, Giggs was also appointed as Van Gaal's assistant manager.
Giggs announced his departure from the club on July 2, 2016, and was appointed manager of the Wales national team at the start of 2018. During the 12-month period from September 6, 2019, to September 6, 2020, Wales embarked on an unbeaten run of six wins and two draws to rise to 21st in the FIFA World Rankings.
Giggs features in EA Sports' FIFA video game series, and was selected to appear on the cover of FIFA Football 2003 alongside Dutch international midfielder Edgar Davids and Brazilian international full-back Roberto Carlos. Giggs was included in the FIFA 16 and 17 Ultimate Team Legends.
In August 2006, Giggs became an ambassador for UNICEF UK, in recognition for his work with Manchester United's 'United for UNICEF' partnership with the children's organisation.
Giggs married his long-time partner, Stacey Cooke, in a private ceremony on September 7, 2007. They have two children, but were divorced in 2017.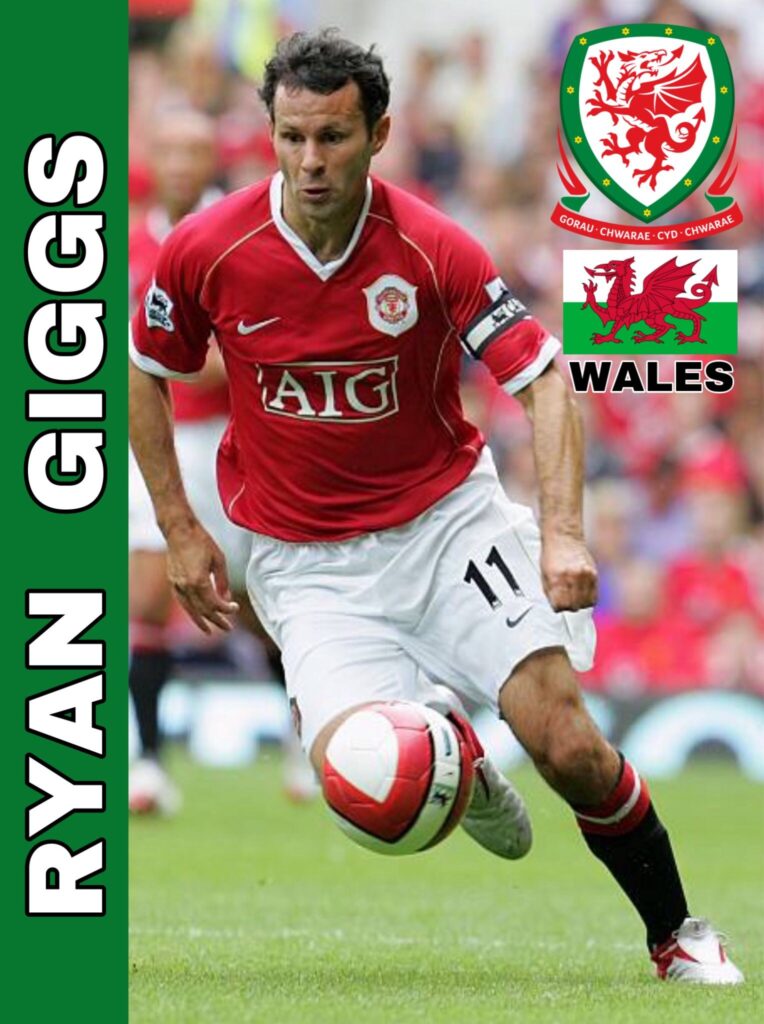 In 2008, the National Library of Wales paid around £10,000 for Peter Edwards's portrait of Giggs to be hung at their headquarters in Aberystwyth.
In 2014, it was announced that Giggs, along with fellow Manchester United legends Gary Neville, Paul Scholes, Nicky Butt and Phil Neville, had agreed a deal to purchase Salford City ahead of the 2014–15 season, with plans to get the club to the Football League.
Salford gained promotion from the National League in the 2018–19 season.
BACK TO HOME PAGE