Did Ewe Know?
WALES is full of surprises. Here are some things that ewe might not know…
There are four times more sheep than people in Wales.
Wales is believed to have more castles per square mile than anywhere else in the world. One hundred castles still stand to this day, making Wales the most heavily fortified place on Earth.
Wales is the land of the mythical King Arthur, the famous Romano-British leader fighting against the invading Anglo-Saxons. Arthur's fortress, Camelot, is placed by both Geoffrey of Monmouth and Chrétien de Troyes in Caerleon, the site of one of three Roman legionary forts in Britain. Caerleon possesses the only surviving Roman barracks in Europe.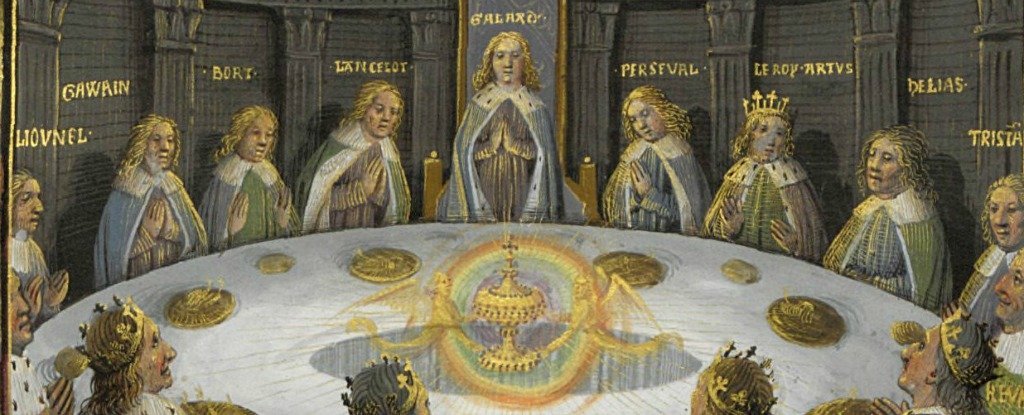 Since 1844, the Royal Welch Fusiliers have had a goat as part of their troops… with all the rights and privileges that came with the rank the goat possessed. Until his death in 2015, a goat called Taffy was officially known as Lance Corporal Gwillam Jenkins, which meant he was saluted by lower ranks and had his own quarters.
Many caves on the Pembrokeshire coast (such as Tobacco Cave) are known by the goods that were once smuggled by Welsh pirates such as Henry Morgan and Black Bart. Pembrokeshire-born Bartholomew Roberts is thought to have been the first pirate to name his flag 'Jolly Roger', in June 1721.
At 9.15am on Friday, October 21, 1966 — the last day before half-term — 150,000 cubic meters of mining waste broke away from the rain-soaked Tip Number Seven above the village of Aberfan in the Welsh valleys and flowed downhill at avalanche speeds. It swamped houses on the hills and buried Pantglas Junior School, killing 116 children, all under 10 years old. Another 28 adults lost their lives, including five teachers.
Mount Everest was named after Welsh surveyor and geographer Sir George Everest, from Gwernvale, Breconshire.
The town of Llanfairpwllgwyngyllgogerychwyrndrobwllllantysiliogogogoch is located in north Wales and translates as 'The church of St Mary in the hollow of white hazel trees near the rapid whirlpool by St Tysilio's of the red cave'. It is considered to be the longest place name in the world.
The capital city, Cardiff was the first UK city to be twinned with a Chinese city, Xiamen in 1983. Today, Cardiff is also twinned with Stuttgart (Germany), Baltimore (USA), Nantes (France), Hordaland (Netherlands), and Lugansk (Ukraine).
The last British person to die in World War I was said to have been a Welshman, as was the last man to suffer capital punishment in the UK.
Welsh mathematician Robert Recorde (c 1512-1558), of Tenby, invented the equals sign (=), and introduced the plus (+) and minus (-) signs as well as algebra to Britain.
At least 22% of the natives of Wales are able to speak or read the Welsh language, with 750,000 people claiming a self-reported competence in their ancestral tongue. Schools in Wales have been obliged to teach Welsh since 2000.
The letters K, Q, V and Z do not appear in the Welsh alphabet.
The Welsh national anthem is 'Hen Wlad Fy Nhadau', which means 'Land Of My Fathers'. The Welsh motto, 'Cymru am byth', means 'Wales forever'.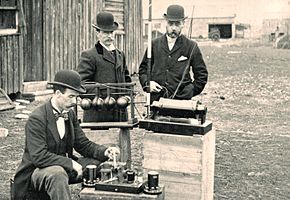 Marconi's first radio transmission on May 13, 1897 was between two points in Wales. A message was transmitted over the Bristol Channel from Flat Holm Island to Lavernock Point in Penarth, a distance of 6 kilometres (3.7mi). The message simply read: "Are you ready?".
Saint David (in Wales 'Dewi Sant') was a Welsh Bishop during the 6th Century, later regarded as a saint and as the Patron Saint of Wales.
Mount Snowdon (or Yr Wyddfa), is the highest peak in Wales at 1,085m (3,560ft).
The Great Glasshouse at the National Botanic Garden of Wales in Llanarthne, Carmarthenshire, is the world's largest single-span glasshouse. It measures 95 metres (312ft) on 55 metres (180ft) and houses over 1,000 species of plants.
Wales was ruled by England from the year 1284 and officially incorporated into England by the 'Laws in Wales Acts 1535 and 1542' or 'Act of Union'. To symbolise this unification of the two countries since 1301, the Crown Prince of England has been referred to as the Prince of Wales.
Wales is often termed 'the land of song'. The country is particularly renowned for its harpists, male voice choirs and solo artists.
Major Walter Clopton Wingfield is generally credited with inventing lawn tennis when, in 1873, he designed and patented a similar game for his guests to play on his Nantclwyd House estate, in Llanelidan, Denbighshire.
The original national emblem of Wales was the Leek (Welsh: Cenhinen), but over the years this was often confused with a very similar Welsh word Cehhinen Bedr which means daffodils and so the daffodil was adopted as a second emblem of Wales.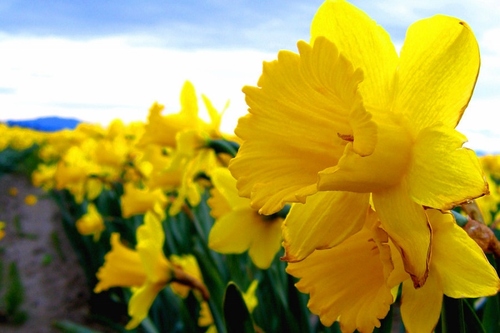 The medieval St Donat's Castle was purchased in 1925 by newspaper magnate William Randolph Hearst for his mistress, the actress Marion Davies. He spent a fortune renovating the castle and turning it into one of the most lavish residences in the country, entertaining such guests as Charlie Chaplin, Arthur Conan Doyle, Winston Churchill, John F Kennedy, Bob Hope and George Bernard Shaw. Since 1962, the castle has housed the Atlantic College, the first of the United World Colleges.
In the 1970s Hay-on-Wye turned into the world's first Book Town and plays host to Europe's largest annual second-hand book market.
The Brecon Beacons National Park shelters Europe's largest cave system, Mynydd Llangatwg, Britain's longest and largest showcave, Dan-yr-Ogof, as well as Britain's deepest cave, Ogof Fynnon Ddu (308m/1,010ft).
With a population of around 2,000 St David's in Pembrokeshire is the smallest cathedral city in the world. It is also the only city in Britain that lies entirely within a national park.
The Merthyr Mawr Sand Dunes were once the largest dune system in Europe. They were chosen as the shooting location for the 1962 film Lawrence of Arabia.
Cardiff, Wales's capital city, used to be the world's biggest exporter of coal and iron. When it opened in 1839, the West Bute Dock was the largest masonry dock on the planet. The city's Coal Exchange, established in 1886, used to determine the price of the world's coal.
The Royal Mint of the United Kingdom has its headquarters at Llantrisant, near Cardiff. As well as coins, the Royal Mint produce around 4,700 gold, silver and bronze medals for the London 2012 Olympic and Paralympic Games.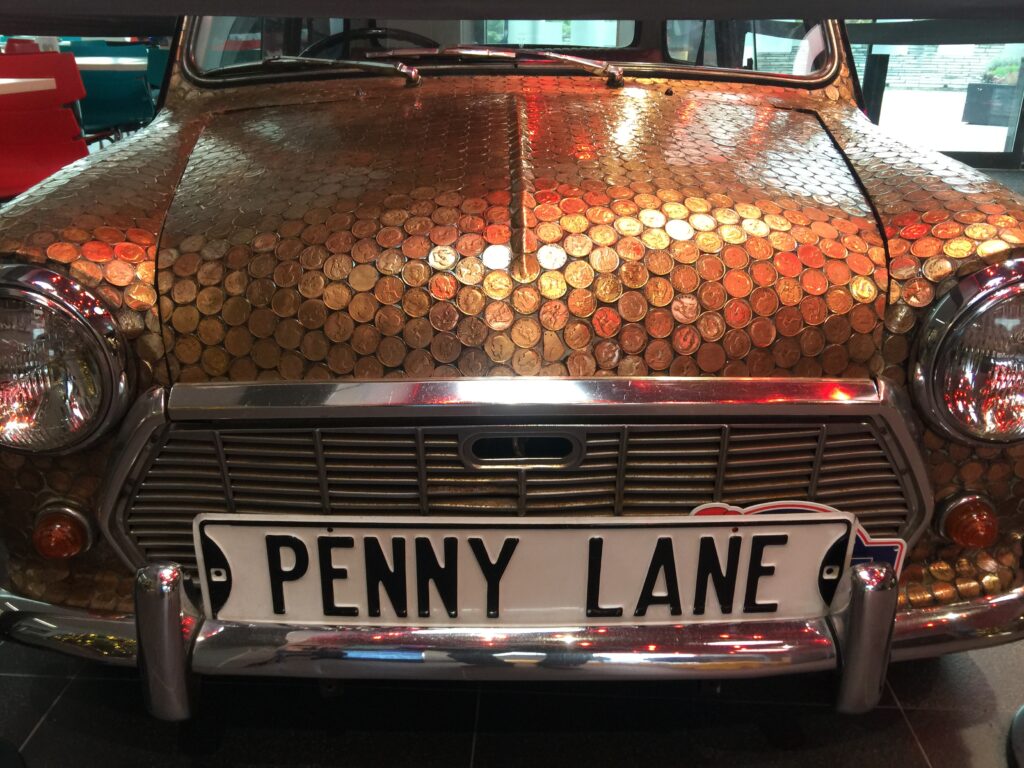 In 1804, the world's first railway steam locomotive, 'The Iron Horse', launched on its inaugural journey from from Penydarren to Abercynon in Glamorgan.
The world's first fare-paying, passenger railway service was established on the Oystermouth Railway in Swansea in 1807. It later became known as the Swansea and Mumbles Railway.
The National Eisteddfod of Wales, a festival of literature, music and performance held in the Welsh language, is the largest festival of competitive music and poetry in Europe.
Typically, Welsh surnames are given names ending in '-s', such as Williams, Davies, Jones, Edwards, Roberts, Hughes, Lewis, or Evans. More traditional surnames include Owen, Lloyd, Morgan, Vaughan, Jenkins, Meredith or Griffith(s).
The Welsh national rugby team has been known to field as many as five Joneses, none of whom are related, in its starting line-up. Welsh villages used to have so many Joneses that they would commonly distinguish them by adding an occupation to the name: Jones the Shop, Jones the Steam, Jones the Post etc.
Notable Americans of (at least partial) Welsh descent include presidents Thomas Jefferson, James Madison, James Monroe, John Quincy Adams, Abraham Lincoln, Calvin Coolidge, but also William Penn (who founded Pennsilvania), Jack Daniel (founder of the homonymous whiskey), JP Morgan (bank & securities), architect Frank Lloyd Wright, aviator and film producer Howard Hughes (whose life was immortalised in the Academy Award-winning movie 'The Aviator'), senator Hillary Rodham Clinton, and Hollywood actor Tom Cruise.
Famous Welsh actors and actresses include Richard Burton, Anthony Hopkins, Timothy Dalton, Christian Bale, Michael Sheen and Catherine Zeta-Jones, as well as Monty Python comedian and film director Terry Jones. Other well-known Welsh people include explorer Henry Morton Stanley, poet Dylan Thomas, former British Prime Minister David Lloyd George, father of the National Health Service Aneurin Bevin, singers Tom Jones, Shirley Bassey, Katherine Jenkins and Charlotte Church and designers Laura Ashley and Mary Quant.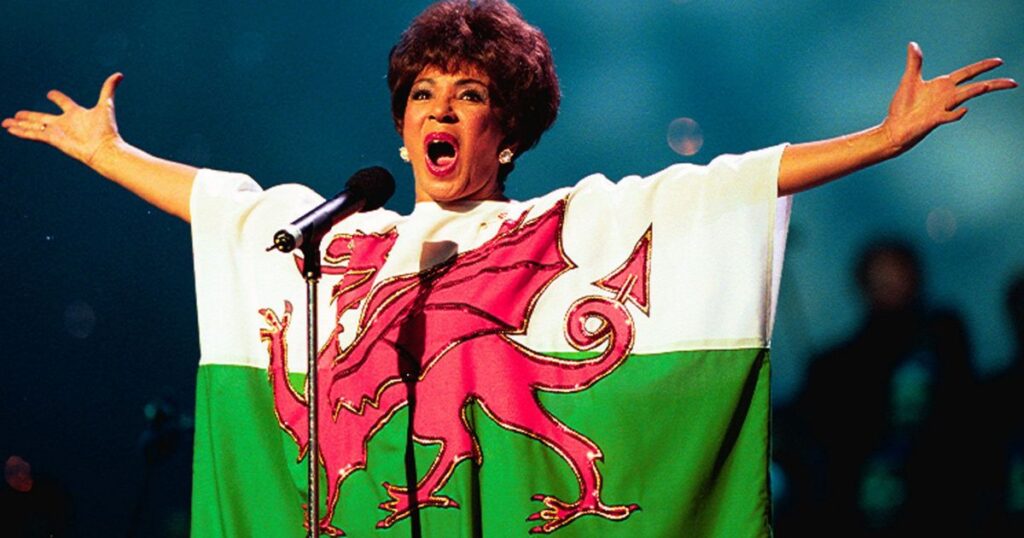 Wales was heavily industrialised during the 18th and 19th centuries, with many communities in South Wales relying on the coal mining industry. When the Conservative Government began to cut back the nationalised industry in 1981, they backed down in the face of a strong challenge from the NUM (National Union of Miners). However, by 1983 the Government pushed ahead and the Welsh miners came out on strike on 5 March, 1984; they returned to work on 3 March, 1985.
In 1999, the Welsh band Super Furry Animals released an album (Mwng) that was entirely in the Welsh language. It was the first all-Welsh album to reach the Top 20 and the NME (New Musical Express) voted it number 11 in their top albums of the year 2000.
Welsh is spoken in areas of Argentina and Chile. Welsh settlers brought the language with them in 1865 and their descendants continue to speak Welsh (combined with some Spanish words too). The original settlers were Welsh nationalists who emigrated because they felt that their culture and language were under threat in their native land.
Famous Welsh footballers over the years include John Charles, John Toshack, Gary Speed, Ian Rush, Ryan Giggs, Gareth Bale, Aaron Ramsey and Daniel James.
Wales has produced several world-class participants of individual and team sports including snooker players Ray Reardon, Terry Griffiths, Mark Williams and Matthew Stevens. Track athletes who have made a mark on the world stage include hurdler Colin Jackson and Paralympian Tanni Grey-Thompson. Champion cyclists include Nicole Cooke and 2018 Tour de France winner Geraint Thomas.
Wales has a tradition of producing world-class boxers. Joe Calzaghe was WBO world super-middleweight champion and then won the WBA, WBC and Ring Magazine super-middleweight and Ring Magazine light-heavyweight titles. Other former boxing world champions include Enzo Maccarinelli, Freddie Welsh, Howard Winstone, Percy Jones, Jimmy Wilde, Steve Robinson and Robbie Regan. Tommy Farr, the 'Tonypandy Terror', came close to defeating world heavyweight champion Joe Louis at the height of his fame in 1937.
Wales has hosted several international sporting events. These include the 1958 Commonwealth Games, the 1999 Rugby Union World Cup, golf's Ryder Cup in 2010 and the 2017 UEFA Champions League Final.
White Castle, a ruined castle near the village of Llantilio Crossenny in Monmouthshire, shares its name with an American regional hamburger restaurant chain with 377 locations across 13 states.
Monty Python funnyman Terry Jones, a member of the Campaign for Real Ale, had interest in real ale and in 1977 co-founded the Penrhos Brewery, a microbrewery at Penrhos Court at Penrhos, Herefordshire, which ran until 1983.
TE Lawrence, archaeologist, army officer, diplomat, writer and the subject of the 1962 film Lawrence of Arabia, starring Peter O'Toole, was born in Tremadog, north Wales.
From 2014, the Welsh government has donated a fruit tree to families in Uganda for every child born or adopted in Wales. In 2008, the 'Plant!' scheme was announced, which would celebrate the birth or adoption of a child in Wales by planting a tree. With an aim to create new woodlands for future generations, it was already a magnificent scheme, but it became even better with the changes in April 2014. In Uganda, fruit trees are planted because they can provide vital fruit and timber in a region which has been decimated by deforestation. (credit: The Fact Site)
Between April 25-26, 1986, Reactor Number 4 at the Chernobyl Nuclear Power Plant went into meltdown. Located in the since-abandoned Ukrainian town of Pripyat, the doomed reactor spewed a huge plume of radioactive debris and smoke into the atmosphere. It is estimated that the explosion released about four hundred times more radioactive material into the atmosphere than both the bombing of Hiroshima and Nagasaki combined. The effects were felt severely 1,600 miles away in Wales, which experienced heavy rain as the radioactive cloud passed over it. Due to the radioactive particles becoming locked in upland peat in these areas, the sheep that grazed on them had to be monitored by their farmers. Before being moved down from the high ground for sale, the sheep had to be tested for levels of Caesium-137 by the FSA. The final 'Mark and Release' restrictions were only lifted on the last 327 Welsh sheep farms in 2012, bringing to an end the uncertainty of contaminated Welsh lamb. (credit: The Fact Site)
The Llangernyw Yew located in the churchyard of St Digain's Church in the village of Llangernyw, Conway, Wales is said to be one of the oldest living trees, aged between 4,000-5,000 years-old. The tree has its own certificate that was issued by English botanist David Bellamy, confirming its age. The Llangernyw Yew appears in Welsh mythology as the place where the spirit called Angelystor (Recording Angel) will appear each Halloween to tell the village who will die next. (credit: The Fact Site)
The world's biggest ever recorded turtle was a leatherback turtle that washed up on Harlech Beach, Wales, in 1988. It was estimated to be 100 years-old, and was almost nine feet in length, weighing a tumultuous 2,016lb. (credit: The Fact Site)
When Golden Wonder launched Pot Noodle meals in the United Kingdom (based on cup noodle products that were already popular in Japan), the food organisation's factory in Crumlin, near Caerphilly, south Wales, was the site chosen to produce the minimal-effort, meal-in-a-tub when it was unleashed upon the British public in 1977 – and they're still made there today.
BACK TO HOME PAGE