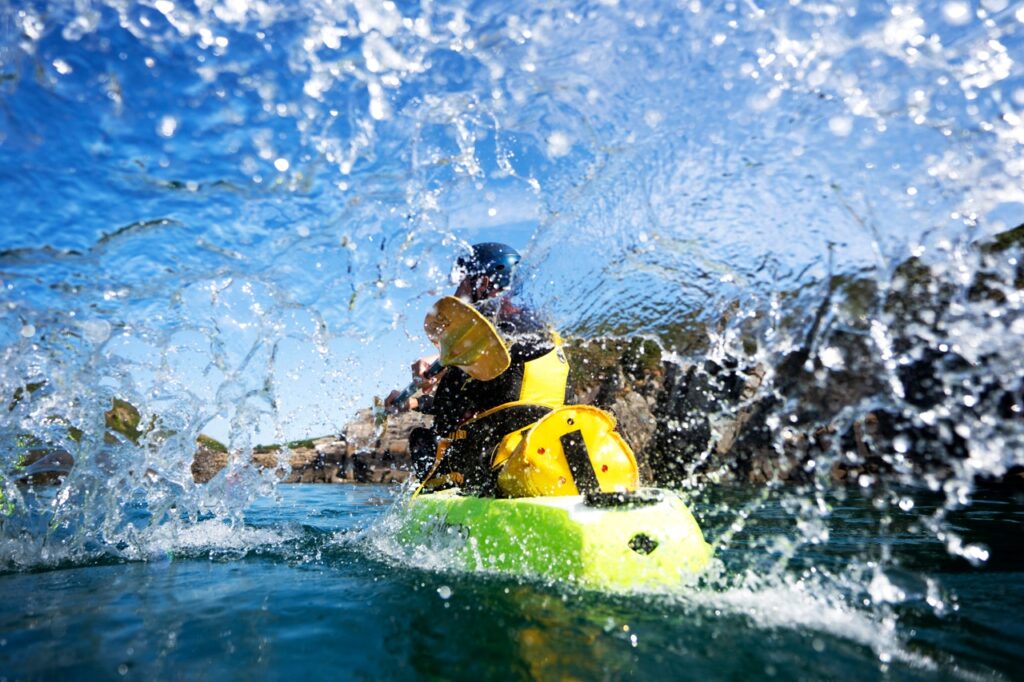 Adventure Wales
WALES has so much to offer the more adventurous spirits, the home for everything from abseiling to zip lining. Whether messing about in boats is your kind of thing, getting your walking boots on, or seeking that adrenaline rush, Wales has it all.
With its picturesque hills, valleys and mountains, stunning coastal path, clean, clear waters and strikingly beautiful landscapes, Wales is a country full of surprises and hidden gems.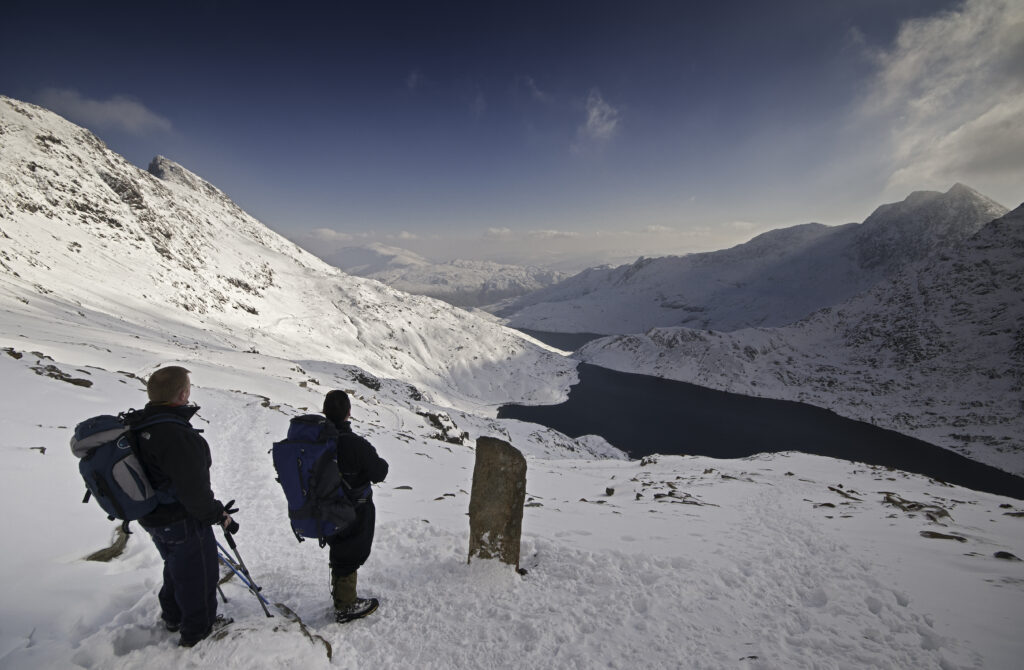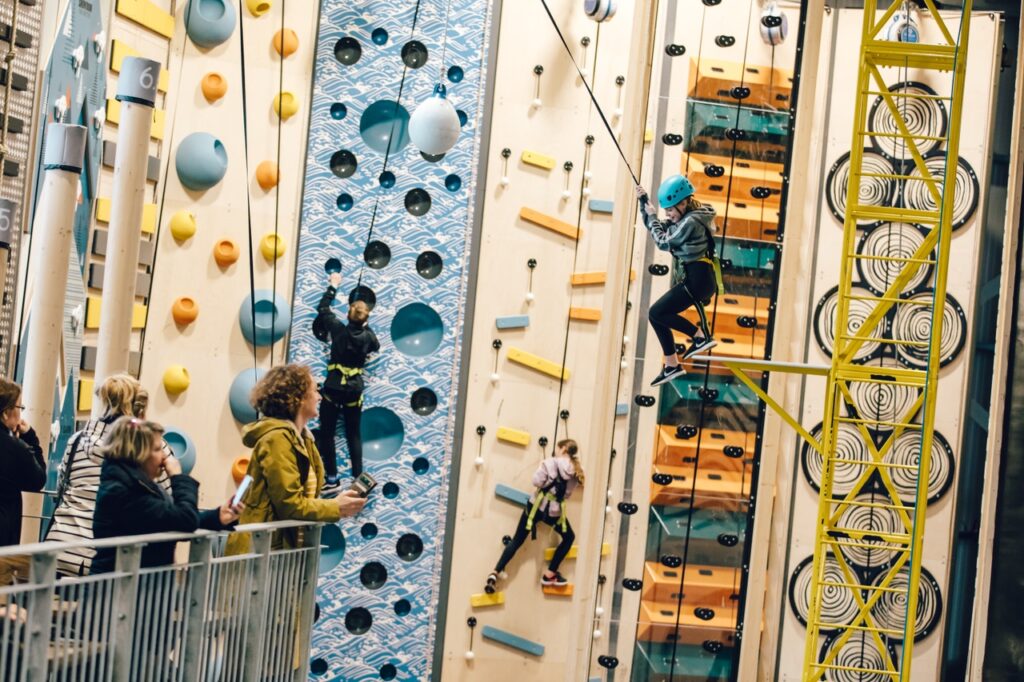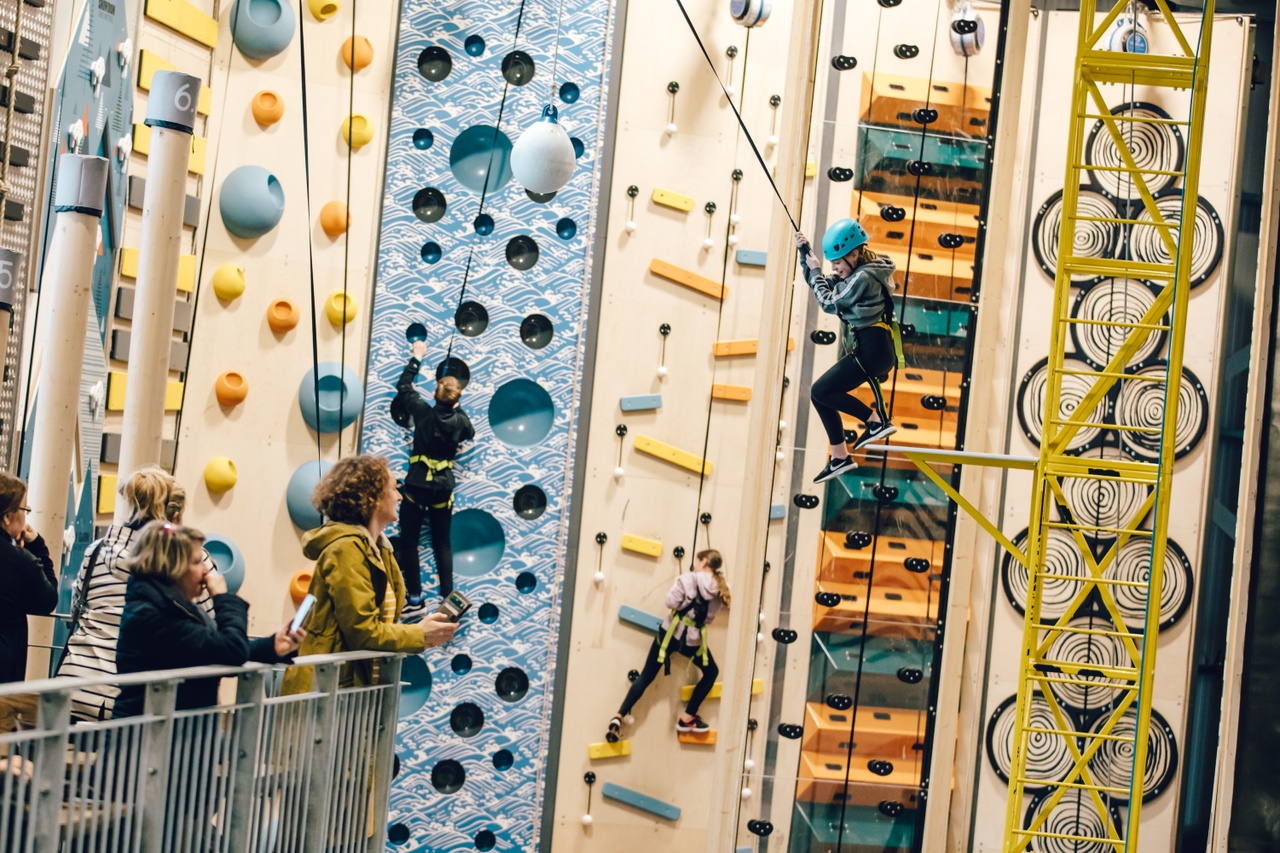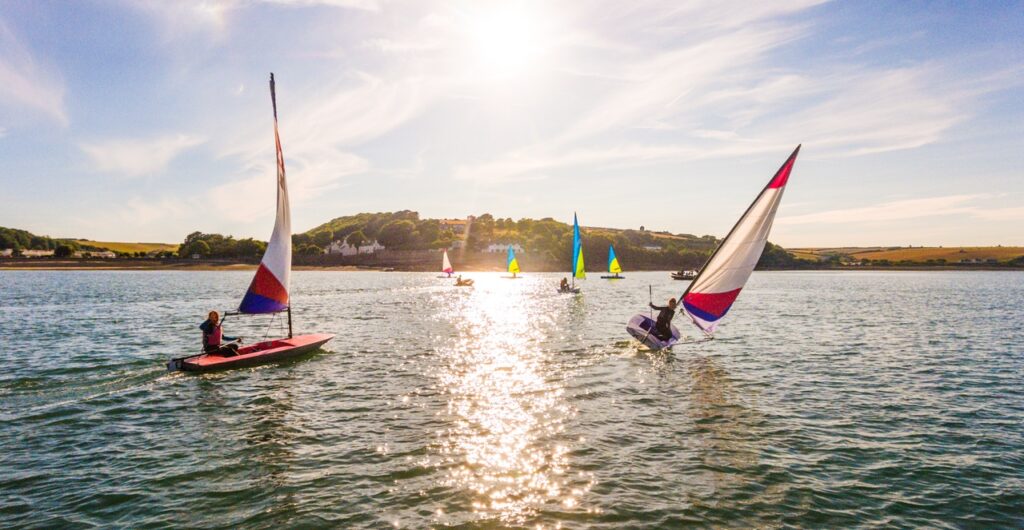 So, let's take a look at some of the activities that bring adventure-seekers from far and wide to Wales:

CANYONING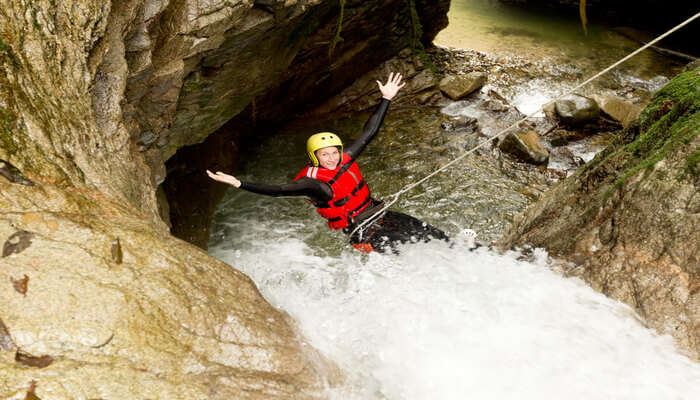 Canyoning In Wales
Check out the most awesome places in Wales for your canyoning adventure that will leave you asking for more. See all options and pick the ones that best suit the type of difficulty level you're comfortable with.
Brecon Beacons National Park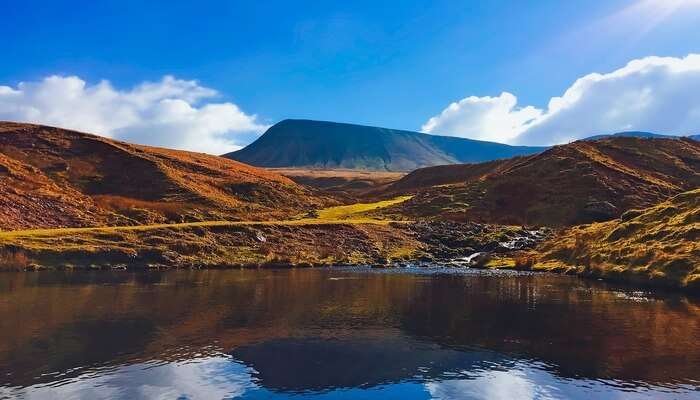 A famous area for canyoning in south Wales, Brecon Beacons National Park, gathers an immense crowd during winter and spring. The National Park area has perfect surroundings and ravines at its edge. The extremity of this area for canyoning and conditions is such that you can never find anywhere else in the whole of the United Kingdom. This place is home for many waterfalls and tall Welsh mountains that individually are also famous amongst canyoners.
Location: South Wales
Level: Advanced
Snowdonia National Park
For canyoning in the north of Wales, you should go for Snowdonia National Park, which is a popular area for climbing and mountain biking as it has Mount Snowdon in the midst, with steep and alpine terrain. The ground is such because it was structured by glaciers. In it, you will find u-shaped gorges and rivers that flow extremely fast. If you are an extreme level thrill-seeker, this is your destination.
Location: North Wales
Level: Intermediate to Advanced
Afon Ddu Gorge
Canyoning in Wales doesn't have to be all high-level adventure junkie spots. Within Snowdonia is Afon Ddu, a canyon where you can organize parties and enjoy beginner-level canyoning. Afon Ddu is defined as a scramble heading up-river or a regular descent. Apart from the ravine, you will find a mesmerizing waterfall and pool of a perfect size to plunge in that is a pure adrenaline rush.
Location: Snowdonia, north Wales
Level: Beginner to Intermediate
Mount Snowdon
The most cherished and treasured possession of Snowdonia National Park is Mount Snowdon itself. It is also among the UK's and Ireland's five highest peaks. The nature here is glacial and set perfectly in the full seating of this mountain. The weather can be unpredictable in this region, which can make it dangerous, so always go fully prepared. The terrain is rocky, and you will also find sharp end ridges, making it fit for mountaineering but only for experienced climbers.
Location: Snowdonia
Level: Advanced
Sgwd Einion Gam Falls
In one part of the Brecon Beacons National Park, you will find a landscape that is steep and through which water is flowing to the lower part so effortlessly. This whole waterfall is created by mudstone and sandstone, offering you gorgeous pools and gorges. Sgwd Einion Gam affords you the best canyoning in Wales; this fall has a good 70ft drop.
Location: Brecon Beacons, south Wales
Level: Intermediate to Advanced
Sgwd Yr Eira Falls
Sgwd Einion Gam falls offers the thrill of an advanced degree in the Brecon Beacons region with that 70ft drop, but there are less extreme ones as well that are around 20ft or less. You can walk around Sgwd yr Eira falls because it is quite shallow. This gives an opportunity of soaking in the environment and fully enjoying this stunning fall.
Location: Brecon Beacons
Level: Beginner to Intermediate
Vale of Neath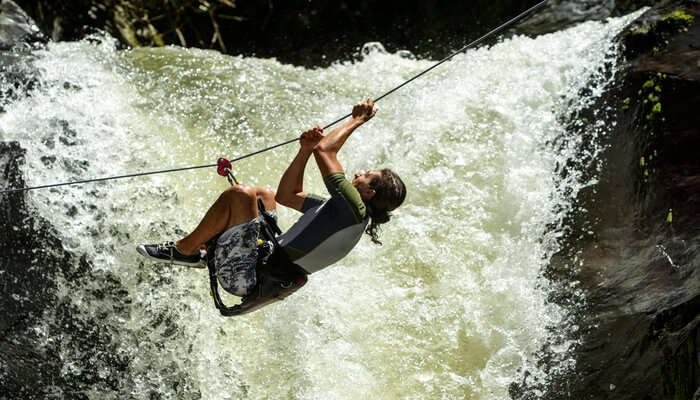 A hidden gem of the Brecon Beacons, this experience in south Wales can be your best canyoning tour in Wales. Vale of Neath is nestled at the southern edge of the National Park and is a breathtaking experience in waterfall country. Situated around the river Neath, the river's tributaries merge here to form an incredibly gorgeous series of waterfalls that are loved by every canyoner.
Location: Brecon Beacons
Level: Beginner to Intermediate
Coed y Brenin Forest Park
This region in Snowdonia is a perfect example of an adventurer retreat, wherein you will find many trails fit for biking and hiking. After such high-intensity fun, you can binge on the delicacies served in the cafe of this park. If you are with your family, you can avoid the adventure sports offered here and simply have fun with the kids in the play area.
Location: Snowdonia
Level: Beginner to Intermediate
CAVING
Going underground
A LOT of Welsh life has been lived underground, from ancient cave dwellings to people mining for gold, copper, silver, lead and coal. Visit Wales helps you discover which underground attractions you can visit and explore – from mine tours to extreme adventures:
Llechwedd Slate Caverns
History and adventure combine to brilliant effect in the heart of Snowdonia with two customer experiences: the Deep Mine Tour and the Quarry Explorer. The Deep Mine Tour is a family-friendly interactive tour with new technology; the first to use augmented reality in an underground setting with iPads providing a window on the past. You access the caverns using Britain's steepest cable railway to levels of 500ft underground. The Quarry Explorer is an off-road adventure that will take you right into the heart of Llechwedd's man-made mountains (made by blasting the tops off the hundred-year-old caverns) in a military 4×4 truck.
National Showcaves Centre, Powys
This award-winning location has three main caves for you to explore. Dan yr Ogof is cavernous; Cathedral is full of atmosphere, and Bone has a deathly twist: the three main caves will capture your imagination at the National Showcaves Centre. This Centre, also offers a huge park dedicated to dinosaurs, an Iron Age Village, a Shire Horse Centre and a museum in one amazing day out.
Sygun Copper Mine
More than a century after being abandoned in 1903, Sygun tells the story of Victorian copper miners in colourful fashion. This is the place to trace copper ore veins, silver and gold within the confines of illuminated caves, then relax within its beautiful natural surroundings in the hills of Snowdonia.
The Silver Mountain Experience
Where history, myth and legend collide in a fantastic day out for the whole family. Embark on an adventure with a choice of guided tours discovering the history of an original Victorian Silver-Lead Mine, or experience Welsh fantasy and myth in one of our theatrical experiences.
Great Orme Mines, Llandudno
Craggy, echoey and about as atmospheric as they come, the Great Orme Mines site was uncovered in 1987 and features a Bronze Age Cavern dug by miners with stone and tool bones 3,500 years ago. Don a hard hat and witness the latest discoveries in one of the world's largest prehistoric mines.
Big Pit National Coal Museum, Blaenavon
Another great mining attraction not to be missed is Big Pit, the National Coal Mining Museum. Located in the World Heritage Site of Blaenavon, this former working mine opened as a museum in 1980. Led by former miners, you can discover what the mine was like as you descend 100 metres underground into its dark depths. Entry is free.
Rhondda Heritage Park
Rhondda Heritage Park stands on the site of the former Lewis Merthyr Colliery, which was once one of more than 50 collieries in the surrounding valleys, only closing during the 1980s. Taking a cage underground, you'll be looked after by the people who wore hard hats for real. The tour guides are all former miners, so you can be sure they'll have a few good stories to tell.
Go Below
Go Below, based in Snowdonia, offer three different adventures – Go Below Challenge, HeroXtreme and UltimateXtreme. Each trip offers hours of mine exploration combined with zip-lines, cave climbing, traversing and abseiling, all underground!
Corris Mine Explorers, Corris
Get kitted-up and embark on an intrepid tour with Corris Mine Explorers. You'll explore a mid-Wales mine first used in 1836. Chambers, disused machinery and even personal items left behind by the workers give this place a real sense of history. The tours are led by expert guides and they'll tailor the tour for the audience. You can even spend the night underground! They were also awarded the 'Best Activity / Experience in Mid Wales' at the 2019 Mid Wales Tourism Awards.
South Wales Miners' Museum
Take a trip back in time and discover the industrial heritage of the South Wales Miners Museum in the Afan Valley. Exhibits include an extensive collection of photographs and mining artefacts, a replica miner's tunnel, a Blacksmith Shop, Lamp Room and an Engine House.
Electric Mountain Visitor Centre
Get the buzz by finding out the secrets behind hydroelectricity at the Electric Mountain Visitor Centre – an eye-catching tribute to scientific history, full of towering inlet valve chambers and astonishing turbine generators. Then, travel through a labyrinth of darkened tunnels, following in the footsteps of some of the earliest engineers. Includes tours, play and refreshment areas. Check for opening information: Tel – 01286 870636, email – [email protected].
Dolaucothi Gold Mines
Set in the shadow of the glorious Cothi Valley, Dolaucothi Gold Mines provide a unique insight into Roman gold and copper mining methods 2,000 years ago. Guided tours will tell you the story of the 20th-Century workers in these caverns and there's even a chance to try gold panning for yourself. Booking is essential for visits to Dolaucothi, which closes for the winter. The car park, estate and walks are open daily.
The Winding House, Caerphilly
Housed in a striking glass-walled building on the site of the former Elliot Colliery, the Winding House details the industrial history of the Rhymney Valley. The centrepiece is the massive winding engine that once carried workers and coal between the surface and the mine below. This incredible piece of engineering is kept in working order by a team of devoted volunteers and you can even see it in action on the final Saturday of each month. As well as the engine, the Winding House is home to a collection of documents, photographs and objects which illustrate day-to-day life in south Wales at the height of the Industrial Revolution. For opening information: Tel – 01443 822666, email – [email protected].
Llanfair Slate Caverns, Harlech
Explore nine caverns at this virtually untouched slate mine and find out what the conditions were like for the workers. The tour is self-led – perfect for taking your time to absorb the atmosphere. You are provided with a hard hat and a torch and dogs are welcome to go along as well.
King Arthur's Labyrinth, Corris
Step on a boat and wind through King Arthur's Labyrinth – a labyrinth of history, a litany of Dark Age tales told against the backdrop of luminous expanses of water. A hooded boatman is your guide for this voyage with a difference through the tunnels and caverns of historic southern Snowdonia. For booking information visit the King Arthur's Labyrinth website at www.kingarthurslabyrinth.co.uk.
COASTEERING
Coasteering locations in Wales
From its Pembrokeshire origins, coasteering has spread far and wide along the Welsh coast. It's a fun mix of swimming, bobbing, scrambling and jumping along the coastline, while the waves do their best to slosh you into the sea. Wherever you are on the Welsh coast, you're never far from the opportunity to slink into a wetsuit and lob yourself into the ocean. Writing on visitwales.com, the Welsh Government's tourism arm, Charles Williams suggests the following coasteering hotspots:
Pembrokeshire, west Wales
Coasteering began in St Davids back in 1986. TYF Adventure and Coasteering invented the sport at the Twr y Felin activity centre (now the luxury Twr y Felin hotel) and over 30-plus years they've taken more than 100,000 splash-happy punters along the fabulous coast around St Davids. Since then, they've been joined by several other operators like Celtic Quest, Preseli Venture and Dragon Activity Guides.
Most of the action happens along the wildly beautiful coastline between St Davids and Fishguard, although it's spread as far afield as Tenby and Stackpole in the south, Cardigan in the north, and Newgale in the middle. The most popular spot, used by several operators, is the Blue Lagoon at Abereiddi, where a sea-swamped slate quarry provides reliable thrills even when the sea is too rough elsewhere. The 10-metre leap off the top of the quarry is a rite of passage for any coasteerer.
Gower, west Wales
The south coast of Gower ticks all boxes: an Area of Outstanding Natural Beauty, high cliffs, big sea arches and a massive tidal range that reveals bags of wildlife. From the gentler sands of Caswell, through the jaw-dropping perfection of Three Cliffs Bay, out to the jagged promontory of Worm's Head at Rhossili, there's plenty of superb terrain.
Anglesey, north Wales
Almost the entire coastline of Anglesey, Wales's biggest island, is an Area of Outstanding Natural Beauty, but its best coasteering terrain is around Holy Island. Anglesey Adventures explore the hidden beaches, cliffs and sea caves, with options including the hardcore 'adventure' trip and a gentler 'eco-coasteering' day to savour the wildlife and geology.
Llŷn Peninsula, north Wales
Take your pick: there's the sheltered south coast, the more rugged north coast, or the exposed tip of Llŷn that catches the big waves that roll in from the Atlantic. One of the best spots is Morfa Nefyn, where the tiny fishing village of Porthdinllaen makes the most picturesque backdrop – and the Ty Coch Inn the ideal place to have a reviving pint while telling tales of heroism.
Glamorgan Heritage Coast, south Wales
The multi-layered cliffs of the Glamorgan Heritage Coast are just 30 minutes from Cardiff, and have long been popular with walkers and fossil-hunters. The stretch between Southerndown and Ogmore also lends itself well to coasteering.
CYCLING
The National Cycle Network in Wales
WHETHER you're a leisure walker, an experienced cyclist, a family with children, or thinking about becoming a cycle commuter, the National Cycle Network in Wales offers many opportunities for travel, discovery and play.
There are over 1,200 wonderful miles of National Cycle Network in Wales. Whatever your age or fitness, getting out on the Network is a great way to keep healthy, save money, and – most importantly – have fun!
If you want action-packed walking and cycling adventures, combined with brilliant parks, gorgeous coastlines, amazing tourist attractions, fascinating heritage sites, interesting artworks, and great picnic, café and pub stops, then Wales's Network has something for you. Following a mixture of quiet lanes, canal towpaths, as well as old railway lines that once carried the raw minerals of the industrial revolution, the Network offers a great selection of traffic-free paths and long-distance routes that take in many of Wales's finest sites and scenery.
Areas that have benefited from new routes include Conwy, Rhyl, Clydach, Port Talbot, Maesteg, Merthyr Tydfil, Pontypridd, Treforest, Church Village, Llantrisant, Ebbw Vale, Blaenavon, Brynmawr, Cardiff, Newport, Caerleon and Monmouth. A team of volunteers help keep routes in good shape, both for people to enjoy and for wildlife to thrive.
GLIDING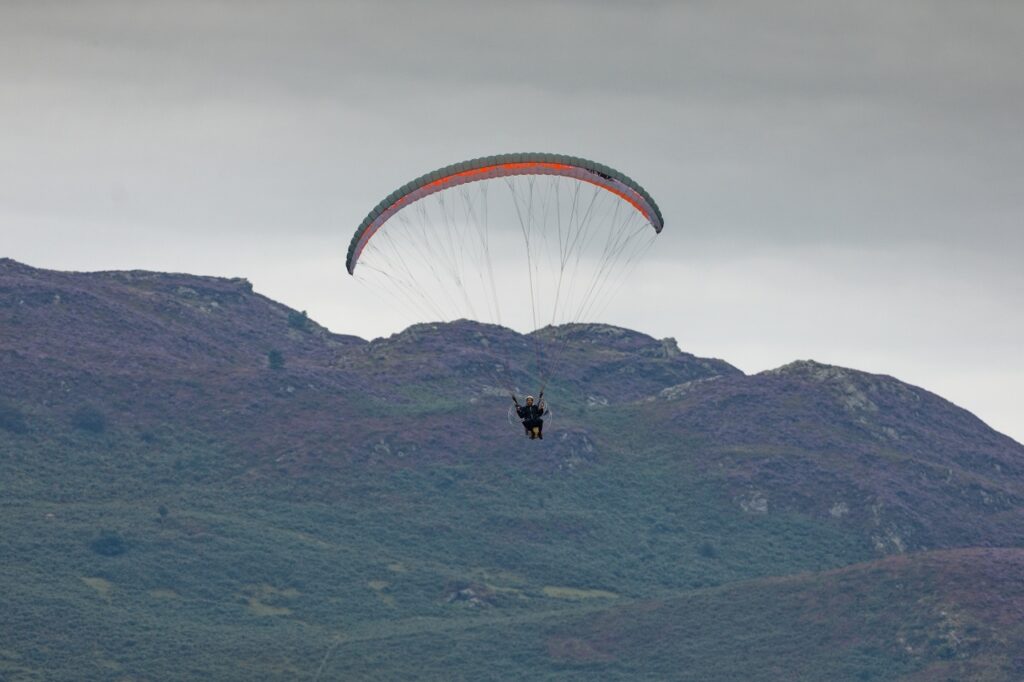 HANG GLIDING and paragliding club members in Wales have access to spectacular sites within areas such as the Brecon Beacons National Park and Snowdonia and regularly enjoy flying over the highest peaks.
Clubs also pride themselves on protecting access to flying sites for future generations of free flyers to enjoy and organise flying events, as well as various educational and social gatherings throughout the year.
The Welsh Free Flight Federation (WFFF) promotes and develops the sport of hang gliding and paragliding in Wales, bringing together clubs who between them control a large number of hang gliding and paragliding sites. They include the North Wales Hang Gliding & Paragliding Club, Snowdonia Skysports, the Mid Wales Hang Gliding & Paragliding Club and the SW Wales Soaring Club.
KITESURFING
Top kitesurfing beaches in Wales
ALWAYS wanted to have a go at kitesurfing, or looking for the perfect wave to test your skills? Wales has some of the best beaches in the world just waiting for you to visit, says Visit Wales:
Abersoch, Gwynedd
Abersoch has several beaches perfect for an easy kitesurf. The main beach enjoys spectacular views over the mountains of north Wales, with a sheltered location that means any breezes will be unlikely to scupper your fun. Porth Ceiriad and Harbour Beach are nearby. It's also host to Glass Butter Beach – the music, wake and surf festival.
Newgale, Pembrokeshire
Few surfing spots in the world can rival the dramatic views across Newgale Sands, where a large surf awaits you, as well as a two-mile stretch of golden sand, shops, a pub and excellent facilities. Awarded Blue Flag status, this safe beach is an ideal place to test your balancing skills.
Freshwater West, Pembrokeshire
Adored by ardent surfers, Freshwater West is a large beach and a wild one, with smooth waves, wind coming in off the land, a reef and sandbanks inviting the more adventurous visitors to try a few tricks. Highly recommended if you have some experience of the waves and are a strong swimmer.
Porth Neigwl, Llŷn Peninsula
Translated as 'Hell's Mouth', Porth Neigwl is set in the jaws of the Llŷn Peninsula's edge. Its large waves and windy conditions make it a magnet for thrill-seekers looking to harness the power of the wind. The gently shelving beach is pebbly at high tide, but reveals large expanses of sand at low tide. The glorious mountainous backdrop and south-west facing beach also make it one of the most picturesque locations for kitesurfers to glimpse from above.
Llangennith, Swansea
This flat, wide and sandy expanse is widely-regarded as one of the best in Britain for surfing, with a three-mile bay making Llangennith Gower's go-to beach for water activities. An ideal starting point if you're a beginner.
Rhosneigr, Anglesey
Receiving a mix of swells from the wind and land, the golden sands of Rhosneigr are hugely popular when it comes to just about every beach sport you could imagine. Visit the village, enjoy a sunbathing session or relax on a wildlife stroll once you've finished.
Porthcawl, Bridgend
A great place to dip your toe in and try a taster session, Porthcawl's sandy beach attracts an Atlantic swell against the backdrop of the Glamorgan Heritage Coast. Surfers from Bristol and Cardiff often stop off here, where you can also visit the rock pools or the Wales Coast Path.
Tenby South, Pembrokeshire
A repeat award-winner with good facilities and views out to Caldey Island, Tenby's sands offer plenty of space in any conditions – ideal if you're taking the family or have a dog. Stretching over two kilometres, the consistency of the surf makes this a safe place for beginners.
Borth, Ceredigion
Three miles of sand and shingle make Borth an uplifting, slightly wild place for a surf, with the rugged surrounding coastal scenery well worth a wander afterwards. Set in Cardigan Bay, it's best to check the tide in advance – the beach is much larger when it retreats.
Horton Beach, Swansea Bay
Positioned on the glorious Gower Peninsula, Horton Beach is one for the braver surfers as on a good day it attracts quite a swell, accessible through the sand dunes of Port Eynon Bay. Popular with bodysurfers and kitesurfers during the summer, you should also take a walk around its coast.
Oxwich Bay, Gower
A picturesque, 2.5-mile stretch is yours for the surfing here, with a large, flat beach and conditions making it popular with watersport lovers throughout the year. Take a clifftop stroll to see why this is considered one of the world's most beatiful beaches, or visit the nearby National Nature Reserve.
Carreg y Defaid, Llŷn Peninsula
The Llŷn Peninsula's south-facing coast is a watersports playground for adventurous souls and Carreg y Defaid is an ideal place for those who like to play hardest. A secluded and appealingly moody lump between Pwllheli and Llanbedrog, this beach offers ideal conditions for kitesurfers. The cheerful multi-coloured row of huts along the beach also offer an ideal backdrop for your coastal adventure.
MOUNTAIN BIKING
Are you hell-bent on descent?
IF getting muddy and playing in the woods is your idea of fun, then off-road biking could be the perfect day out for you. Take BikePark Wales, for example, Merthyr Tydfil's very own ultimate riding location which proudly boasts the slogan 'Built by Riders for Riders'.
A home for mountain bikers from novice to professional, Gethin Woodland Centre's BikePark Wales is said to have the UK's greatest and most diverse selection of all-weather mountain bike trails – more than 40 in all – built into the forested hills of Abercanaid village. With a vehicular uplift service to transport you to the top of the trails, bike and equipment hire, coaching, guiding and an on-site café, there is everything needed for a great day on the mountain.
Some may wish to try gravity mountain biking, or those with years of experience might put themselves to the test on trails designed to bring the very best out of any pro rider. Indeed, downhill trailers are challenged by BikePark Wales's designers "to suppress the silly grin on your face at the bottom".
According to them, the concept is a simple one: "Picture a ski resort, remove the snow and replace the pistes with an array of sweeping flowy bike trails meandering to the bottom of the mountain and you are close. Add a bunch of adrenalin and big sprinkle of fun and you are pretty much there!"
Exhilarating trails and stunning scenery, with easy access from all parts of the UK, have made mountain biking in Wales one of the best adventure sports available in the country. Many trails start at a mountain biking centre; a purpose-built centre is a dedicated single-site mountain biking location, with a visitor centre and MTB facilities serving multiple way-marked trails of varying difficulty. If you are looking for somewhere with parking, refreshments, toilet facilities and more, all to hand, then riding a trail from a Mountain Bike Wales centre is a great option, for all grades of trail.
Margam Country Park
South Wales Tel: 01639 881 635 email: [email protected]
Revolution Bike Park
North Wales 01691 860 965 [email protected]
Cwmcarn
South Wales 01495 272001 [email protected]
Antur Stiniog
North Wales 01766 238 007
Afan Forest Park
South Wales 01639 850564 / 01639 851900
BikePark Wales
South Wales 07730 382501
Bwlch Nant yr Arian
Mid Wales 01970 890453 [email protected]
Coed y Brenin
North Wales 01341 440747 [email protected]
Coed Llandegla
North Wales 01978 751656
MOUNTAINEERING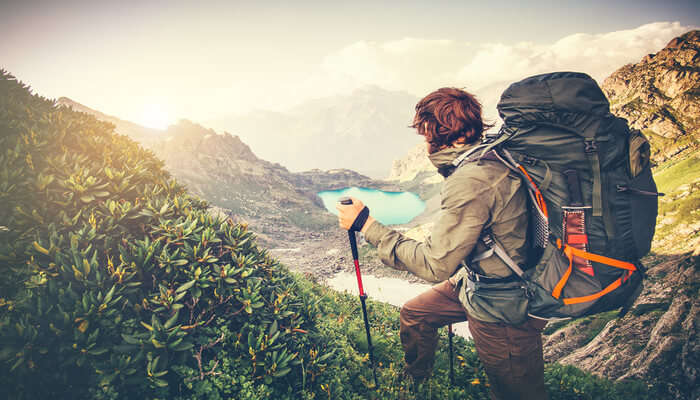 Scaling the heights in Wales
Snowdon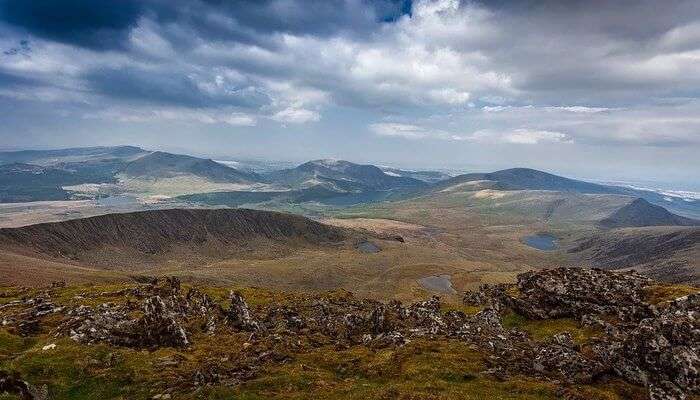 Undoubtedly the king of Welsh mountains, this peak is a part of the Snowdon range and 1,085 meters in height above sea level. Located in the Snowdonia National Park, Gwynedd, Snowdon is the highest point outside the Scottish Highlands in the British Isles. There's more than one way to reach the summit, routes taking somewhere between 5-7 hours to reach the peak and walk back down.
Carnedd Llewelyn
Named after Prince Llywelyn, this peak is indeed the prince of the peaks with a height of 1,064 meters above sea level. It's a mountain massif in the Carneddau range, Snowdonia, north-west Wales. It's the highest peak of the range and lies on the border between Gwynedd and Conwy. It is a sprawling, grassy hulk at the confluence of four ridges. By virtue of being the third-highest summit in Wales, Llewelyn gets a touch of bad weather sometimes, but the views are worth it if you reach the top on a clear day.
Glyder Fawr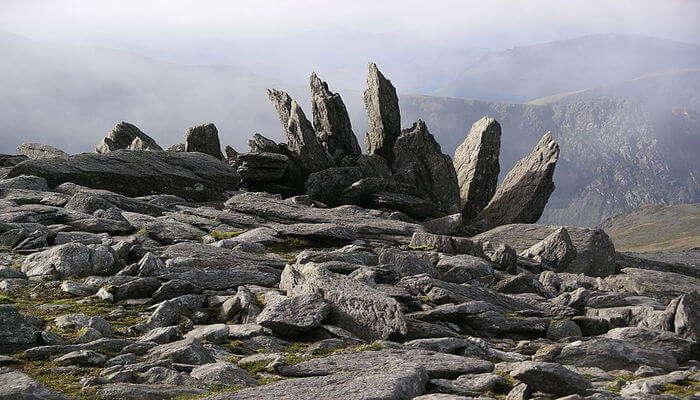 The highest peak of the Glyderau range with a height of about 1,000 meters above sea level, Glyder Fawr is the fifth highest mountain in Wales. It has an extensive number of walking routes to the summit. Apart from the immense scenic beauty of the place, there are some things that you should keep your focus on, such as steep slopes and loose stones on the ascent. Also, the way that comes back via the Miner's Track has some loose sections and has seen some landslides in recent years, making sections of the path difficult going.
Y Garn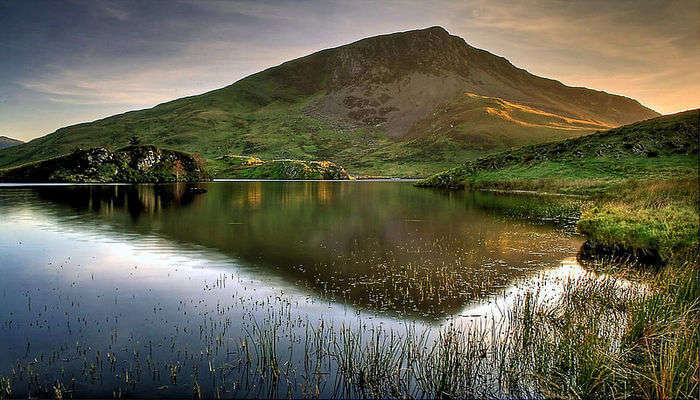 The best place to enjoy views of Nant Ffrancon from some angles, and also a very impressive lump of a mountain, it is about 947 meters above the sea level. Also situated in the Glyderau range, it's the 10th highest peak in Wales. Moderate snow formation is found on the western slope of the mountain around October-May. Being about 900 meters above sea level, needless to say this mountain is characterized by steep ground.
Elidir Fawr
Cloudy sky, green pastures and a nearby waterbody – the best of a day at Elidir Fawr, the northernmost peak in the Glyderau, 924 meters above sea level. Its specialty is to the north of the summit where there is a lake named Marchlyn Mawr, which is also the uppermost reservoir for a pump storage power station almost hidden in the mountains. It takes about four hours to reach the summit sometimes in mist, especially over Elidir Summit and while descending from Carnedd y Finalist.
Tryfan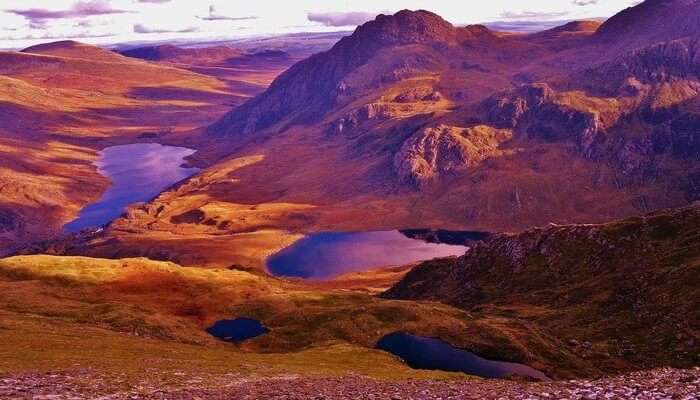 This place, too, can be reached via many roads. It's a mountain in the Ogwen Valley, Snowdonia, 917 meters above sea level. It forms a part of the famous Glyderau and is one of the most popular peaks in Britain with a classic pointed shape and rugged crags. It is called Tri Faen which is Welsh for three rocks, a reference to the three rocky summits that are clear from some angles. It takes about 4 to 5 hours to reach the summit but there are no easy routes for this one, the south ridge being the comparatively easier one and the north ridge being the best one.
Aran Fawddwy
Mountain of about 905 meters elevation above sea level, it is located in southern Snowdonia. It is the highest summit outside the Eryri area. It has a difficult path, however, with wet patches and sometimes the route not being visible. However, that is a good thing as this one will attract fewer tourists and more travelers. A walk up Aran Fawddwy is a much wilder and quieter proposition with no particularly simple way up. For this one you need get your socks wet and your compass out.
PADDLEBOARDING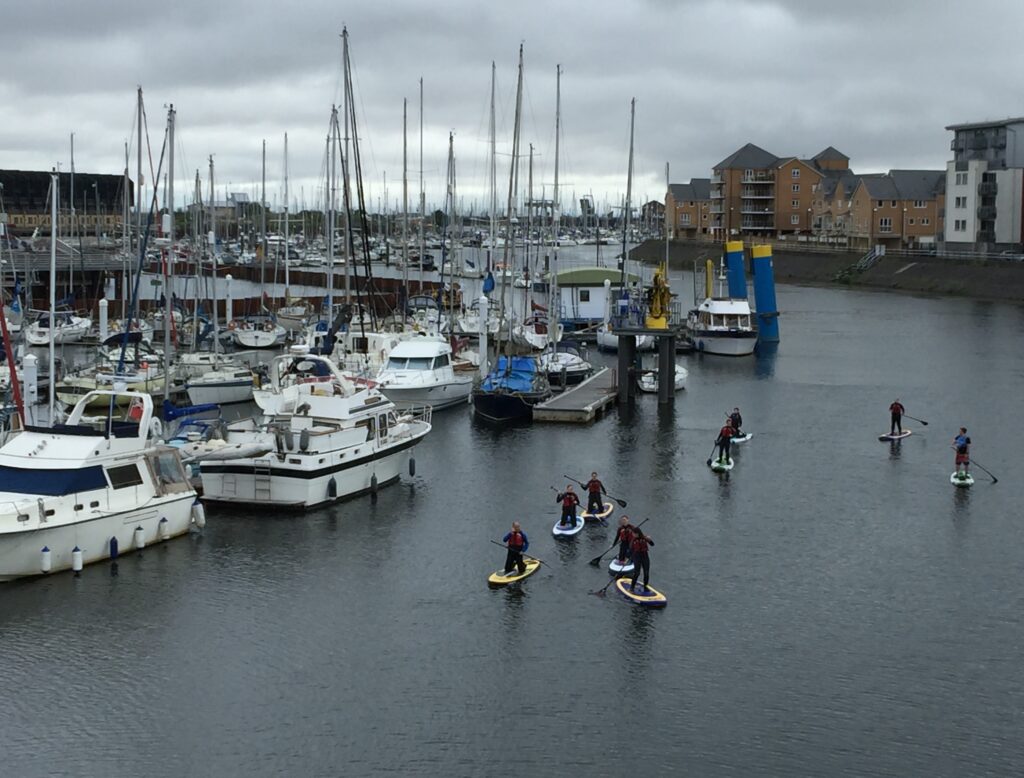 Make Wales your next paddleboarding adventure destination
STAND-UP Paddleboarding is the fastest growing watersport; not only is it great for your core but it can be a peaceful, slow-paced adventure that gives you space and time to take in Wales's best features.
Sian Sykes runs Psyched Paddleboarding in Wales and told Pebble Magazine what makes her home turf some of the best coastline for stand-up paddleboarding:
"Wales is the perfect place to discover hidden coves, deserted beaches, wild landscapes and an opportunity to reconnect with nature. The country is home to dolphins, porpoise, seals, puffins, whales, basking sharks, otters and many more water-loving species – and on a stand-up paddleboard you can see it all.
Inland, Wales has its tranquil lakes, canals and rivers to explore. If you head to a mountain lake, it is a perfect opportunity to enjoy the stillness and the solitude.
Stand-up paddleboarding in Wales is a fabulous escape from the hectic pace of life. These are the moments you'll cherish forever.
Wales also prides itself with being awarded two International Dark Sky Reserves; one in Snowdonia and one in the Brecon Beacons. There are only 12 such reserves in the world. The perfect way to experience dark skies is whilst laying on a paddleboard and watching the stars fill up the sky with no interrupted light pollution.
The senses are heightened, daytime distractions disappear and you 'hear the invisible starfall' (thanks Dylan Thomas). Enjoy the uninterrupted views of incredible star-filled heavens above Snowdonia or Brecon whilst floating gently through the reserve on a stand-up paddleboard.
Along the Welsh coast you might be lucky enough to see underneath your paddleboard at night too – there's an incredible, magical light show caused by pretty phosphorescence in the sea.
Enjoy the uninterrupted views of incredible star-filled heavens above Snowdonia or Brecon whilst floating gently through the reserve on a stand-up paddleboard
Wales is rich and varied in its nature and history. So whilst in Wales, also enjoy its intriguing myths and tales. The lakes of Llydaw, Dinas and Ogwen in Snowdonia, all claim to contain the magical sword, Excalibur. Don't miss one of Wales's most southern Snowdonia mountains, Cadair Idris. Its name references the mythical giant who once used the mountain as his throne or see if you can imagine where the Afanc, a lake monster from Welsh mythology, might be hiding.
As well as exploring Wales's lakes and coastline on the boards, while you're here you can add in white water rapids, surf breaks, cycling and hiking and you've got a long weekend fit for any modern outdoors lover."
ROCK CLIMBING
ACCORDING to those in the know at Climb Europe, rock climbing in Wales is very much split into a north-south divide, and includes every style of climbing to choose from. This includes everything from long multi-pitch routes and bouldering in the mountains of Snowdonia and sport climbing in old quarries, to sea cliff climbing in Pembroke and Gogarth.
Rock climbing in Snowdonia and north Wales
Snowdonia and north Wales contains some of the best and most easily accessible rock climbing areas in Britain, as well as offering a great variety and styles of rock climbing. Llanberis is the heart of rock climbing in Snowdonia, with Llanberis Pass (simply known as 'The Pass') providing world-class, traditional, multi-pitch climbing and bouldering on mountain rock. The Llanberis slate quarries provide a large number of sport routes from friendly F4's to the top end of F9's. Rock climbing on slate provides some fine and weird climbing that is unique to north Wales.
Map of rock climbing areas in Wales
North Wales also offers a great depth and variety of bouldering. This ranges from the mountain areas of Llanberis and Ogwen to the coastal areas around Rhiw on the Llŷn Peninsula, Anglesey and Llandudno.
Just to the southwest of Snowdon is Tremadog, a popular rock climbing area providing striking lines on golden dolerite rock, quick drying, as well as being close to the road and café. The sea cliffs of the Llŷn Peninsula provide some of the most adventurous climbing in north Wales.
To the north of Snowdonia is the island of Anglesey, and situated on the western tip are the sea cliffs of Gogarth, close to Holyhead. These huge sea cliffs provide an unparalleled range of adventurous traditional multi-pitch climbing, in a beautiful and atmospheric location.
To the north and east of Snowdonia the rock turns to limestone, which becomes home to the main sport climbing areas of Wales. The first is the Great Ormes area next to Llandudno, along with the crags dotted along the A55 trunk road that bypasses Llandudno. The second area is situated in the hills behind Llangollen, mid Wales.
Rock climbing in south Wales
Rock climbing in south Wales is all about traditional sea cliff climbing on limestone or sandstone rock. Pembroke is the jewel in the crown here, with many thousands of routes in fantastic and dramatic positions. As with most sea cliff climbing, getting to the bottom of these routes can be exciting, generally requiring a combination of a committing abseil, along with negotiating the wide-ranging tides.
The Gower, to the south-west of Swansea, is the second largest rock climbing area in south Wales, with a good mixture of trad and sport routes. Here the routes are easier to locate and generally more friendly, along with the opportunity to climb straight off the beach. Also in this area are the weathered limestone sea cliffs of Ogmore and Witches Point, near Bridgend.
South of the Brecon Beacons is a wealth of great sport climbing around Cardiff, Newport, Merthyr Tydfil and Abergavenny. This climbing is on a mixture of limestone outcrops and sandstone quarries, with some of the larger crags being Dinas Rock, Sirhowy, Tirpentwys, Navigation Quarry and Gilwern.
SURFING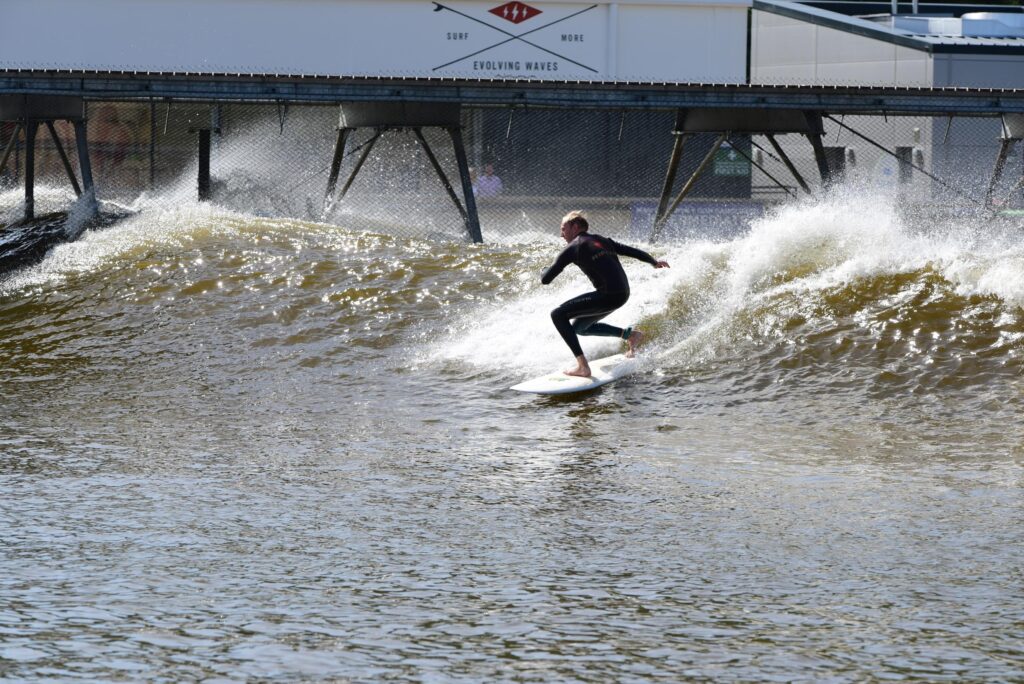 Best places to learn surfing in Wales
WALES has a number of surf-friendly beaches along its coastline, perfect for family or group surfing holidays and catering for all abilities. Indeed, according to the experts at surfline.com, Wales has a long and proud surfing tradition, one that is often overlooked by the international surfing media and wider surf community, Welsh surfers such as Pete Jones were early European champions and pro surfers such as Carwyn Williams helped pave the way for other Euros onto the world tour. As for the beaches themselves, Visit Wales suggests the following areas to catch those waves:
Gower surfing breaks
The Gower Peninsula was Britain's first Area of Outstanding Natural Beauty – and also a great place to learn to surf because of the lack of crowds. Typical surf locations like Cornwall may be a rough-and-tumble of experts and learners, which can make tempers flare and beaches busy. Gower receives the same swell, better shelter from wind and has breaks for all surfers – old and young, beginner and pro – so everyone is more laid back.
Pro surf tips:
Caswell Bay is perfect for juniors: the car park is close, there are lifeguards and the water's clean.
Go south for sheltered, dribbly beginners' waves at Rhossili Bay. Shift towards Llangennith if the surf's small.
Rest Bay, Porthcawl is great for a really quick session from Bristol or Cardiff.
Pembrokeshire surfing breaks
It pays dividends to travel that bit further to get to Pembrokeshire. Because of the way that Britain's only coastal national park wraps around the peninsula, it guarantees clean, gentle waves whatever the weather. Also, because it's an extra hour beyond Swansea, the beautiful beaches are quieter – ideal for beginners.
Pro surf tips:
Freshwater West is an unspoilt beach that picks up all the swell, though its large waves are dangerous for beginners.
Manorbier is amazing – it has a fantastic castle as the backdrop and suits everyone from beginners to advanced surfers.
Newgale is good for children, and there is fantastic shelter in St Bride's Bay.
Search for surf schools in Pembrokeshire if you want some expert tuition in the area.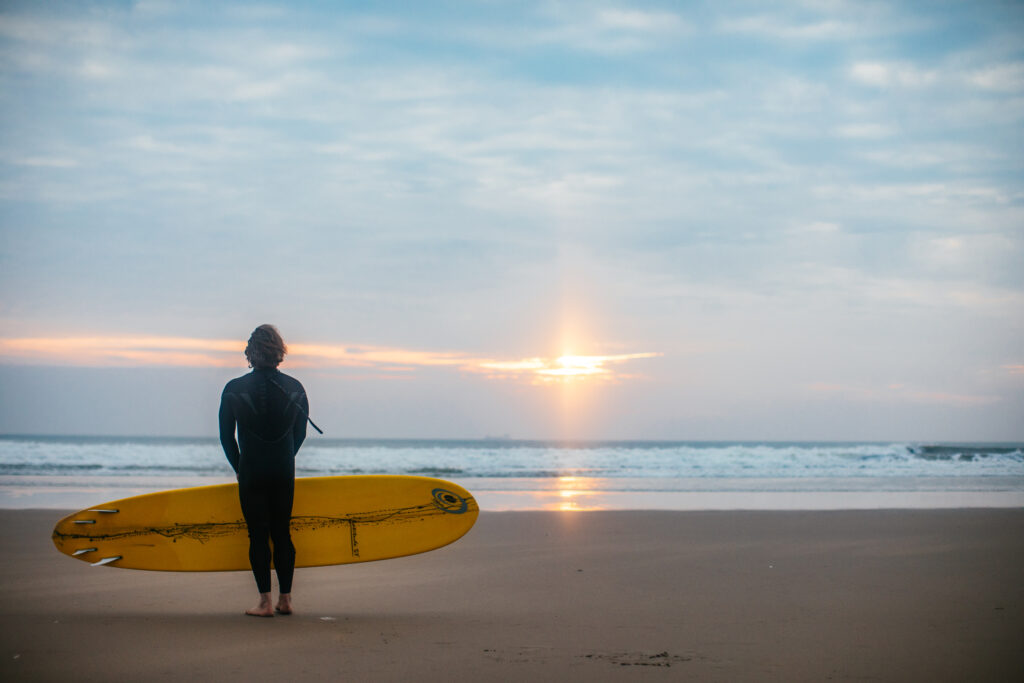 North Wales surfing breaks
'Mellow'. That's how one surfer described what it's like to ride the waves of the Llŷn Peninsula. At the northern end of the country, the Atlantic swells are more forgiving and the beaches are quieter than those further south. With only a dozen local surfers (plus visitors from Liverpool and Manchester), the vibe is mellow too.
Pro surf tips:
Porth Neigwl is consistent, clean, spacious and has a sandy bottom, all of which are good for learners.
Traeth Penllech (Porth Colmon) is a great sheltered beach when Porth Neigwl is too wild.
Adventure Parc Snowdonia offers a one-of-a-kind surfing experience. It has the world's first inland surfing lagoon that creates perfect waves every time, so it's great for beginners and pros.
The Welsh coast can be fantastic fun and provides great opportunities for adventurous activities, but please read up on the risks and make sure you are prepared. Follow tips from the RNLI for staying safe on the Welsh coast and visit AdventureSmart.uk for further information on how to stay safe whilst exploring Wales.
WALKING/HIKING/TREKKING
Top 10 legendary walks in Wales
GET ready to walk in the footsteps of legends, says The National Trust. We're not short of legends in Wales – from fire-breathing mythological dragons to living-breathing heroes and heroines of history. Explore our rich Welsh heritage on foot with one of our walking trails and celebrate Wales's Year of Legends.
Beddgelert, Snowdonia
Discover the tragic tale of the 13th-Century Prince Llywelyn and his faithful hound Gelert that gave the village of Beddgelert (Gelert's grave) its name. This walk leads you along an even path from the village centre, along the banks of the River Glaslyn to the site of Gelert's grave. This walk became popular with early travel writers such as Thomas Pennant and artists such as JMW Turner.
Cwm Idwal, Snowdonia
Discover Cwm Idwal's past, the tale of a 12th-Century prince and his son, and the legend of a giant called 'Idwal' that occupied the land. Take a walk through some of the most dramatic mountainous scenery in the UK at the oldest National Nature Reserve in Wales. On your way back down, don't forget to take in the beautiful view of Llyn Ogwen, nestled under the dramatic Tryfan, which claims to be the watery resting place of King Arthur's sword.
Cwm Llwch, Brecon Beacons
Tucked beneath the highest peaks of the Brecon Beacons in south Wales, the sparkling waters of Llyn Cwm Llwch have captured the imagination of many down the years. Uncover the story of an invisible enchanted island – inhabited by fairies, as well as the tragic tale of Tommy Jones, little boy lost in the Brecon Beacons. This hike is the hard way to the summit of southern Britain's highest mountain, Pen y Fan.
Dinas Emrys, Snowdonia
Beware! Here there be dragons! Discover the story of Dinas Emrys, the lofty mountain home of the dragon you see fluttering on Welsh flags. Walk to the summit for glorious views of countryside dotted with Welsh black cattle and tumbling waterfalls. Remember to tread carefully. You don't want to wake the dragon.
Dinas Oleu, Barmouth
Explore the first area of land ever donated to the National Trust in 1895 by Mrs Fanny Talbot. The walk takes you from Barmouth town centre through the steep, narrow, winding streets of the Old Town and up to the top of the gorse-covered hill, known as Dinas Oleu (Citadel of Light). As you make your way upwards, dramatic views over the Mawddach Estuary and Cardigan Bay – stretching towards the Llŷn Peninsula – unfold.
Dinefwr, Carmarthenshire
The rare White Park cattle at Dinefwr are a living link to our very distant past with records of them dating back to the year 920 when they were referenced in the laws of Hywel Dda (Hywel the Good), who codified the laws of Wales. This 3-mile walk takes in some of the estate's great wildlife-spotting places, the mythical lake of reflections, as well as the remains of Dinefwr Castle, the capital of Deheubarth under Lord Rhys, now cared for by Cadw, the historic environment service of the Welsh Government.
Henrhyd Falls, Brecon Beacons
Wales is home to many rare bat habitats but none rarer or more famous than the home of Batman himself. When Hollywood blockbuster The Dark Knight Rises hit cinema screens, the caped crusader's legendary lair would have looked very familiar to many in Wales. That's because Henrhyd Falls in the Brecon Beacons (south Wales's tallest waterfall at 90 feet), doubled as the Bat Cave in the big-budget film starring Haverfordwest-born Christian Bale.
Skirrid, Monmouthshire
Ysgyryd Fawr, the Skirrid, is also known as the Holy Mountain or the Sacred Hill. Ysgyryd is a word describing the hill's shape, meaning something that has shivered or been shattered. According to legend, part of the mountain is said to have been broken off at the moment of the crucifixion of Jesus. This energetic walk takes you through woodland and out onto open mountainside, before a steep climb to the summit which offers splendid views of the surrounding countryside.
St David's Head, Pembrokeshire
Explore Pembrokeshire's most spectacular coastal headland just a few miles away from Wales's smallest city, St David's. A colourful coastline with heaps of history, this pretty peninsula has been a cultural hotspot for thousands of years. Discover the area's ancestry, from Celtic life to Wales's patron saint.
Worm's Head, Gower
The name 'Worm's Head' comes from the Nordic word 'Wurm' which means serpent or dragon. 'Tame the dragon' by walking there. The Worm's Head is a tidal island with access possible for approximately two half-hours either side of low tide. The coastguard lookout has tide tables available and will offer advice as to the best time to cross. Be careful, you don't want to get stuck on a dragon's head! Take in the beautiful views of Rhossili Bay, one of the best beaches in the world, as you go.
For more details of these legendary Welsh walks visit the National Trust website
WATERSPORTS
THE Royal Yachting Association Cymru embraces a wide variety of watersports, including yacht sailing, motor boat cruising – a fun and sociable way to explore new places in comfort – dinghy sailing, powerboating and, for those wishing more peaceful surroundings, canal boating, which offers time to relax and the excitement of exploring new places, all set in beautiful surroundings.
WHITE WATER RAFTING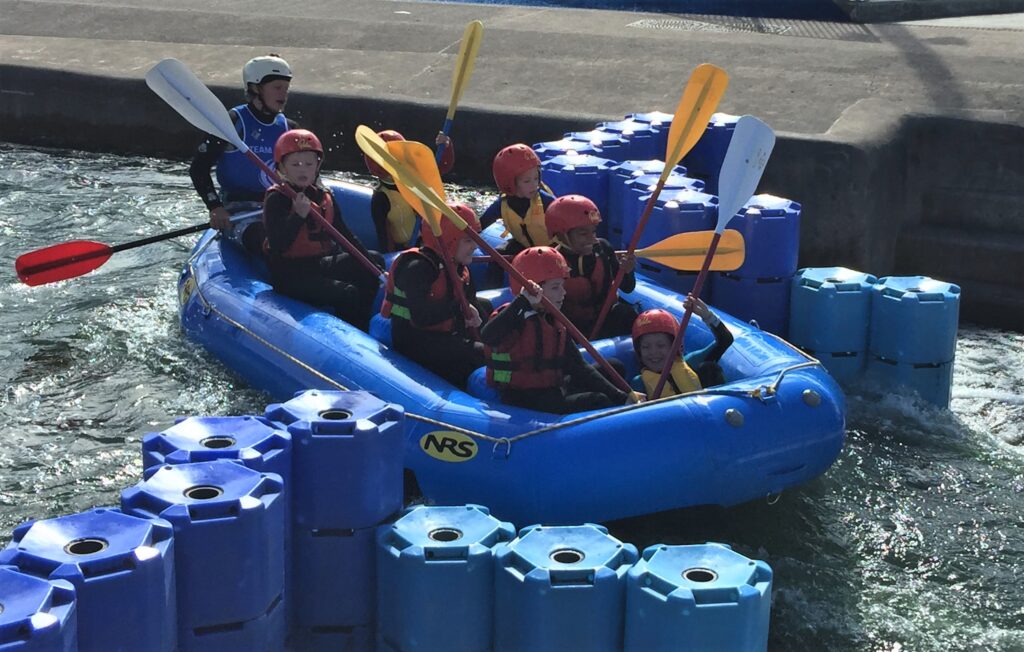 White water rafting in Wales
THERE are some exceptional white water rafting experiences to be had in Wales, whether paddling for adventure and sheer adrenaline or simply taking the opportunity to become immersed in nature.
National White Water Centre, Bala
With about 9km of natural river, the National White Water Centre, near Bala in north Wales, is the only commercially rafted stretch of water in the UK that compares to whitewater rafting worldwide. The Tryweryn river mixes the intensity of an Olympic-grade whitewater course and a journey through the Snowdonia National Park – it has the highest density of otters in north Wales. Plus it's a beautiful river.
River Dee, Denbighshire
While the upper Tryweryn has five sections of rapids over 1.5km, the River Dee rapids are less continuous, so there's time to breathe between sections of white water – there are sections of grade 3-4, then 2-3 then another 3-4 section over 4km. In other words, time to enjoy the journey on a lovely river.
Carmarthenshire
Very much a journey through classic Carmarthenshire rural woodland – old forest and green rolling hills. River Teifi, the queen of rivers (it's the longest river that rises and exits in Wales) has kingfishers, otters and leaping salmon and only three white water sections, so rafting here is a mix of being in nature and gentle adventure. A great family trip.
WINDSURFING
WINDSURFING can be a great, fun sport, but you must have patience! You won't immediately get on the windsurfer and ride big waves; you will have to start at small beaches with not too much wind and waves. Once you get the hang of it, you will never look back and will continue improving in skill and balance. There are a lot of competitions, especially in hotter countries that take this sport very seriously.
The windsurfing equipment can be quite expensive, but there are many places that specialise in renting it out for a small price. It's a great activity to do with all the family! There are great spots in Wales for windsurfing; as there is a lot of wind – as well as lovely coastlines – Wales is an ideal place for this sport.
The most famous windsurfing spot in Wales, and arguably the best wave beach in the UK, Rhosneigr, is a beautiful horseshoe-shaped, sandy bay that is perfect for radical windsurf action.
Rhosneigr gets fantastic wind and waves that come straight up the Irish Sea. Any prevailing south-westerly wind gets accelerated between Wales and Ireland to deliver perfect conditions to this town in Anglesey.
The bay is big and can provide a wide range of conditions all in one spot. At low tide or with light winds it can be a fantastic place for beginners to get to grips with the sport.
The gentle, shelving sand bar produces amazingly fun waves and as they wrap around the bay, so you can be sure to find waves perfect for your ability.
The locals know how to put on a show and it's a great spectacle on windy days. The beach also holds BWA (British Wavesailing Association) events, so you know this is one of the top spots to windsurf in the UK.
ZIP LINE
FOR a real adrenaline rush, Penrhyn Slate Quarry, located near Bethesda in north Wales, is home to Zip World Velocity 2, the fastest zip-line in the world and the longest in Europe. Visitors can enjoy the view of zippers flying by from the Blondin Restaurant, experience the Penrhyn Quarry Tour on one of their famous red trucks, or take on Velocity 2 itself!
Zip World offers a truly unique and exhilarating experience: the fastest zip-line in the world since 2013! Soaring over Penrhyn Quarry, you can travel at speeds of over 100mph while taking in unbeatable views of Snowdonia.
Velocity 2 takes zippers zooming down its 1.5km zip-line, providing up to two hours of incredible adventure. With four parallel lines over two separate zip-lines, Velocity 2 allows you to enjoy the experience alongside your family and friends.
Visitors can try out the UK's only quarry karts, or take a tour of Penrhyn Quarry and learn about the site's history. This unique site is just 20 minutes from Bangor and 35 minutes from Llandudno.
Sources include Visit Wales, Climb Europe, Surfline, Zip World, National Trust, Pebble Magazine, Mountain Bike Wales, Sustrans, Royal Yachting Association Cymru
Back to HOME PAGE