Influential Welsh bands and solo artists in pop, rock & metal

60ft Dolls
60ft Dolls were a Welsh rock trio active in the 1990s, known as the Cool Cymru era. They were formed in Newport in 1992 by Richard J Parfitt and Michael Cole. Initially influenced by touring American hardcore bands that played in Newport the Dolls played noisy yet melodic rock, described by the NME as "grunge mod…proto-pub metal blues of the first order".
The Alarm
The Alarm are a Welsh rock band that formed in Rhyl, Wales, in 1981. Initially formed as a punk band, The Toilets, in 1977, under lead vocalist Mike Peters, the band soon embraced rock and included marked influences from Welsh language and culture. By opening for acts such as U2 and Bob Dylan, they became a popular new wave pop band of the 1980s.
The Alarm's highest charting single in Britain was 1983's Sixty Eight Guns, which reached number 17 in the UK Singles Chart. Their 1984 album, Declaration, which contained Sixty Eight Guns, peaked at number six in the UK Albums Chart.
Amen Corner
Amen Corner were a Welsh rock group, formed in late 1966 in Cardiff. The band was named after The Amen Corner, a weekly disc spin at the Victoria Ballroom (later to become The Scene Club) in the Welsh capital.
They went to number one in the charts with (If Paradise Is) Half as Nice in early 1969, followed by another top five entry with the Roy Wood composition, Hello Susie.
Amen Corner disbanded in 1969, but vocalist and guitarist Andy Fairweather Low went on to a successful solo career in the 1970s, notably with the top 10 hit Wide Eyed and Legless, becoming a regular player with Eric Clapton, George Harrison and Roger Waters.
Anhrefn or Yr Anhrefn
Yr Anhrefn, also known simply as Anhrefn, were an influential Welsh punk rock group of the 1980s and 1990s.
Anhrefn (Welsh for 'Disorder') were an influential punk rock band from Bangor formed in 1982 and initially sang only in Welsh. The band were not supported by Radio Cymru or Welsh-language TV channel S4C, beyond an occasional interview, and bassist Rhys Mwyn became known as an outspoken critic of the Welsh pop industry.
Mwyn (born Gareth Rhys Thomas) set up his own Recordiau Anhrefn label in 1983, helping to promote like-minded Welsh bands as well as their own music. The band were championed by John Peel and recorded three sessions for his BBC Radio 1 show; Peel even travelled to Wales to see the band perform. The band played up to 300 gigs a year at their peak, touring Europe several times, including Czechoslovakia, Germany and the Basque Region of Spain.
They were featured on Channel 4 TV show The Tube in 1987, although they were largely ignored by the British music weeklies, and played with Joe Strummer on the Rock Against Rich UK tour in 1988.
The band made their first English language recording in 1994, on a single with actress Margi Clarke (they released a cover of Cole Porter's Anything Goes as a single).
Attack! Attack!
Attack! Attack! were a Caerphilly/Aberdare based rock band, formed in 2006. They released their eponymous debut album in 2008, with a second album The Latest Fashion released in September 2010 through Hassle Records. Their third album, Long Road To Nowhere, was their final release. The band played a farewell April/May headliner in 2013 and then split.
The Automatic
The Automatic are a Welsh rock band who released their platinum-selling debut album Not Accepted Anywhere in 2006, which spawned three UK top 40 singles – Raoul, Recover and Monster. The band released their second album This Is A Fix accompanied by only one single, Steve McQueen in 2008, which due to a dispute between the band's labels – B-Unique and Polydor – was plagued with distributional and promotional problems. The dispute led to the band withdrawing from their five-album deal with the labels and instead formed their own label, Armoured Records, distributed through EMI and independently released their third album Tear the Signs Down in 2010 and three singles – Interstate, Run & Hide and Cannot Be Saved.
Badfinger
Badfinger were a Welsh/English rock band formed in Swansea that were active from the 1960s to the 1980s. Their best-known line-up consisted of Pete Ham, Mike Gibbins, Tom Evans, and Joey Molland. They are recognised for their influence on the 1970s power pop genre. It is estimated that the band sold 14 million albums.
From 1968 to 1973, Badfinger recorded five albums for Apple and toured extensively, before they became embroiled in the chaos of Apple Records' dissolution.
Badfinger had four consecutive worldwide hits from 1970 to 1972: Come and Get It (written and produced by Paul McCartney, 1970), No Matter What (produced by Mal Evans, 1970), Day After Day (produced by George Harrison, 1971) and Baby Blue (produced by Todd Rundgren, 1972). Their song Without You (1970) has been recorded many times, and became a US and UK number-one hit for Harry Nilsson and, decades later, a UK number-one for Mariah Carey.
After Apple Records folded in 1973, Badfinger struggled with a host of legal, managerial and financial issues, leading to Ham taking his own life in 1975. Over the next three years, the surviving members struggled to rebuild their personal and professional lives against a backdrop of lawsuits, which tied up the songwriters' royalty payments for years. Their subsequent albums floundered.
Y Bandana
Y Bandana were a Welsh language alternative rock band that formed in Caernarfon in 2007. The band was composed of brothers Tomos Owens (keyboard) and Siôn Owens (bass guitar), their cousin Gwilym Bowen Rhys (lead vocals, guitar) and Robin Jones (percussion). They are known for combining humorous lyrics with catchy melodies.
The band achieved great success in the Welsh language rock scene and were the recipients of numerous awards, including from the Welsh-language magazine Y Selar for best song three years running (Cân y Tân 2010, Wyt ti'n nabod Mr Pei? 2011, Heno yn yr Anglesey 2012) and best band three times in 2010, 2011 and 2012, as well as the award for best single 2012. They featured frequently at the Maes B festival during the annual National Eisteddfod, with their ninth consecutive – and final – appearance in August 2016 at Abergavenny. Shortly before the Eisteddfod, the band announced they would disband at the end of the year, with their last gig performed in their home town in October 2016.
The Blackout
The Blackout were a post-hardcore band from Merthyr Tydfil formed in 2003. They supported Paramore, Limp Bizkit, My Chemical Romance, Blink-182 and Funeral for a Friend, among others, and in 2011, after closing the inaugural Merthyr Rock festival, embarked on a UK and European headline tour of their own.
The Blackout announced their arrival on the music scene with an EP The Blackout! The Blackout! The Blackout! which led to Kerrang! magazine nominating the band for Best British Newcomer. In October 2007 came their debut album, We Are the Dynamite, followed by The Best in Town, in 2009, and their third album, Hope, which charted at number 27 in 2011. Their fourth studio album, Start the Party, was released in early 2013 and two years later they held a farewell tour, finishing in their home town of Merthyr Tydfil.
Blonde on Blonde
Blonde on Blonde (taking their name from Bob Dylan's 1966 album) were formed in Newport in 1967 by drummer Les Hicks, bass guitar/keyboard player Richard Hopkins and guitar/sitar/lute player Gareth Johnson. The vocalist/guitarist Ralph Denyer was found via Melody Maker magazine, and Simon Lawrence joined the band playing 12-string guitar. The group explored the areas pioneered by psychedelic acts like Pink Floyd, Jefferson Airplane and Cream, but with a wider musical palette.
In 1968, the band moved to London to perform concerts and their publicity led them to be signed for Pye Record label. A single All Day All Night/Country Life was released before the band recorded their debut album Contrasts.
Dave Thomas replaced Denyer after the band had signed to Ember Records at the end of 1969, following the release of a single Castles in The Sky/Circles. Next came the album Rebirth and they gigged around the UK with bands like Deep Purple, Jefferson Airplane, Atomic Rooster, Genesis, Wishbone Ash, Fleetwood Mac and Roy Harper.
Hopkins was replaced in mid-1971 by bass/guitar/banjo player Graham Davis. This incarnation of Blonde on Blonde recorded October 1971's Reflections On A Life album at Monmouth's Rockfield Studios. The album didn't gain commercial success, and after this the group disbanded. However, their original vinyl recordings remain collectors' items among those seeking the aesthetics of late 1960s/early 1970s psychedelic prog rock.
Bonnie Tyler
Bonnie Tyler (born Gaynor Hopkins in Skewen, June 8, 1951) is a Welsh singer, known for her distinctive husky voice. Tyler came to prominence with the release of her 1977 album The World Starts Tonight and its singles Lost in France and More Than a Lover. Her 1978 single It's a Heartache reached number four on the UK Singles Chart and number three on the US Billboard Hot 100.
In the 1980s, Tyler ventured into rock music with songwriter and producer Jim Steinman. He wrote Tyler's biggest hit Total Eclipse of the Heart, the lead single from her 1983 UK chart-topping album Faster Than the Speed of Night. Steinman also wrote Tyler's other major 1980s hit Holding Out for a Hero.
In 1988, Tyler played Polly Garter in George Martin's album Under Milk Wood, a radio drama by Dylan Thomas. The music was composed by Elton John and features vocal contributions from Tom Jones, Anthony Hopkins and Mary Hopkin.
Rocks and Honey was released in 2013 and features the single Believe in Me, which she performed representing the United Kingdom at the 2013 Eurovision Song Contest in Malmö, Sweden. The release of her 18th studio album, The Best is Yet to Come, was delayed until February 2021 due to the Covid-19 pandemic.
Both It's a Heartache and Total Eclipse of the Heart are among the best-selling singles of all time, with sales in excess of six million each. Her work has earned her three Grammy Award nominations and three Brit Award nominations, among other accolades.
In 2022, she was awarded the MBE for services to music in The Queen's Platinum Jubilee honours.
Bright Light Bright Light
Rod Thomas (stage name Bright Light Bright Light) is a Welsh independent singer-songwriter, based in New York. Bright Light Bright Light incorporates many elements of nu-disco into his music, also branching into synthpop, dance and house music. Two of his albums have reached the top 20 on the UK Independent Albums Chart.
Thomas grew up in a small village near Neath and learned several instruments as a child. He left Wales to take a place reading English literature and creative writing at Warwick University, then made the move to London. There, he set up a studio at home, and spent rush hours busking busy London tube stations. In 2009 he sent demo tracks to American producer Boom Bip, resulting in an invitation to Los Angeles for two weeks to collaborate on tracks. Thomas chose the name Bright Light Bright Light from a quote spoken by the character Gizmo in the 1984 movie Gremlins.
2010 also saw him tour as the support act for Ellie Goulding. The singles Disco Moment and Feel It followed in 2011 and 2012, and, after appearances at Bestival in the UK and South by South West in the US, he released his debut album Make Me Believe in Hope in 2012. The album made the final shortlist for the annual Welsh Music Prize, but lost to Future of the Left. 2012 also saw Bright Light Bright Light support Scissor Sisters on four venues of their UK tour.
In 2013, the EP In Your Care was released; followed by I Wish We Were Leaving, a second single from Thomas' second album, featuring Elton John. Following the latter's release, Thomas toured with Elton John during summer 2014. Bright Light Bright Light's second album Life is Easy was released in the UK in July 2014, charting at number 139, and was preceded by the single I Believe. Thomas spent most of 2014 and 2015 touring as the opening act for Elton John in the USA, Canada, UK, Europe and Russia, playing 55 shows.
In 2016, his third album, Choreography, was released, featuring guest appearances by Elton John, Alan Cumming, all Scissor Sisters members and Mykal Kilgore. All guests feature on the album's lead single All In The Name, which was unveiled in a live performance on Graham Norton's BBC TV show with Elton John.
Aside from creating his own music, Thomas has run a daytime dance party in New York (which transfers to London when he is touring) called 'Romy & Michele's Saturday Afternoon Tea Dance'.
In 2019 he was picked as the opening act for Cher's European tour, playing nine shows across Germany, Netherlands, Belgium, Denmark and Sweden.
In 2020 he released This Was My House, featuring Madonna's backing singers Niki Haris and Donna De Lory, as the first song from his fourth album Fun City.
Budgie
Budgie were a Welsh heavy metal band from Cardiff. They are described by author Garry Sharpe-Young as one of the earliest heavy metal bands and a seminal influence to many acts of that scene, with fast, heavy rock and an influence on the new wave of British heavy metal and acts such as Metallica being played as early as 1971. The band has been noted as "among the heaviest metal of its day".
Budgie formed in 1967 under the name Hills Contemporary Grass. Their original line-up consisted of Burke Shelley on vocals and bass, Tony Bourge on guitar and vocals, and Ray Phillips on drums.
The band continued to have success during the new wave of British heavy metal, playing the Reading Festival in 1980 and then headlining the festival in 1982. They built a particular following in Poland, where they played as the first heavy metal band behind the Iron Curtain, in 1982. Also notable was their tour in support of Ozzy Osbourne's Blizzard of Ozz Tour.
The band stopped gigging in 1988. However, in 2006, Budgie undertook a 35-date UK tour and released a new album, You're All Living in Cuckooland.
Bullet for My Valentine
Bullet for My Valentine, often abbreviated as BFMV, are a Welsh heavy metal band from Bridgend formed in 1998. The band is composed of Matthew Tuck (lead vocals, rhythm guitar), Michael Paget (lead guitar, backing vocals), Jason Bowld (drums) and Jamie Mathias (bass guitar). They were formed under the name Jeff Killed John and started out by covering songs by Metallica and Nirvana. Jeff Killed John recorded six songs which were not released; two of these tracks were reworked later in their career as Bullet for My Valentine. A change of style from that of Jeff Killed John led the band to change their name. In 2002, the band secured a five-album deal with Sony BMG. They have stated that their music is influenced by classic metal acts such as Metallica, Iron Maiden and Slayer.
Bullet for My Valentine's debut album The Poison was released in October 2005 in the United Kingdom and the following February in the United States to coincide with Valentine's Day, in a nod to the band's name. The band made appearances at the Download Festival and Kerrang! XXV, and undertook a US tour with Rob Zombie. Bullet for My Valentine's second studio album, Scream Aim Fire, was released early in 2008 and debuted at number four on the Billboard 200. The band's third album, Fever, came two years later and debuted at number three on the Billboard 200. Further albums, Temper Temper, Venom and Gravity followed and the band has sold more than three million albums worldwide. They are the most successful act in the Kerrang! Awards category of Best British Band with three wins.
Candelas
Candelas are a Welsh rock band from Llanuwchllyn, north Wales, who released their first EP Kim Y Syniad in 2011. After being signed to the label I Ka Ching in 2013 they released two albums and three singles. Their first album featured songs in both Welsh and English and their second album was entirely sung in Welsh. In February 2014, the band won three Y Selar awards for best Welsh language song, best long record and best band. They won best Welsh language band again in February 2015, also winning the best artwork prize. Their album Bodoli'n Ddistaw was shortlisted for the 2015 Welsh-language album of the year.
In 2016 the band recorded Rhedeg i Paris, described as the "anthem of the Summer", to celebrate the Wales football team reaching the European Football Championship.
The band have played at numerous music festivals across Wales such as Festival Number 6, Maes B and Tafwyl, which they headlined in 2016 and 2017.
A third album was released in 2018 titled Wyt Ti'n Meiddio Dod i Chwarae following two singles.
The band's drummer, Lewis Williams, won best instrumentalist at the 2013 Y Selar awards for his work in Candelas and Sŵnami.
Catatonia
Catatonia were an alternative rock band from Wales who gained popularity in the mid-to-late 1990s. The band formed in 1992 after Mark Roberts met Cerys Matthews. The first major line-up featured Dafydd Ieuan on drums, Paul Jones on bass and Clancy Pegg on keyboards.
Pegg was fired prior to work on their first studio album, Way Beyond Blue, and during the recording of the album the band was joined by drummer Aled Richards, who replaced Ieuan within the line-up. During the live promotional appearances for the album the band was joined by guitarist Owen Powell. This latest incarnation of the band lasted until its dissolution in 2001. The single You've Got a Lot to Answer For became the band's first top 40 single in the UK Singles Chart in 1996. Their breakout success came at the start of 1998 with the International Velvet album and the release of the single Mulder and Scully some two weeks apart. The album went to number one in the album chart and sold more than 900,000 copies, being certified triple platinum by the British Phonographic Industry, while the single reached number three in the charts.
The follow-up release, Road Rage, reached number five and was nominated for best song at the Brit Awards and the Ivor Novello Awards, winning at the Q Awards. The title track of the album International Velvet received additional attention, and the band performed it at the opening ceremony of the 1999 Rugby World Cup on October 1 in the Millennium Stadium in Cardiff. While in Catatonia, Matthews collaborated with Space on The Ballad of Tom Jones in 1998 and with Tom Jones himself on a cover of Baby, It's Cold Outside in December 1999. Their final top 10 single came with Dead from the Waist Down off the following album, Equally Cursed and Blessed. Rumours began to circulate about a break-up, but a further album, Paper Scissors Stone, was released in 2001 following a two-year break from live performances.
Matthews' drinking had long been reported in the tabloids and gossip columns, and she entered rehab in mid-2001 for drinking and smoking. The tour to support Paper Scissors Stone was cancelled, and a month later, the band announced that they were breaking up. Matthews subsequently released solo albums, while Powell became a radio presenter and joined the supergroup The Stand to release a charity single. Critics have highlighted the use of metaphors in Catatonia's work, and songs have been compared to poetry by critics. The band formed a key part of the 1990s Cool Cymru movement.
Cate Le Bon
Cate Le Bon (born Cate Timothy in Penboyr, Carmarthenshire, on March 4, 1983) is a Welsh musician and producer. She sings in both English and Welsh and has released five solo albums, three EPs and a number of singles.
Le Bon first gained public attention when she supported Gruff Rhys (of the Super Furry Animals) on his 2007 solo UK tour and has toured with artists such as St Vincent, Perfume Genius and John Grant.
In 2013, Le Bon moved to Los Angeles to further her career in the US. Her third album, Mug Museum, was released and, in 2015, she collaborated with Tim Presley as DRINKS and released the album Hermits on Holiday. DRINKS released their second album Hippo Lite in April 2018, while Le Bon released her fifth studio album, Reward via Mexican Summer, in 2019.
Catfish and the Bottlemen
Catfish and the Bottlemen are a Welsh indie rock band, formed in Llandudno, north Wales, in 2007. Their debut album, The Balcony, reached number 10 in the UK Albums Chart and achieved Platinum status. The band has toured in South America, Japan, UK, Europe, North America, and Australia and have featured in a number of festivals including Lollapalooza, Glastonbury, Latitude, Falls Festival, Community Festival, Reading and Leeds, T in the Park, Governors Ball, All Points East, Bonnaroo, Splendour in the Grass, and Trnsmt Festival. They won a Brit Award for British Breakthrough act in February 2016. Three months later, they released their second album, The Ride, which reached number one in the UK Albums Chart. In 2019, they released their third album, The Balance, which reached number two.
Charlotte Church (click here for full profile)
Dave Edmunds
Dave Edmunds (born in Cardiff, April 15, 1944) is a Welsh singer-songwriter, guitarist, and record producer. Although he is mainly associated with pub rock and new wave, having many hits in the 1970s and early 1980s, his natural leaning has always been towards 1950s-style rock and roll.
The first group that Edmunds fronted was the Cardiff-based 1950s style rockabilly trio The Raiders formed in 1961, along with Brian 'Rockhouse' Davies on bass and Ken Collier on drums.
Edmunds had a UK Christmas number one single in 1970 with I Hear You Knocking, a Smiley Lewis cover, which he came across while producing Shakin' Stevens and the Sunsets' first album entitled A Legend. This single also reached number 4 in the US, making it Edmunds' biggest hit by far on either side of the Atlantic Ocean. It sold over three million copies, and was awarded a gold disc.
Edmunds' only acting role followed, as a band member in the David Essex movie Stardust.
Edmunds bought a house in Rockfield, Monmouth, a few miles away from Charles and Kingsley Ward's Rockfield Studios where he became an almost permanent fixture for the next 20 years.
Edmunds had more UK hits, including Elvis Costello's Girls Talk, Nick Lowe's I Knew the Bride, Hank DeVito's Queen of Hearts, Graham Parker's Crawling from the Wreckage and Melvin Endsley's Singing the Blues.
Edmunds spent the 1980s collaborating with and producing an assortment of artists, including Paul McCartney, King Kurt, Stray Cats, Fabulous Thunderbirds, and Status Quo.
In late 1985, Dave Edmunds was the musical director and a participating band member of Carl Perkins's Rockabilly Session television special. Other musicians involved in the project included George Harrison, Ringo Starr, and Eric Clapton.
Edmunds recorded less frequently after the mid-1980s, living in Wales in semi-retirement, but occasionally touring. He joined up with Ringo Starr & His All-Starr Band for tours in 1992 and 2000.
However, 2007 marked a return to touring for Edmunds, alongside Joe Brown, on a lengthy tour around the UK. He made an appearance on stage alongside Stray Cats, at the Brixton Academy in London, on September 10, 2008.
An album release in November 2013 called …Again, featured recordings from the 1990s, plus four new tracks, Edmunds' first for almost 20 years. In 2015, Edmunds released his first instrumental album On Guitar… Dave Edmunds: Rags & Classics, which featured instrumental covers of classic songs such as The Beach Boys' God Only Knows and Elton John's Your Song.
Donna Lewis
Donna Lewis is a Welsh singer-songwriter and record producer from Cardiff, best known for the 1996 pop hit single I Love You Always Forever, which peaked at number five on the UK Singles Chart and number two on the Billboard Hot 100 for nine weeks in the US – the highest-charting single by a Welsh artist since Bonnie Tyler topped the chart with Total Eclipse of the Heart in 1983. In 1997, Lewis was nominated for the Brit Award for Best British Female Artist.
Ricky Valance
David Spencer (born Ynysddu, April 10, 1936, died June 12, 2020), known professionally as Ricky Valance, was a Welsh pop singer, best known for the UK number one single Tell Laura I Love Her, which sold over a million copies in 1960. The eldest of seven children, he sang in his church choir and worked in a coal mine and a factory before joining the RAF at the age of 17. He started his musical career after leaving the armed forces. He performed in local clubs in the north of England as a cabaret singer for a couple of years, before he was discovered by an A&R representative from EMI and signed to their Columbia label.
The BBC refused to play teenage tragedy songs like Tell Laura I Love Her, but, thanks to airplay on Radio Luxembourg, Valance was rewarded with a number one hit in September 1960. Valance thus became the first Welsh male to reach the top spot – Shirley Bassey being the first Welsh female with As I Love You in February 1959. In 2015, he was given an award at the Wales Millennium Centre, as the first Welshman to have a UK number one hit.
Duffy
Aimee Anne Duffy, known by her surname, is a Welsh singer, songwriter and actress who has performed at concerts and festival gigs around the world.
Duffy was born on 23 June 1984 in Bangor, Gwynedd, and was brought up in Nefyn, near Pwllheli. Duffy's parents divorced when she was 10 and she moved to Letterston, near the Pembrokeshire town of Fishguard, with her mother and sisters.
She attended Ysgol Nefyn on the Llŷn Peninsula and Sir Thomas Picton School in Haverfordwest, Pembrokeshire, as a child. At the age of 17, she went to the Pwllheli campus of Coleg Meirion-Dwyfor to study for A-levels. She subsequently went to the University of Chester and studied Commercial Music Production on the Warrington campus.
Her debut album, Rockferry, released in 2008, became the best-selling album in the United Kingdom that year and led to worldwide attention. It spawned the successful single Mercy. In 2009, Duffy received the Grammy Award for Best Pop Vocal Album for Rockferry, one of three nominations, and won three out of four Brit Awards nominations, for British Breakthrough, Best British Female and Best British Album. In 2010, she made her acting debut in the film Patagonia and released her second studio album Endlessly to moderate success.
In her film debut Duffy played the character of Sissy, described as "a Welsh student who livens up the holiday of a young Argentinean man on a trip to Wales". The film is about Welsh Argentines living in Y Wladfa, Patagonia, Argentina.
In February 2011, Duffy announced an indefinite hiatus from music. She briefly returned in 2015, appearing in the film Legend and contributing three songs to its soundtrack. In 2020, she explained her long-term absence from the music industry, saying she had been abducted and raped. In a longer statement published that April, Duffy wrote that she had been drugged at a restaurant on her birthday, held captive in her home, taken to a foreign country on a plane, and raped. She said she had been held captive and drugged for four weeks.
Feeder
Feeder are a Welsh indie rock band formed in Newport in 1994. The band have released 10 studio albums, 12 compilations, four EPs and 40 singles. They had spent a total of 183 weeks on the singles and albums charts combined as of 2019, while accumulating 25 top-75 singles between 1997 and 2012. At their peak of commercial success, Feeder won two Kerrang! Awards in 2001 and 2003 and were inducted into their Hall of Fame in August 2019.
Feeder are one of the Britpop era bands to have continued success long after their peak. Their 2019 album Tallulah debuted at number four, more than two decades after the group formed, and 20 years after their first top 10 album Yesterday Went Too Soon.
Feeder garnered media attention in 2001 for their third album, Echo Park, and its lead single, Buck Rogers, which later became a UK top five single. Drummer Jon Lee died by suicide at his Miami home in January 2002, after which the remaining members began to record and play with former Skunk Anansie drummer Mark Richardson. They released their fourth album, Comfort in Sound, later that year; it touched on themes such as loss and coming to terms with death, while also exploring themes of positivity. Richardson was ultimately made an official member, remaining so until May 2009. Between 2010 and 2017, the band charted four more top 20 albums, with 2017's The Best of Feeder being their second consecutive top 10 album. In 2019, the band signed a deal with Believe UK to release their 10th studio album, Tallulah.
Funeral for a Friend
Funeral for a Friend are a Welsh post-hardcore band from Bridgend, formed in 2001.
The band's popularity rose in the UK with the release of their debut album, Casually Dressed & Deep in Conversation (2003). Achieving both a gold certification and three top-20 singles in their home country, Casually Dressed & Deep in Conversation is often acclaimed as one of the landmark emo records of the 2000s. Hours (2005) featured a similar musical style to their debut, but also featured more melodic sensibilities and Tales Don't Tell Themselves (2007) showed an evolution in musical style from that which defined their debut, as the group began to diverge from their use of screaming vocals and post-hardcore-influenced guitars, favouring a more melodic rock influence. These albums achieved gold and silver sales certificates respectively in the UK.
Funeral for a Friend self-released their fourth album, Memory and Humanity (2008) through their short-lived record label Join Us, the album arguably being their most eclectic to date. Following this the band tied themselves to other independent labels for Welcome Home Armageddon (2011), Conduit (2013) and Chapter and Verse (2015), which showed them returning to the more metal and hardcore-influenced style of their earlier work. In September 2015, they announced their break-up and final tour in 2016. On May 21, 2016, they played their last performance to a sold-out Forum in London.
In October 2019, Funeral for a Friend reunited as a live band, initially for three benefit shows – two in Cardiff at the Cardiff University Student Union, followed by one in London at Shepherd's Bush Empire. Following a planned performance at the cancelled 2020 Download Festival, they announced a headline UK tour for April 2021 playing songs from their first three albums.
Goldie Lookin' Chain
Goldie Lookin Chain are a Welsh comedy hip hop group from Newport, south Wales. The group produces humorous, controversial and often explicit songs that satirise hip hop, modern-day consumer society, the 'chav' culture and life in Newport and south Wales in general.
The group recorded six albums prior to securing a major record deal. They signed to East West Records, the home of rock band The Darkness. GLC went on to support The Darkness in the latter stages of their UK tour. The group form part of an era known as Cool Cymru for the popularity of Welsh music and arts internationally in that period.
GLC's first UK chart entry was Half Man Half Machine, which reached the top 40 in the UK Singles Chart. The song was a surreal song about Eggsy believing he was a robot, dressing up in foil, and going to the shops to buy cigarettes and crisps. The song namechecks many well-known 1980s 8-bit computer systems including Binatone, ZX Spectrum, Commodore 64, ZX81 and BBC Micro.
In August 2004, the group reached number three in the UK Singles Chart with Guns Don't Kill People, Rappers Do, satirising the American hip hop scene.
Their first nationally released album was called Greatest Hits, the name a play on both the group's previous lack of commercial success and their 'stoner' image; it compiled a mixture of new material and selections from their previous six unofficial albums. It was released in September 2004, and debuted at number five in the UK Albums Chart. The album was released in May 2005 in the US with the title Straight Outta Newport, with cover art similar to NWA's album Straight Outta Compton. However, this version of the album was missing two tracks – Maggot and You Knows I Loves You.
Their next single release was Your Mother's Got a Penis, with an accompanying video based on a supermarket theme. It first appeared on their album The Manifesto and reached number 14 in the UK, as did Your Missus Is a Nutter, the first single from second album Safe As F*ck.
In October 2011, GLC released the album Blue Waffle and released the follow-up to their album Greatest Hits, titled Greatest Hits 2, in 2015.
Since their inception in the early 2000s, the group maintained a close affiliation with their home-town English Football League team Newport County. The club reformed in 1989 after earlier bankruptcy and GLC sponsored the team kit during the team's 2004 season in the lower divisions of the league.
In 2005, GLC were invited by the Football Association of Wales to perform before the World Cup qualifying match against England at Cardiff's Millennium Stadium. Perhaps unsurprisingly, given the nature of the band's music and the participation of England star David Beckham, the band dedicated Your Missus Is a Nutter to the footballer about his wife, who was present at the match, forcing the Welsh football authorities to later apologise to the Beckhams.
Gorky's Zygotic Mynci
Gorky's Zygotic Mynci were a psychedelic folk and alternative rock band which formed in Carmarthen in 1991. The group performed music in both Welsh and English, and they had eight top-75 singles on the UK Singles Chart during their career. They were prominent during the era known as Cool Cymru. The group disbanded in May 2006.
Brian Hibbard
Hibbard was an actor and singer from Ebbw Vale, best remembered as the lead vocalist in the original The Flying Pickets. The acapella band had a huge Christmas number with Only You. The Flying Pickets, formed by Hibbard in 1981, were named after the practice of travelling specially to join picket lines. The members of the band were taken from co-stars in the 7:84 theatre group who had utilised acapella styles in their play One Big Blow. Only You, their debut single, was released in November 1983, reaching the top of the charts in time for Christmas and remaining at Number One for five weeks. They followed up Only You with When You're Young And In Love, which reached number seven, and a cover of The Eurythmics' Who's That Girl. After leaving the group in 1986, Hibbard enjoyed television success in soaps such as Coronation Street, Emmerdale and Pobl Y Cwm. He also starred in the hit film Twin Town as the self-styled 'Karaoke King' Dai Rees, alongside Rhys Ifans.
Jayce Lewis
Jason Lewis, known professionally as Jayce Lewis, is a Welsh musician from Bridgend, entering the industry as a respected percussionist, Lewis's prominence began in late 2009 following the self-produced single titled Icon (also included on EMI Records' Smash Hits 2009 compilation), achieving a top-10 chart position alongside VH1/MTV Asia Viacom18 features. With strong industrial music and synthpop influences, his music has been generalised as alternative rock with electronica roots and "tribal percussion". Lewis has collaborated with acts such as Queen and synthpop icon Gary Numan, for whom Lewis has been a supporting act three times.
John Cale
John Davies Cale, OBE, is a Welsh musician, composer, singer, songwriter and record producer from Garnant, Carmarthenshire, who was a founding member of the American rock band the Velvet Underground. Over his six-decade career, Cale has worked in various styles across rock, drone, classical, avant-garde and electronic music.
He studied music at Goldsmiths College, University of London, before relocating in 1963 to New York City's downtown music scene, where he performed as part of the Theatre of Eternal Music and formed the Velvet Underground. After leaving the band in 1968, Cale went on to release 16 solo studio albums, including the widely acclaimed Music for a New Society. Cale also acquired a reputation as an adventurous producer, working on the debut albums of several innovative artists, including the Stooges and Patti Smith.
The Joy Formidable
The Joy Formidable is a Welsh alternative rock band, formed in 2007 in Mold, Flintshire. The band consists of Rhiannon 'Ritzy' Bryan (lead vocals, guitar), Rhydian Dafydd (bass, vocals) and Matthew James Thomas (drums, percussion).
Their debut album The Big Roar was released in early 2011 and included early singles Austere, Cradle and Whirring. In November 2011, their song Endtapes was featured on The Twilight Saga: Breaking Dawn film soundtrack.
The band's second studio album, Wolf's Law, was officially released in January 2013 in the UK and the US.
Three years later, the band announced their third studio album, Hitch, and, in 2018, revealed a fourth studio album, AAARTH. The band also joined Foo Fighters for a short tour.
Karl Wallinger
Karl Edmond De Vere Wallinger (born 19 October 1957, Prestatyn, Wales) is a Welsh musician, songwriter and record producer, best known for leading the band World Party and for his mid-1980s stint in The Waterboys. He also wrote and originally released the song She's the One, which was later covered by Robbie Williams and became a hit single.
Wallinger is a multi-instrumentalist, enabling him to demo and record the bulk of World Party material as a one-man band.
Kids In Glass Houses
Kids in Glass Houses were a Welsh rock band from Cardiff. The band achieved success on the strength of the singles Give Me What I Want and Saturday off their debut album Smart Casual in 2008. The band released their second album, Dirt, in early 2010, releasing four singles, most notably Matters at All. The band's third album, In Gold Blood, was released in August 2011 and their fourth, Peace, came out in 2013.
The quintet had a series of support slots during late 2006 and early 2007, playing alongside Lostprophets, Thirty Seconds to Mars, Hundred Reasons, Manic Street Preachers and The Goo Goo Dolls and Fall Out Boy.
During October 2007, the band completed a 16-date headline tour of the UK, following which they supported fellow Welshmen Funeral for a Friend, on their December 2007 UK tour.
In May 2008, the band embarked on a headline tour to promote their debut album Smart Casual. This was followed by another headline tour during October and a European tour with Zebrahead and Simple Plan. The band were one of the support acts for Paramore and New Found Glory on the 2008 RIOT Tour. They also supported Fall Out Boy on their UK arena tour in March 2009.
In May, they played the In New Music We Trust stage at the Radio 1 Big Weekend in Bangor, north Wales. On June 5, 2010, the band were one of three supporting acts for Stereophonics at their gig at the Cardiff City Stadium.
Kids In Glass Houses played their final show on October 31, 2014, in the Great Hall, Cardiff, to a capacity crowd.
Lostprophets
Lostprophets were a Welsh rock band from Pontypridd, formed in 1997 by singer and lyricist Ian Watkins, bassist and later guitarist Mike Lewis, guitarist Lee Gaze, and drummer Mike Chiplin. The band was founded as a side project of the band Public Disturbance, and was part of the Cardiff music scene.
Lostprophets released five studio albums: The Fake Sound of Progress (2000), Start Something (2004), Liberation Transmission (2006), The Betrayed (2010) and Weapons (2012). They sold 3.5 million albums worldwide, achieving two top-10 singles in the UK (Last Train Home and Rooftops), a number one single on the US Alternative Songs chart (Last Train Home) and several Kerrang! awards and nominations before disbanding in 2013.
Man
Man are a rock band from Wales whose style is a mixture of American West Coast psychedelia, progressive rock, and blues. Formed in November 1968 as a reincarnation of Welsh rock harmony group the Bystanders, Man are renowned for the extended jams in their live performances.
Man evolved out of the Bystanders, a successful close harmony pop group from Merthyr Tydfil who played numerous club residencies in Wales. The Bystanders issued eight singles, including 98.6, which was played in the 2009 film The Boat That Rocked and When Jesamine Goes, which was later covered by the Casuals as Jesamine and got to number two on the UK chart.
When formed in 1962 the Bystanders included Owen Money, then known as Gerry Braden, but he was replaced by Vic Oakley, giving the classic line-up of Oakley (vocals), Micky Jones (guitar), Clive John aka Clint Space (keyboards), Ray Williams (bass) and Jeff Jones (drums). By 1968 the other members wanted to change musical direction to a more psychedelic/American west-coast guitar sound, so Oakley left, to be replaced by Deke Leonard; and the band changed its name to Man.
Man were initially signed to Pye Records, for which they recorded their first two albums, with John Schroeder producing Revelation (January 1969), noted for the simulated orgasm on Erotica, which received a UK ban, and 2 Ozs of Plastic with a Hole in the Middle (September 1969).
Man then toured Europe, predominantly Germany, where they supported Chicago, but on their return, were stopped as suspected terrorists, then jailed for drugs offences in Belgium.
Their manager, Barrie Marshall, obtained a new record contract with Andrew Lauder of United Artists Records, for whom the band recorded the eponymous Man (March 1971) album, which received mixed reviews.
The next album Do You Like It Here Now, Are You Settling In? (November 1971) recorded at Rockfield Studios by Kingsley Ward, was well received.
A new four-piece set-up supported Hawkwind and Brinsley Schwarz at a charity gig at The Roundhouse in February 1972, recorded and issued as Greasy Truckers Party (with other artists, April 1972), a limited edition double album which rapidly became a collectors' item. Live at the Paget Rooms, Penarth, was recorded on April 8, 1972. It was sold at a reduced price and only 8,000 copies were pressed, which sold out in a week, making it number one in the budget album chart.
The band recorded three Peel Sessions, in 1972, 1973 and 1974. They then recorded Be Good to Yourself at Least Once a Day (November 1972). A party in December 1972, with Dave Edmunds, Help Yourself, The Flying Aces and others, was issued as Christmas at the Patti (July 1973), a double 10″ album, which again topped the budget album chart.
The four-piece recorded the double album Back into the Future (September 1973), including the live half at Man's spiritual London home, The Roundhouse, backed by the Gwalia Male Choir.
The next album Rhinos, Winos and Lunatics (May 1974) was produced by Roy Thomas Baker, noted for his work with Queen, and spent four weeks in the UK album chart, peaking at number 24. In March/April 1974, Man supported Hawkwind on The 1999 Party, a five-week US tour.
They recorded The Welsh Connection (March 1976) which reached number 40 in the UK Album Chart, but on the subsequent European tour keyboardist Phil Ryan and bassist John McKenzie announced they would be leaving, and the rest of the band agreed to call it a day. The band eventually agreed to a live farewell album, All's Well That Ends Well (November 1977).
The band reformed in 1983, with a line-up of Micky Jones and Deke Leonard on guitars, Martin Ace on bass and John 'Pugwash' Weathers on drums. This line-up was to stay largely constant until 1996.
Former keyboardist Phil Ryan returned in 1998, taking the band back to the classic five-piece line-up, which recorded a live double album 1998 at the Star Club (1998).
The 40th anniversary tour in 2008 saw the return of Ryan on keyboards, giving a multi-generational line-up, with two early members (bassist Martin Ace and keyboardist Phil Ryan), two sons of early members (guitarists George Jones and Josh Ace) and drummer Bob Richards, who had been in the band since 1997.
After 2011 Man were based in Germany, where they still performed occasionally, including autumn tours in 2012 and 2013, and a short UK tour in 2019.
In 2015, Swansea Museum mounted an exhibition, The Evolution of Man 1965-2014, Acid Rock from Wales, displaying Man memorabilia covering 50 years, from the collection of local fan, John Bannon.
Manic Street Preachers
Manic Street Preachers are a Welsh rock band formed in Blackwood in 1986. The band consists of cousins James Dean Bradfield (lead vocals, lead guitar) and Sean Moore (drums, percussion, soundscapes), plus Nicky Wire (bass guitar, lyrics). They are often colloquially known as "the Manics". They form a key part of the 1990s Welsh Cool Cymru cultural movement.
Following the release of their debut single Suicide Alley, the band was joined by Richey Edwards as co-lyricist and rhythm guitarist. The band's early albums were in a punk vein, eventually broadening to a greater alternative rock sound, whilst retaining a leftist political outlook. Their early combination of androgynous glam imagery and lyrics about "culture, alienation, boredom and despair" gained them a loyal following and cult status.
With their debut album, Generation Terrorists, the Manic Street Preachers proclaimed it would be the "greatest rock album ever", as well as hoping to sell "16 million copies" around the world, after which they would split up. Despite (or due to) the album's failure to meet this level of success, the band carried on with their career. The group became a trio again after Richey Edwards went missing in February 1995. The band went on to gain critical and commercial success despite his absence. Edwards was legally 'presumed dead' in 2008.
Throughout their career, the Manics have headlined several festivals including Glastonbury, T in the Park, V Festival and Reading, won 11 NME Awards, eight Q Awards and four BRIT Awards. They have been nominated for the Mercury Prize in 1996 and 1999 and have had one nomination for the MTV Europe Music Awards. The group has reached number one in the UK charts three times: in 1998, with the album This Is My Truth Tell Me Yours and the single If You Tolerate This Your Children Will Be Next, and again in 2000 with the single The Masses Against the Classes. They have sold more than 10 million albums worldwide.
Marina and the Diamonds
Marina Lambrini Diamandis, known as MARINA (stylized in all caps) and previously by the stage name Marina and the Diamonds, is a Welsh and Greek singer, songwriter and record producer.
Diamandis was born to a Welsh mother and Greek father in Brynmawr on October 10, 1985 and raised in the village of Pandy, near Abergavenny. As a child, Diamandis attended Haberdashers' Monmouth School for Girls, reflecting, "I sort of found my talent there… I was the one who always skived off choir, but I had an incredible music teacher who managed to convince me I could do anything."
She moved to London as a teenager to become a professional singer, despite having little formal musical experience. In 2009, Diamandis came to prominence upon placing second in the BBC's Sound of 2010. Her debut studio album, The Family Jewels (2010), incorporates indie pop and new wave musical styles. It entered the UK Albums Chart at number five and was certified gold by the British Phonographic Industry. The album's second single, Hollywood, peaked at number 12 on the UK Singles Chart. Her follow-up record, Electra Heart (2012), is a concept album about a character of the same name which became her first number one project in the UK. The album was certified gold in the US and UK, with its singles Primadonna and How to Be a Heartbreaker becoming international hits.
Diamandis's synthpop-inspired third studio album, Froot (2015), became her third top-10 album in the UK and her first top-10 entry on the US Billboard 200, where it charted at number eight. In 2018, she was featured on Clean Bandit's single Baby which reached the top 15 in the UK. Diamandis's fourth studio album, Love + Fear, was released in April 2019. The album charted at number five on the UK album chart.
Martin Joseph
Described by Tom Robinson as, "One of the most charismatic and electrifying performers in Britain today… tough and passionate", Penarth-born Martyn Joseph is a Welsh singer-songwriter whose music exhibits primarily a brand of Celtic and folk, while his songwriting is often focused on social lament or protest. He is known for his expressive and poignant lyrics and has a career spanning more than 30 years, well over 30 albums, over a half a million record sales and thousands of live performances. There have even been comparisons to some of the greatest singer-songwriters of them all and Joseph has been called 'The Welsh Springsteen'. But he has created his own style and reputation as a mesmerising live performer and stands in his own right, built on a reputation for giving what thousands have described as the best live music experience of their lives. A unique talent driven by passion, social awareness and love for his trade, he is a talented guitar player who has developed a unique percussive style, teamed up with a powerful show-stopping voice. In addition to his five top 50 UK hits, and the title of Best Male Artist in the BBC Welsh Music Awards, 2004, social justice has been an essential presence throughout his music, which has been recognised with various humanitarian awards and plaudits.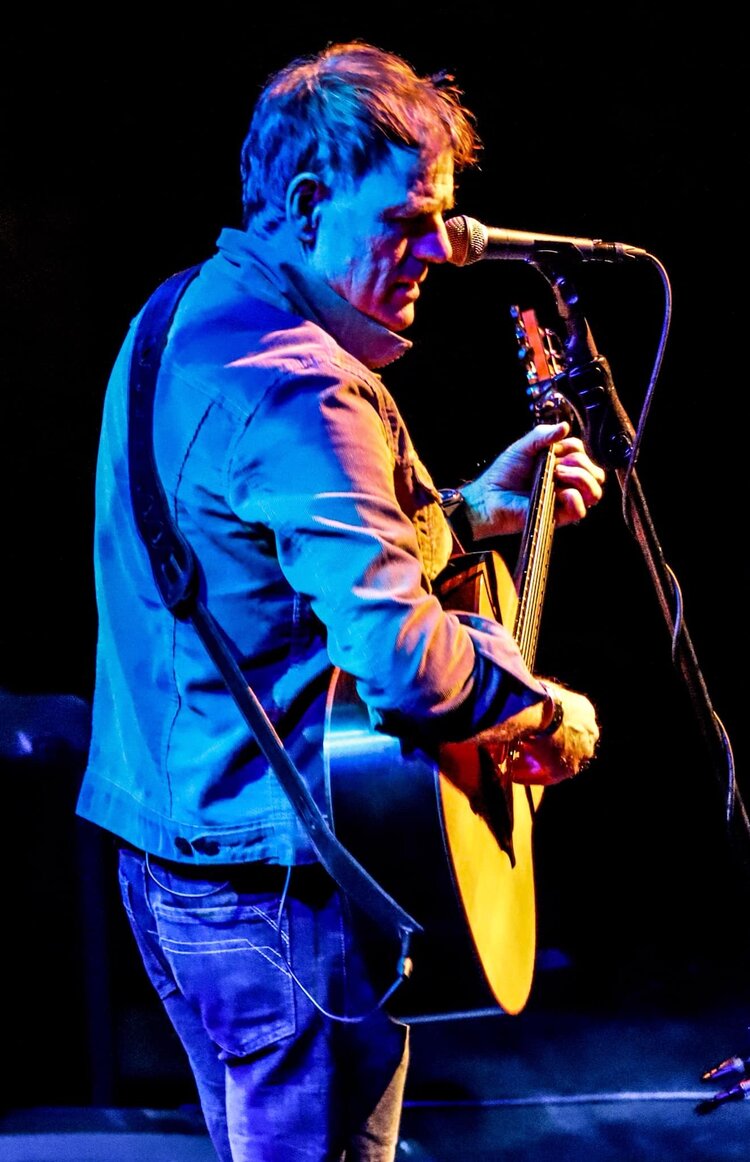 The year 2014 saw him take the spirit of his music onto a more practical footing with the launch of his Let Yourself Trust, a not-for-profit organisation which aims to make a small difference by challenging injustice, educating via advocacy, campaigning for human rights and raising issues that have been forgotten or ignored via fundraising initiatives. He has won the love of audiences from USA and Canada to Europe through an impressive number of live dates and has previously toured with the likes of Art Garfunkel, Jools Holland, Ani DiFranco, Suzanne Vega, Mike and The Mechanics, Joan Armatrading, Celine Dion and Shirley Bassey. In 2016, Joseph was asked to write and perform as part of 'Sweet Liberties' with Nancy Kerr, Sam Carter and Maz O'Connor to mark 800 years of British democracy. One of his songs from this, Nye, celebrating Nye Bevan, the founder of the NHS, has been enthusiastically received by audiences everywhere. Joseph was honoured with a Spirit of Folk Award by Folk Alliance International in Kansas in 2018 and has been invited to speak on several occasions at the prestigious Berklee College of Music in Boston, USA.
Murry the Hump
Murry the Hump were a Welsh indie rock and 'urban folk' band. They were active from 1999 until 2001, when they continued to release music under the name The Keys.
The band was formed in Aberystwyth in the late 1990s by singer Matthew Evans, guitarist Gwion Rowlands, bass guitarist Curig Huws and drummer Bill Coyne, taking their name from the gangster Llewellyn Morris 'Murray The Hump' Humphreys.
Murry the Hump have supported The Stereophonics, Bonnie Tyler, Mike Peters, Deacon Blue among others.
Early on in the band's career, they competed in a Battle of the Bands contest against Muse. Garnering early interest by way of indie singles such as Green Green Grass of Home (an NME Single of the Week, and a song about marijuana rather than a cover of the song made famous by Tom Jones), they gained support from BBC Radio 1 DJs Steve Lamacq and John Peel. A publishing deal from Townhill Music (Sony) swiftly followed, and the band were heralded as the best new band in Wales, and by Alex James of Blur as the best new band in Britain. James, artist Damien Hirst and the late Joe Strummer preferred Murry the Hump over Coldplay when they saw both acts perform at a record label showcase gig.
On May 26, 1999, the band supported Tom Jones, Shirley Bassey, the Morriston Orpheus Choir and a host of other Welsh acts in front of 25,000 people for the BBC Voices of a Nation concert.
In a 2000 review of the Silver Suit single in the NME, the band were described as "the Proper Indie; winsome, charmsome, delicate, funny and toe-tappin' Trebor fizz-pop Fab".
In 2000 the band signed to Too Pure, whereupon they joined new label mates Hefner on a whistle-stop tour of the UK. The band then began work on their debut album, Songs of Ignorance, and performed some of the new material for Radio 1's One Live in Cardiff. Curig was replaced by new bassist Siôn Glyn.
The band's first release for Too Pure, The House That Used to Be a Ship, was followed by Cracking Up. Another single for the label, Don't Slip Up and the debut album Songs of Ignorance followed. NME's April Long said that it revealed "a canny aptitude not only for hook-laden guitar tricks but also story-telling", describing the band as "somewhere between the bucolic surrealism of Super Furry Animals and the cerebral pop of XTC."
The band announced that they had split up in September 2001, although they played one final concert in October that year as part of the BBC Radio 2 Live in Cardiff festival. Evans, Rowlands, and Glyn re-remerged in 2002 as The Keys, and released a self-titled debut album in 2003, two EPs in 2009 and their second album as The Keys, Fire Inside, in 2010. A third album, Bitten by Wolves, was released in 2011. The band, now also known simply as Keys, released the albums Ring the Changes in 2014, Bring Me the Head of Jerry Garcia in 2019 and Home Schooling Album in 2020.
Roger Glover
Roger Glover is a British bassist, songwriter, and record producer. He is best known as the bassist for hard rock bands Deep Purple and Rainbow. As a member of Deep Purple, Glover was inducted into the Rock and Roll Hall of Fame in April 2016.
Born on November 30, 1945, near Brecon, Glover moved with his family to the South Kensington area of London, at the age of nine. Around that time his interests started to shift towards rock music, and by the time he was 13 Glover began playing guitar.
Glover spent four years (1969–1973) with Deep Purple, during which the band saw their most successful releases in the albums in Rock, Machine Head, Who Do We Think We Are and the live album Made in Japan. He is credited with developing the title for the band's iconic Smoke on the Water song, thus inspiring the song's lyrics which were written by Ian Gillan.
Glover departed Deep Purple, along with Gillan, after the band's second tour of Japan in the summer of 1973. Throughout the 1970s Glover produced albums and/or singles by such acts as Judas Priest, Nazareth, Elf, Status Quo, the Ian Gillan Band and David Coverdale.
In 1974 Glover released his first solo album, The Butterfly Ball and the Grasshopper's Feast, which generated the single Love Is All. In 1978 Glover's second album followed: Elements.
From 1979 to 1984 he was the bassist, lyricist and producer for Ritchie Blackmore's Rainbow, working on four of the group's studio albums.
In 1983 he recorded his third solo album, Mask, released the next year.
When Deep Purple reformed in April 1984, Glover returned to his old band where he would remain for the three decades.
In 2004, ITV Wales aired a TV special about Glover, entitled Roger Glover – Made in Wales, which featured interviews from fellow musicians Gillan and Ian Paice.
Racing Cars
Racing Cars was a pop band, formed in the Rhondda valleys in 1973. Their solitary hit single was They Shoot Horses, Don't They?, which peaked at number 14 in the UK Singles Chart in 1977, and was inspired by the film of the same name. Touring included dates supporting Bad Company in 1976.
Without any similar further chart appearances, Racing Cars ultimately acquired 'one-hit-wonder' status. However, the band was sufficiently established on the touring circuit to issue two further albums, in 1977 and 1978, which included bit-parts for the session pianist Geraint Watkins, American saxophonist Jerry Jumonville, The Bowles Brothers Band (on vocal harmonies) and Ray Ennis, from Newport, who had previously played with a band called Good Habit. Morty and Graham Williams had played together in local bands such as Morty and the Frantics and later evolutions including Strawberry Dust for years before. They were very well known in the Welsh club circuit.
Racing Cars split up for the first time in the late 1970s. In 1980, Morty released a solo album Love Blind. In 1981, Morty joined a band called The Bleeding Hearts with musicians Paul Rosser, Bob Watkins and Dave Iles. When this band came to an end, lead vocalist Morty had sung backing vocals for artists including The Beach Boys, Tina Turner and Bryan Adams. Morty got together with local musicians and formed the Gareth Thomas Mortimer Band (GTM Band).
Morty, Graham Hedley Williams and Paul Rosser reunited as Racing Cars, but said, "We were a bit reluctant. We're a bit long in the tooth and a bit out of touch but we finally said yes." They continued to play gigs across Europe, after reforming in 2000 with a new album, Bolt From The Blue, which was released on DA Records and a gig at the Cardiff International Arena.
Racing Cars' final album, Second Wind, was released in October 2007. Racing Cars performed a concert together on April 11, 2009, at the Parc and Dare theatre, Treorchy, and made an appearance at the tribute concerts for Man guitarist Micky Jones in Pontardawe on September 18, 2010. They also reformed for a one-off concert 'Rock at the Park' at Merthyr Tydfil's football ground, however these dates were without Simon Davies.
Sassafras
Sassafras were a rock band from south Wales first formed in 1970. They played a mix of rock and roll, progressive rock and country rock with the emphasis on vocal harmony. The use of twin guitar solos was a distinctive feature of their music. The band holds the UK record for the group performing the greatest number of live gigs in a year, with their 332 beating Slade by one.
They were formed as a three-piece band with guitarist Ralph Evans, bassist Ricky John Holt and drummer Rob Reynolds. Shortly afterwards guitarist David (Dai) Shell, a Cardiff guitarist of some note, joined and became largely responsible for the tone of the band.
The band signed to George Martin's AIR Productions in 1972 with a line-up completed by Terry Bennett on vocals and Robert 'Congo' Jones on drums. The band utilised the twin lead guitar approach to great effect and released their debut album, Expecting Company, on Polydor in 1973.
They toured America's larger venues with such headlining groups as Ten Years After, Fleetwood Mac and Peter Frampton, and were described as "a sort-of Welsh Fleetwood Mac/Eagles hybrid, with soaring west-coast melodies and a real roadtrip rock feel", but never found real commercial success.
Shakin' Stevens
Michael Barratt, known professionally as Shakin' Stevens, is a Welsh singer and songwriter. He was the UK's biggest-selling singles artist of the 1980s. His recording and performing career began in the late 1960s, although it was not until 1980 that his commercial success began. His most successful songs were nostalgia hits, evoking the sound of 1950s rock and roll and pop.
In the UK alone, Stevens has charted 33 Top 40 hit singles including four chart-topping hits, This Ole House, Green Door, Oh Julie and Merry Christmas Everyone; his last Top 40 single was Trouble in 2005 apart from his Christmas song, which has re-entered the UK Singles Chart each December since 2007.
Born on March 4, 1948, he grew up in Ely, Cardiff, and as a teenager, in the mid-1960s he formed his first amateur rock and roll band with school friends and became its vocalist and frontman. Originally named the Olympics, then the Cossacks, the short-lived band finally renamed as the Denims and performed gigs in the local Cardiff and south Wales area.
Having worked as an upholsterer and milkman, Barratt performed at weekends in clubs and pubs. Having previously followed them as a fan and then as an occasional guest vocalist, Barratt joined the existing Penarth-based the Backbeats – originally formed in 1958 – as lead singer. He was spotted by south Wales impresario Paul 'Legs' Barrett, who proposed repackaging the band as a 1950s-influenced rock 'n' roll outfit under a new name. Michael Barratt agreed to choose a stage name, and so borrowing from old school friend Steven Vanderwalker, he chose Shakin' Stevens.
Fronting the newly-named Shakin' Stevens and the Sunsets, an early break for the band presented itself when they were given a support slot for the Rolling Stones in December 1969.
In 1977, after seven years of constant touring and recording, 'Shaky', as he was also being called by this time, had been spotted during a London Sunsets gig by Jack Good who personally invited him to attend a London audition for his planned new West End musical Elvis!. Three actors were to portray Elvis's life during the course of the show and Shaky landed one of the lead roles, playing Elvis in his prime, charting his army and film star years.
In late 1979, Stevens signed what was to be his most successful management deal with Freya Miller, who immediately advised Stevens to sever his association with the Sunsets and continue developing a more lucrative solo career. Under Miller's hand, in 1981, Stevens scored his first UK chart-topping number one with This Ole House and would follow up with 10 more songs reaching the top five, including three more number one hits, while You Drive Me Crazy and A Love Worth Waiting For reached number two in 1981 and 1984 respectively. His 1984 hit Teardrops, which reached number five in the UK, featured Hank Marvin on guitar.
Chart successes also included his album, Shaky, reaching number one on the UK Albums Chart.
Scritti Politti
Scritti Politti is a British band, originally formed in 1977 in Leeds, by Cardiff-born singer-songwriter Green Gartside. He is the only member of the band to have remained throughout the group's history.
Beginning as a punk-inspired collective of art students and squatters, Scritti Politti released several early post-punk recordings on Rough Trade Records before transitioning into a mainstream pop music project in the early to mid-1980s, enjoying significant success in the record charts in the UK and the US. The group's most successful album, 1985's Cupid & Psyche 85, spawned three UK Top 20 hits with Wood Beez (Pray Like Aretha Franklin), Absolute and The Word Girl, as well as a US Top 20 hit with Perfect Way.
The band's 1988 album Provision was a UK Top 10 success, though it only produced one UK Top 20 hit single, Oh Patti. After releasing two non-album singles in 1991, as well as a collaboration with B.E.F., Gartside became disillusioned with the music industry and retired to south Wales for more than seven years. He returned in the late 1990s, releasing a new album, Anomie & Bonhomie, in 1999 (which included various rock and hip hop influences). In 2005, Rough Trade released the compilation Early, which collected the band's first releases and, in 2006, Gartside released the stripped-down White Bread, Black Beer.
Skindred
Skindred is a Welsh heavy metal band formed in Newport, Wales, in 1998. Their musical style mixes heavy metal, alternative rock, and ragga. The band also integrate elements of punk rock, hardcore punk, reggae, dancehall, jungle, ska, hip hop, drum and bass, dubstep, and various other influences into their music. They are well known for their energetic and involving live performances, and have won several awards including Best Live Band at the 2011 UK Metal Hammer Golden Gods Awards and the Devotion Award at the 2011 Kerrang! Awards.
Benji Webbe formed Skindred with bassist Daniel Pugsley, guitarist Mikey Demus and drummer Arya Goggin and, in 2002, Skindred released its debut album, Babylon.
In October 2007, Skindred released its second album, Roots Rock Riot, followed by Shark Bites and Dog Fights in September 2009.
In 2011, Dan Sturgess was added to Skindred's live line-up. The band's fourth studio album, Union Black, was released in April 2011. The band promoted this with a UK tour and Skindred also played at several major European festivals including Download Festival, Boardmasters Festival, Wacken Open Air, Przystanek Woodstock, and Sonisphere Festival in Spain and Switzerland.
The album Kill The Power was released in January 2014 and reached number 32 on the iTunes chart.
In October 2015 the band released the album Volume, the deluxe edition of which contained a documentary called Rude Boys For Life, looking at life on the road, its ups and downs, celebrations, festival appearances and headline shows, studio access, and their Polish Woodstock headline show where the band played to over 1 million people.
Their 7th album, Big Tings, followed in 2018.
Stereophonics
Stereophonics are a Welsh rock band that formed in 1992 in the village of Cwmaman in the Cynon Valley. The band consists of Kelly Jones (lead vocals, lead guitar, keyboards), Richard Jones (bass guitar, harmonica, backing vocals), Adam Zindani (rhythm guitar, backing vocals), Jamie Morrison (drums, percussion) and touring member Tony Kirkham (keyboards). The group previously included Stuart Cable (1992–2003) and then Javier Weyler (2004–2012) on drums. Stereophonics have released 11 studio albums, including seven UK number one albums. A successful compilation album, Decade in the Sun, was released in November 2008 and charted at number two on the UK Album Chart.
Described as "classic UK rock delivered with whiskey vocals", the band have been summarised as possessing a sound akin to the genres of alternative rock and "British traditional rock". Stereophonics' debut album, Word Gets Around, was released in August 1997 and charted at number six in the UK, aided by the singles Local Boy in the Photograph, More Life in a Tramps Vest and A Thousand Trees.
The band reached mainstream success with the release of Performance and Cocktails (and its promotional singles The Bartender and the Thief, Just Looking and Pick a Part That's New) in 1999 and have achieved a total of 10 top-10 singles as well as one number one: Dakota (2005). Having sold around 10 million copies worldwide, Stereophonics are one of the most successful Welsh rock acts. Upon their release of Pull the Pin, they achieved five consecutive UK number one albums.
The band have also been praised for their live performances, which have landed them headlining slots at many of the UK and Ireland's most high-profile music festivals, including Reading and Leeds in 2000, Glastonbury in 2002, V festival in 2002, the Isle of Wight in 2004 and 2009, Oxegen in 2010, Tramlines Festival and TRNSMT in 2018 and Latitude in 2019.
Super Furry Animals
Super Furry Animals are a Welsh rock band formed in Cardiff in 1993. Since their formation, the band has consisted of Gruff Rhys (lead vocals, guitar), Huw Bunford (lead guitar, vocals), Guto Pryce (bass guitar), Cian Ciaran (keyboards, synthesisers, various electronics, occasional guitar, vocals) and Dafydd Ieuan (drums, vocals). Actor Rhys Ifans is a former member.
Super Furry Animals have recorded nine UK Albums Chart Top 25 studio albums (one BPI certified Gold and four certified Silver), plus numerous singles, EPs, compilations and collaborations. The band are known as central to the Cool Cymru era during which they were dominant. Over the course of nine albums, Super Furry Animals have been described as "one of the most imaginative bands of our time" by Billboard, while according to a 2005 article in NME, "There's a case to be argued that [Super Furry Animals] are the most important band of the past 15 years".
Rhys formed the electro-pop outfit Neon Neon with Boom Bip. Their album Stainless Style was nominated for the 2008 Nationwide Mercury Prize. He won the 2011 Welsh Music Prize for his album Hotel Shampoo, which was followed up by American Interior in 2014, accompanied by a film, a book and a mobile app. His most recent albums Babelsberg and Pang were released in 2018 and 2019, respectively. He is considered a figurehead of the era known as Cool Cymru.
WELSH LIVE MUSIC VENUES IN CARDIFF
BACK TO HOME PAGE