Welsh food and drink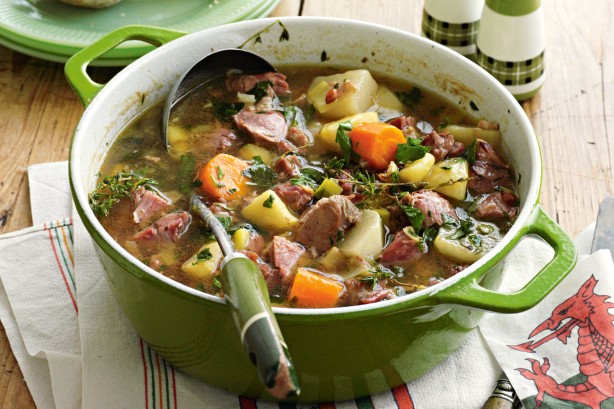 UNIQUELY Welsh cuisine grew principally from the lives of Welsh working people, largely as a result of their isolation from outside culinary influences and the need to produce food based on the limited ingredients they could produce or afford.
Sheep farming is practiced extensively in Wales, with lamb and mutton being the meats most traditionally associated with the country. Beef and dairy cattle are also raised widely, and there is a strong fishing culture. Fisheries and commercial fishing are common and seafood features widely in Welsh cuisine.
Vegetables, beyond cabbages and leeks, were historically rare and the leek became a significant component of many dishes, including cawl and Glamorgan sausage. It has been a national symbol of Wales for at least 400 years and Shakespeare refers to the Welsh custom of wearing a leek in Henry V.
There are few written records of traditional Welsh foods; recipes were instead held within families and passed down orally between the women of the family.
Around the end of the 19th Century, the increase in coal mining and steel works around Wales led to the immigration of Italian workers. The workers brought families who integrated their culture into Welsh society, bringing with them Italian ice cream and Italian cafes, now a staple of Welsh society.
While there are many dishes that can be considered Welsh due to their ingredients and/or history, dishes such as cawl, Welsh rarebit, laverbread, Welsh cakes, bara brith (literally fruit bread) and the Glamorgan sausage have all been regarded as symbols of Welsh food.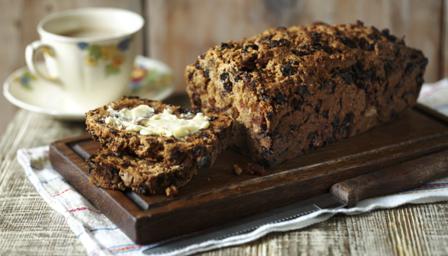 Since the 1970s, the number of restaurants and 'gastropubs' in Wales, and around the United Kingdom, has increased significantly. Today, Wales is no longer considered a 'gastronomic desert'; as of 2016, it had five Michelin starred restaurants and other award systems such as TripAdvisor and the AA have included Welsh restaurants in their lists.
Restaurants are promoting the quality of Welsh ingredients, encouraging people to purchase Welsh produce and creating new dishes using them. This has meant that Welsh products can find their way into the higher-priced delicatessens of London or North America.
However, the regular diet of Welsh people has been more influenced by India, China and America. There has been a rise in Asian cuisine in Wales, especially that of Indian, Chinese, Thai, Indonesian and Japanese, with a preference for spicier foods.
It is widely accepted that the most popular food eaten in Wales is now chicken tikka masala, followed by burgers or chow mein. Some mid-size towns may have as many as five or six Chinese and Indian takeaways or restaurants, along with traditional chip shops, pizza outlets and kebab shops.
By the 1990s, historical Welsh foods were going through a revival. Farmers' markets became more popular, Welsh organic vegetables and farm-made cheese started to appear in supermarkets. Other modern Welsh characteristics are more subtle, such as supermarkets offering salty butters and laverbread or butchers labelling beef skirt as 'cawl meat'.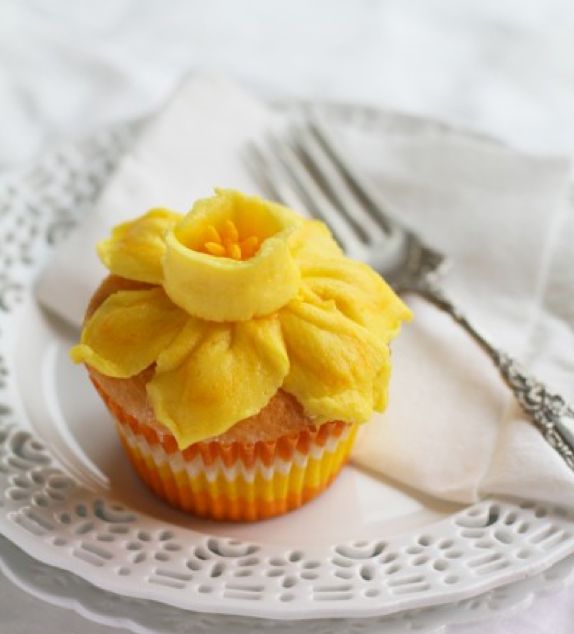 There are a number of local Welsh breeds of cow, including the Welsh Black, a breed which dates back to at least 1874. Cattle farming accounts for the majority of agricultural output in Wales — in 1998 the production of beef contributed 23% of Welsh agricultural output, whilst in 2002 25% of agricultural output was in the production of dairy products.
The Welsh uplands were most suited to grazing animals such as sheep and goats, and the animals became associated with Wales. Sheep-farming on a large scale was introduced by Cistercian monks, largely for wool, but also for meat.
By the start of the 16th Century Welsh mutton was popular in the rest of the UK. Once modern synthetic fibres became more popular than wool, Welsh sheep were raised almost exclusively for meat. Towards the end of the 20th Century, there were more than 11 million sheep in Wales.
Coastal areas of Wales, and those near rivers, produce many different forms of fish and shellfish. Traditional fishing methods, such as wade netting for salmon, remained in place for 2,000 years. Welsh coracles, simple boats made of a willow frame and covered in animal hides, were noted by Romans and were still in use in the 20th Century. Once landed, fish would generally be wind-dried and smoked, or cured with salt.
Herring, a fish which takes well to salting, became a well established catch; the busiest harbour was Aberystwyth, which reportedly took up to 1,000 barrels of herring in a single night in 1724. Herring, along with mackerel, trout, salmon and sea trout, were the main fishes found in Welsh cuisine.
Lobster fishing was done on a small scale especially in Cardigan Bay, but was reserved almost exclusively for export. Welsh fisherman would be more likely to eat the less profitable crabs. Cockles have been harvested since Roman times and are still harvested in a traditional manner with a hand rake and scraper. Cockle picking still happens in the Gower peninsula, but due to the difficulty in getting licences and reduced yield, villages near the Carmarthen Bay no longer gather them.
As cattle were the basis of Celtic wealth, butter and cheese were generally made from cows' milk. The Celts were amongst the earliest producers of butter in Britain, and for hundreds of years after the Romans left the country, butter was the primary cooking medium and basis for sauces.
The Welsh were also early adopters of roasting cheese. An early incarnation of Welsh rarebit was being made in medieval times, and by the middle of the 15th Century rarebit was considered a national dish.
The best-known Welsh cheese is Caerphilly, named in 1831 but made long before that.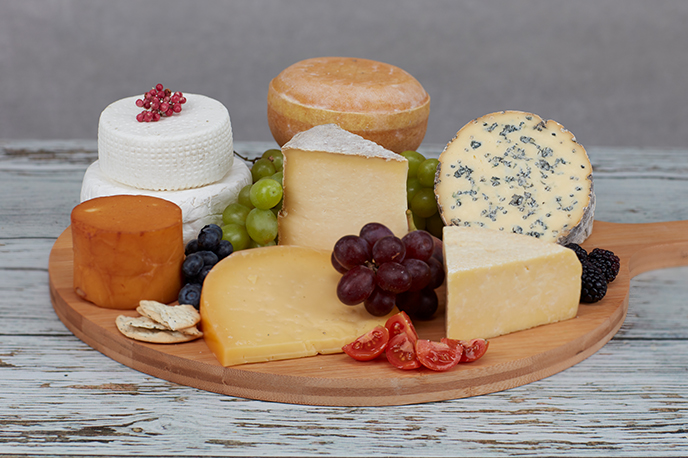 Cawl can be regarded as Wales's national dish. Dating back to the 11th Century, originally it was a simple broth of meat (most likely bacon) and vegetables, it could be cooked slowly over the course of the day whilst the family was out working the fields. During the 18th and 19th centuries, the amount of meat used in the broth was minimal; instead it was bulked out with potatoes. Today, cawl would be much more likely to include beef or lamb for the meat, and may be served with plain oatmeal dumplings or currant dumplings known as trollies.
Tatws Pum Munud (five-minute potatoes) is a traditional Welsh stew, made with smoked bacon, stock, potatoes and other vegetables. As a stew, it is unique in that all the main ingredients are cut into slices, so as to lie flat. Because of this, it is normally cooked in a large frying pan, on top of the stove, and served on a plate (as opposed to a bowl). The vegetables used are typically potatoes, onions, carrots (sliced lengthwise) and peas. Although usually made with smoked bacon, minced beef is occasionally substituted. The dish is normally accompanied by crusty bread and butter. Perhaps oddly, for a Welsh dish, it is also frequently served with Worcestershire sauce.
A similar dish, called Tatws Popty (oven potatoes) or Tatws Pobdu, is made using chunky vegetables, and cooked in an oven.
The predilection of the Welsh for roasted cheese led to the dish of Welsh rarebit, seasoned melted cheese poured over toasted bread.
Laverbread, or Bara Lawr, is a Welsh speciality. It is made by cooking porphyra seaweed slowly for up to 10 hours until it becomes a puree known as laver. The seaweed can also be cooked with oatmeal to make laverbread. It can be served with bacon and cockles as a breakfast dish, or fried into small patties.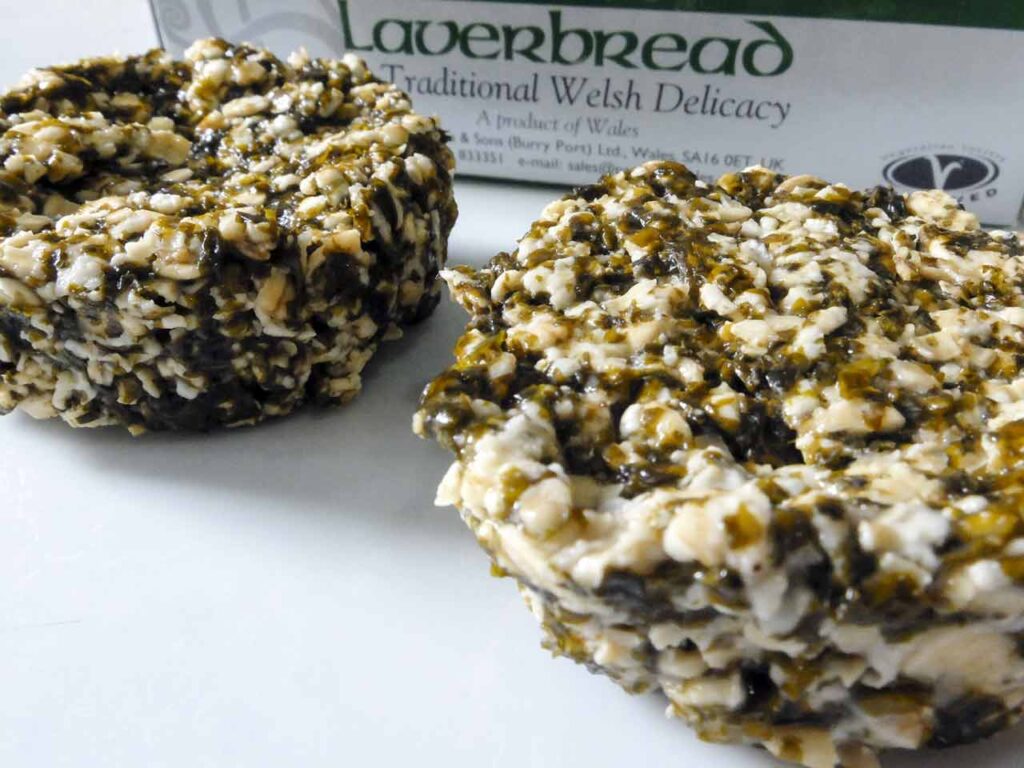 The Glamorgan sausage is a Welsh vegetarian sausage. It contains no meat or skin, instead it is made with cheese, generally Caerphilly, but sometimes cheddar, along with leek or spring onion. This mixture is then coated in breadcrumbs and rolled into a sausage shape before cooking.
Welsh cakes, or pice ar y maen meaning 'cakes on the stone', are small round spiced cakes, traditionally cooked on a bakestone, but more recently on a griddle. Once cooked, they can be eaten hot or cold, on their own or topped either with sugar or butter. The dough which is mixed with raisins, sultanas and sometimes currants, is similar to shortbread, meaning they can have the consistency of biscuits when cooked on the griddle, and slightly more like a cake when cooked in the oven. An occasional alternative to fruit is chocolate chips.
Bara brith is a fruit loaf originating from rural Wales, where they used a mortar and pestle to grind the fresh sweet spices. Historically it was made with yeast and butter, though recently it is likely to be made with bicarbonate of soda and margarine. The fruit included would be dried raisins, currants and candied peel, which would be soaked in cold tea before cooking. Generally served sliced with butter during afternoon tea, it is often known as Welsh tea bread.
Wine and beer, especially of the home-made varieties, were central to socialising in Wales. Beer is now the national drink of Wales, although Welsh beers never gained the status of other British beers, such as stout or English ales. This was in part due to the breweries keeping promotion of their products to a minimum so as not to upset the temperance movement in Wales.
The temperance movement remained a strong influence though, and when new breweries were set up, the outcry led to the Welsh Sunday Closing Act in 1881, an act that forced the closure of public houses in Wales on a Sunday. Wales's passion for beer remained; the Wrexham Lager Beer Company opened in 1881, as the first lager producer in Britain. The Felinfoel Brewery made a deal with the local tin works and became the first brewery in Europe to put beer in cans.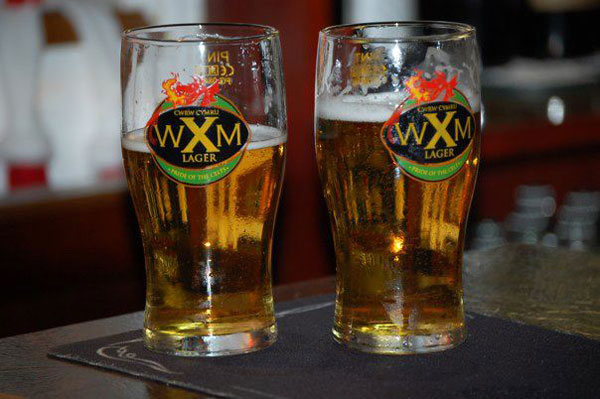 The Welsh also have a history of producing whisky, in a similar manner to other Celtic people such as the Irish or Scottish, but on a smaller scale.
Always a niche industry, by the late 19th Century, the main whisky production in Wales was at Frongoch, near Bala, Gwynedd. In 1998 the Welsh Whisky Company, now known as Penderyn, was formed and whisky production began at Penderyn, Rhondda Cynon Taf, in 2000. Penderyn single malt whisky was the first whisky commercially produced in Wales for a century and went on sale in 2004. The company also produces Merlyn Cream Liqueur, Five Vodka and Brecon Gin.
During the 1970s, modern vineyards were planted in south Wales with the intention of creating Welsh wine. Despite a slow start, by 2005 Wales had 20 vineyards, producing 100,000 bottles a year, primarily white wines, but also a few reds. According to the Wine Standards Board, by September 2015, there were 22 operational vineyards in Wales.
By 2005, the Welsh bottled water industry was worth as much as £100m. Popular brands include Brecon Carreg, Tŷ Nant, Princes Gate and Pant Du.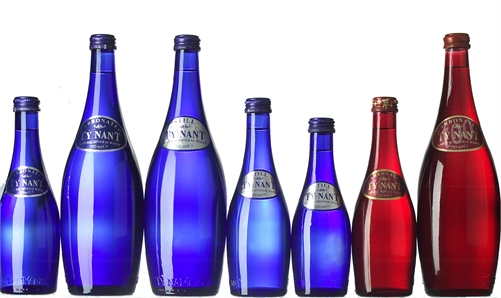 Writing for Culture Trip in 2017, Nicholas Witts gave this perspective on '10 Foods You Have To Try in Wales':
"If you are planning on heading to Wales, make sure to indulge yourself in its culinary delights. There are a wealth of options, some of which you have maybe never heard. Luckily for the Welsh and everyone else who comes to visit, they are truly amazing.
Bara Brith
Championed by many a celebrity chef, bara brith has made a resurgence after a decrease in local popularity. This traditional Welsh tea loaf is made using yeast, dried fruit and spices, and will often be enjoyed with an afternoon tea. Bara brith derives its name from the Welsh language, bara meaning bread and brith translating as speckled.
Leek
Leeks are ever present as an item of clothing at sporting events, an emblem of Wales, and a distinctive dish. The leek will often be cooked into soups and broths in addition to traditional meats. Its significance to the Welsh supposedly originates from the suggestion that Welsh warriors used to wear leeks on their helmets to distinguish themselves from their enemies. Regardless of the wartime attire anecdote, leeks are a must try for anyone hoping to sample Welsh food.
Caerphilly cheese
Thought to have been created to provide coal miners working in the Welsh region with a food source, Caerphilly cheese is described as having a mild, salty, buttermilk style favour. The town of Caerphilly not only holds an annual three-day festival every year to celebrate the delicacy, it even has a cheese roundabout dedicated to it. The spirit of the Big Cheese lives long in this town.
Welsh cakes
Welsh cakes are an alternative take on the scone, a relative of the cookie, and a distant cousin of the pancake, but in many ways they are entirely unique. With a sugary coating, this sweet, traditional treat reflects the resourceful, wholesome, and practical nature of the Welsh people.
Welsh rarebit
For those in any doubt, Welsh rarebit is essentially a Celtic take on the traditional cheese on toast, but of course it is far better. Made using ale, mustard, cayenne pepper and Worcester sauce, this dish is a textbook Welsh staple. This 18th-Century dish is a must-try for anyone who plans on sampling the cuisine of Cymru.
Glamorgan sausages
A vegetarian sausage made using cheese, leek, breadcrumbs and herbs, the Glamorgan sausage's origins date back to the 12th Century. The earliest published mention of the dish is from the 1850s in the book Wild Wales by George Borrow, although earlier records in the Glamorgan Archives show a version which contains pork. The modern vegetarian version became popular during the Second World War, however meat lovers can tweak the recipe and add bits of crisp bacon, flaked smoked haddock or shredded ham.
Cawl
Recognised as one of the national dishes of Wales, cawl is a variation on what most know as soup. Ingredients tend to vary, but the most common recipes include salted bacon or beef with potatoes, swedes, carrots and other seasonal vegetables. The dish, which is a comforting delight, is traditionally enjoyed on St David's Day in March when nationals celebrate their patron saint.
Laverbread
This national delicacy is of traditional and historical importance to the Welsh. It is a dish made from laver, a highly nutritional variety of seaweed that is harvested on the west coast of the British Isles, which is then minced. This lesser known recipe is high protein, low in calories, and contains over 50 known minerals and trace elements regarded as essential body requirement: just another reason to try it.
Welsh lamb
Regarded by many as the best lamb in the world, this meat is a shoe-in on the list. Whether you source your own through a butcher or treat yourself to eating out, there is no argument that it will leave an impression on you. Given Wales's lush pastures and grass mountains ranges, exceptional lamb is hardly a surprise.
Conwy mussels
Mussels sourced from the Northern fishing village of Conwy are known for their colourful shells and rich flavour. Situated on the side of an estuary, Conwy is primed to haul in some of the freshest mussels in the UK, with 'mussel men' sailing out to collect from the abundant seabeds."