Hidden Welsh Gems
WALES has so many iconic locations, monuments and tourist attractions that are instantly recognisable. It is a country famous around the world for its castles, its world-beating coastline and beaches that are regularly named among the best in the world.
But dotted amongst these are places which are every bit as captivating, yet nowhere near as well-known. Make the effort to get to these and you can discover fascinating histories and beauty that will live long in the memory… these are Wales's hidden gems.
So take a short stroll with us to some of those lesser-known locations that are well worth a visit – and won't be crammed full of tourists.
Clwydian Hill Forts (Denbighshire)
Perched atop the Clwydian hill Range between Mold and Ruthin, these spectacular hill forts form a line of defence around 9 miles long – quite an undertaking for people some 2,000 years ago. The remains of these forts is quite an awesome sight and it is understandable why this is one of the most important historic landscapes in Wales. Even if you have no interest in the history of these hills and forts they are well worth the visit just for the fine views of north east Wales that can be found from the summits.
Witches Cauldron (Ceibwr Bay, Cardigan)
Ceibwr Bay, accessed along the idyllic Pembrokeshire Coast Path, is a site to behold in itself. However the Witches Cauldron, or 'Pwll y Wrach' as it is known locally, adds a further hint of beautiful mystery. This fascinating geological feature was formed by a collapsed cave and can be accessed only via the waters of Cardigan Bay, which helps to maintain the discreet reputation of this attraction. When the conditions are right, a body of iridescent, emerald green water fills the cave.
At low tide you may enter the cauldron through a small cave in the southern wall, but beware of the witch who, legend has it, is said to devour anybody who enters alone. Other than the local seal population, those who dare venture in should also take care not to be cut off by the incoming tide.
Barafundle Bay (Stackpole)
The Pembrokeshire coastal path is adorned by the stunning beaches of Barafundle Bay and Broad Haven. Barafundle is a remote, unspoiled, east-facing sandy beach near Stackpole Quay. It is part of the Stackpole Estate, managed by The National Trust. The beach, which was their private beach, was owned by the Cawdor family of Stackpole Court. On the northern approach are steps and a wall which were built by the owners to ease access to the beach. The sands can be approached via a clifftop walk from a compact National Trust car park, nicely limiting the number of visitors on at any given time.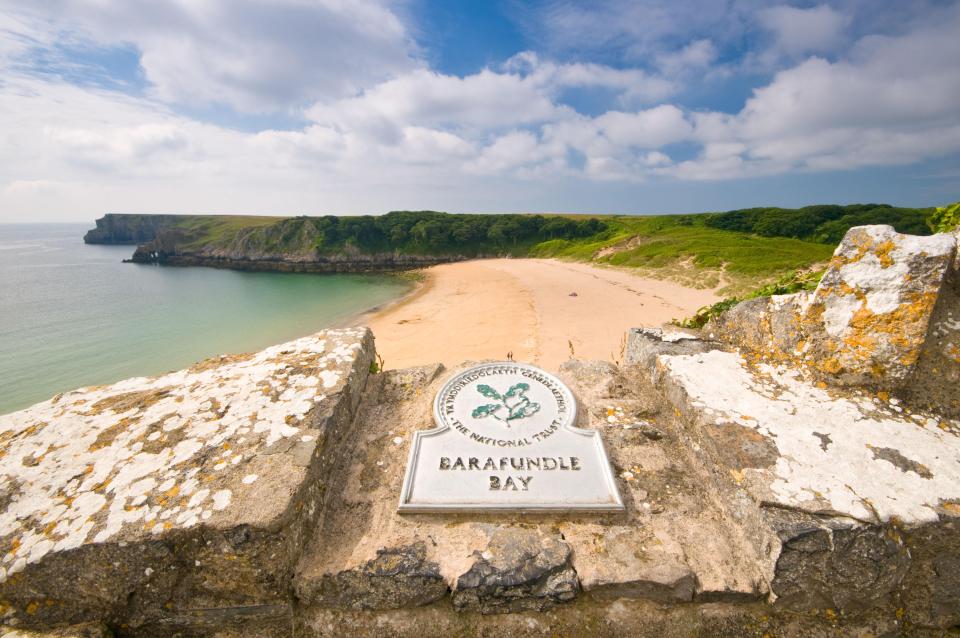 Arthur's Stone (Gower Peninsula)
An intriguing and far-reaching history is not the only thing that surrounds this Neolithic burial tomb, with the magnificent scenery of the Gower Peninsula also assisting to make this 2500 BC monument a real gem of south Wales. There are countless theories regarding the origin of the 25-tonne structure, with the most popular suggesting that it was a stone thrown from Llanelli by King Arthur, which then grew with pride after being touched by the hand of the King. Arthur's Stone rests slightly north of the summit ridge of the picturesque Cefn Bryn, making for a sublime stop-off during a walk throughout this hard-to-beat landscape.
St Govan's Chapel (Pembrokeshire)
A truly remarkable place, this tiny chapel is built into the cliffs, with waves crashing on the rocks below. St Govan was a 6th Century hermit who reportedly lived in a fissure in the rock. The chapel was built in the fissure in the 14th Century. Many legends about the saint exist today; one suggested that pirates tried to capture him, but that the crevice opened up and then closed behind him to hide him. Once the pirates had left, the crevice opened once again to release him.
This striking medieval church is located half-way down the cliffs of a secluded headland within the Pembrokeshire National Park. The Pembrokeshire Coast National Trail runs along the nearby cliffs and the Chapel can be accessed by climbing down the 52 steep stone steps from the top. It should be noted that the chapel is also situated within a military firing range and can only be accessed when the firing range is open to the public.
Whistling Sands Beach (Gwynedd)
If you can find this beach (known as Porthor Oer to local Welsh speakers) hidden away at the end of a maze of unclassified roads on the Llyn Peninsula you will be rewarded with a beautiful horseshoe-shaped cove. This small, picturesque National Trust beach, backed by steep grassy cliffs, is on the Llyn Heritage Coast. Its 'Whistling Sands' name is based on the sound the granules make underfoot when you walk over the gleaming sand – there are only two beaches in the whole of Europe where this can be experienced. The views from the sands – and the many local footpaths – are stunning.
Watersports include diving, sailing and surfing, though care must be exercised since conditions can change quickly.
Talacre Beach Lighthouse (Flintshire)
Although famous for its ghostly sightings, Talacre Beach Lighthouse is often overlooked during a visit to the wonderful north Wales. Located on the sand dunes of the lovely Talacre Village in Flintshire, the lighthouse was built in 1776 and is a must-see for every visit to the region.
Blue Lagoon (Abereiddi, Pembrokeshire)
The Blue Lagoon is a unique stretch of water close to Abereiddi beach. Its distinctive blue-green colouring is caused by a build-up of minerals and it is a site particularly popular with adrenaline and adventure seekers. Many people choose to go diving in its waters of around 25m depth. There are organised cliff diving events held here throughout the year; the lagoon was even the home of the World Cliff Diving Championships in 2012 and 2013.
The lagoon is actually the remains of a small slate quarry that was flooded and broken in by sea water. It serves as a reminder of Pembrokeshire's industrial past and was created more than a century ago when the outer wall was first breached. The lagoon, along with most of the surrounding coast between Abereiddi and Porthgain, is now owned by the National Trust.
Llyn y Fan Fach (Carmarthenshire)
Almost the very definition of a 'hidden gem', Llyn y Fan Fach is largely surrounded by sheer slopes which shield it from view in nearly all directions. If you don't know it's there, you only find out after a long walk uphill through the remote landscape of the Carmarthen Fans. It's worth the effort. As the lake emerges in front of you, you'll see why it spawned the legend of the lady of the lake and the physicians of Myddfai. A truly magical place.
St Trillo's Chapel (Rhos on Sea)
A truly remarkable little place, St Trillo's is thought to be the smallest chapel in the UK. Its altar stands over a natural spring of clear water covered by a piece of wood and the chapel has seats for just six people. Despite that, services still take place. The chapel is named after St Trillo, a 6th Century saint.
Culver Hole (Overton Mere, Gower)
Culver Hole is a curiousity to many observers. It is a very tall, narrow cave which, during its long history, has been walled up to protect a number of floors and slippery stairways.
The Culver Hole dovecot is an unusual feature where a natural cave, the mouth of which is between 3 to 6m wide, has been closed off by a 16m high wall, 3.6m thick at its base and tapering upwards. There are two round-headed windows and a circular opening that pierce the wall, which has roughly 30 tiers of nesting boxes and a narrow stairway within.
It is medieval in date, and discussion of this site has tended to concentrate on the search for a parent manorial house. There is a quasi-legendary connection with the Salt House, but Culver Hole itself has been suggested as a medieval stronghold.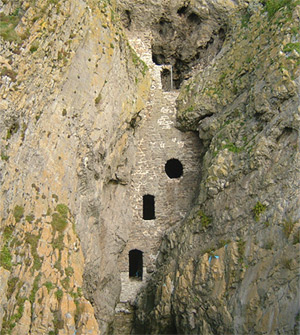 Dinas Nature Reserve (Rhandirmwyn)
Its peaceful woodland is carpeted by bluebells in springtime, while the fast-flowing River Towy flows over boulders nearby. This is another remote and spell-binding part of Wales, where you can also find Twm Sion Cati's Cave, if you know where to look.
Llanddwyn Island (Anglesey)
Still surprisingly unknown considering how remarkably beautiful it is, Llanddwyn remains attached to the mainland at all but the highest tides. It's named for St Dwynwen, the Welsh patron saint of lovers.
Ty Glyn Secret Garden (Ciliau Aeron)
This wonderfully secluded sensory walled garden is set within a beautiful woodland area alongside the River Aeron.
The rooftop garden at Cardiff Castle
You may not expect to find a hidden gem at such an iconic landmark, but even if you've been into the castle grounds you may not have found this lovely space. You need to head high up the spiral staircase to find this beautiful rooftop garden, complete with painted tiles and water fountains.