JPR Williams
JPR Williams will be remembered as one of the true icons of Welsh rugby. A fine all-round sportsman who was talented enough to win a British junior tennis title, he chose to pursue rugby instead as its amateur status allowed him to further his career as an orthopaedic surgeon.
Making his debut against Scotland in 1969, he would go on to score six tries in 55 appearances for Wales before his retirement in 1981. During that 'Golden Era', Wales won six Triple Crowns and three Grand Slams. He captained Wales five times in 1978-79.
He is one of a small group of Welsh players to have won three Grand Slams including Gerald Davies, Gareth Edwards, Ryan Jones, Adam Jones, Gethin Jenkins and Alun Wyn Jones.
With his trademark unkempt sideburns, flowing locks and rolled down socks the full-back perhaps epitomised the swashbuckling spirit of the 1970s better than anyone. In many ways Williams was the complete full-back, combining bone-crunching hits and solidity under the high ball with superb attacking instincts.
Known to most simply as JPR, he took part in the series wins over New Zealand (1971) and South Africa (1974) as a British and Irish Lion, winning eight Lions Test caps in all and playing a total of 30 games.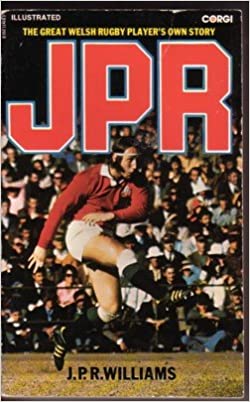 More Lions caps may well have come his way, but Williams chose not to go on the 1977 tour to New Zealand, after being advised by his consultant to focus on his medical career. In the same year he was appointed an MBE (Member of the Order of the British Empire) for services to rugby.
He was described by legendary Wales coach Carwyn James as: "Fearless. Uncompromising. The competitor of competitors."
All but one of his internationals was at full-back but he played as a flanker against Australia in 1978. This was his favourite position and he played in the back row for Tondu at the end of his career.
His 11 games for the invitation side The Barbarians included the fixtures against South Africa and Fiji in 1970 and New Zealand in 1973.
John Peter Rhys Williams was born just outside Bridgend, on March 2, 1949, and was educated at Bridgend Boys Grammar School (now Brynteg Comprehensive School) and then Millfield School in Somerset.
Williams in his youth was a talented tennis player. There is a myth that he won the Junior Wimbledon title in 1966 (in fact it was won by a Soviet, Vladimir Korotkov). However, he did win a British Junior competition that was held that same year at the Wimbledon venue, the All England Lawn Tennis and Croquet Club, beating David Lloyd. The myth appears in his autobiography: "So by the time of Junior Wimbledon in 1966….it began to sink in that I was the 1966 Junior Wimbledon champion."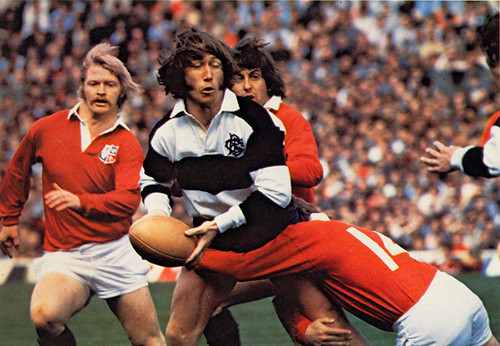 Williams's focus moved from tennis to rugby union, which was then an amateur sport, in order to pursue a career in medicine. He quickly attracted attention and was consequently first capped by Wales in 1969, aged 19.
He played club rugby for Bridgend, London Welsh and Tondu. He also played a few games for Natal shortly after the 1974 Lions tour.
Williams had many high points in his career, being a key player in a Welsh side that won Grand Slams in 1971, 1976, and 1978, and is particularly remembered for his proud record against England. In 10 Tests between Wales and England he scored five tries – exceptional for a full-back – and was never on the losing side.
He was also outstanding for the Lions, winning the 1971 series against New Zealand with a long-range drop-goal. In the 1974 'invincible' series against South Africa he again played a major role.
He is known for developing the role of the full-back, in particular attacking from a defensive position often following an audacious jump for a high ball. He is also remembered for his part in what is widely recognised as the greatest try ever scored – for the Barbarians against New Zealand in 1973.
Williams retired from international rugby union in 1981 and continued his career as an orthopaedic surgeon. However, he continued to play club rugby for many years, playing throughout the 1980s and 1990s for Bridgend and then for Tondu Thirds into his 50s. He finally retired in March 2003. Williams stayed involved in rugby, serving as president of the Bridgend Ravens.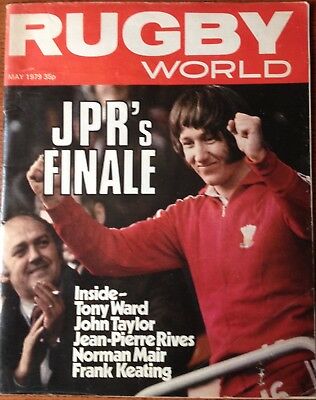 He has represented several cricket teams, particularly the Lord's Taverners team, between 1976 and 2004.
Williams studied medicine at St Mary's Hospital Medical School, qualifying as a physician in 1973. He became a Fellow of the Royal College of Surgeons in 1980. From 1978-82 he rose from Surgical Registrar to Orthopaedic Registrar at Cardiff Hospitals, becoming Senior Orthopaedic Registrar at St Mary's, London, from 1982-86 and going on to work at the Princess of Wales Hospital in Mid Glamorgan.
An annual varsity rugby match between Imperial Medicals and Imperial College was played for The JPR Williams Cup in his honour.
He was the subject of This Is Your Life in 1979 when he was surprised by Eamonn Andrews at Thames Television's Teddington Studios.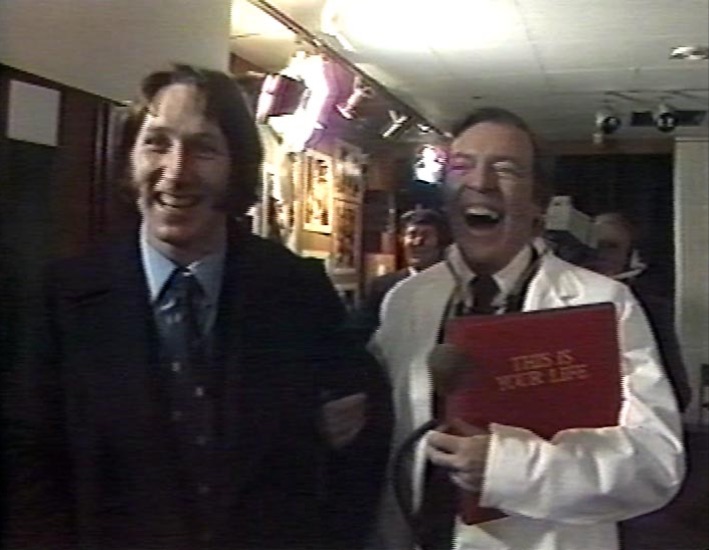 In his autobiography Given The Breaks: My Life in Rugby, Williams recalls: "Appearing on This Is Your Life was very special. I was tricked into going up to the Thames Television studios in London, supposedly for an interview with my old pal John Taylor, who had gone into broadcasting after his retirement from rugby.
"Instead, I remember how shocked I was when my rugby team-mates and Eamonn Andrews ambushed me wearing doctors' white coats.
"There were people present from all walks and periods of my life; Illtyd Williams, my early rugby coach; David Lloyd and Dan Maskell from tennis; and even the unsung heroes who worked with me on the wards. It was an unforgettable experience."
Williams was one of the inaugural inductees of the International Rugby Hall of Fame in 1997.
In January 2006, in a party of 16 Welsh men and women, he climbed Mount Kilimanjaro in Tanzania for charity, helping to raise more than £200,000 for the NSPCC's 'Full Stop' Campaign.
BACK TO HOME PAGE