Shroot – Greens & Greetings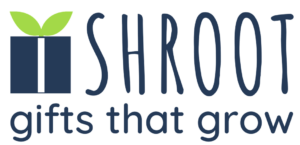 Shroot is a new company based in Penarth, Wales, selling gifts and greetings to sow and grow.
We (Jude Cook and Carolyn Davies) launched Shroot with Greens & Greetings in January 2021. They're a greeting card, envelope and stand-up plant pot in one, containing everything the recipient needs to grow delicious and nutritious microgreens. There are currently 6 designs available, and there's room on the back of the greeting to write a personal message. They're a unique alternative to birthday cards, or just to show you care, any day of the year, and they can be posted anywhere in the UK.
The idea for Greens & Greetings came about during the first lockdown when Jude decided to try windowsill gardening. She discovered the joys of microgreens – so quick and easy to grow. Jude wanted a way of sharing her lockdown hobby with friends. We couldn't go anywhere or see anyone - so coming up with a way to reach out to people actually became a business opportunity.  
Greens & Greetings are available to order via our website, and we're also branching out and selling to retail stores, so hopefully we'll be in a shop near you soon.
You can visit our website here.
---