Welsh snooker – a potted history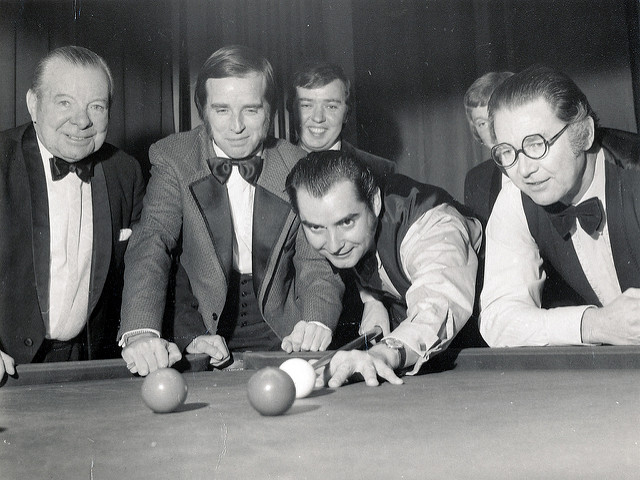 WALES has a wonderful snooker heritage and has produced several legends of the game, including three world champions in Ray Reardon, Terry Griffiths and Mark Williams.
In one period during the 1970s, Wales enjoyed its own period of world domination in the sport with Tredegar-born Reardon alone winning six World Snooker Championship finals.
Underlining the strength-in-depth of Welsh snooker, Gary Owen, Doug Mountjoy and Matthew Stevens have all been losing finalists over the years.
Reardon's career straddled the pre-televised and televised eras, but he became a household name in the UK not only by becoming a six-times world champion, but entertaining large television audiences in the popular Pot Black BBC2 series.
Known by the nickname of 'Dracula' during his heyday in the 1970s and early '80s, Reardon remains one of the most successful players ever to have played the game and with his exceptional tactical nous and temperament, was a match for anyone in his era.
In addition to winning the world crown in 1970, 1973-1976 and 1978, he was runner-up in 1982 and scooped titles in the B&H Masters Championship (1976), Pot Black (twice), the Professional Players Tournament (1982), the World Cup (twice, with Wales), the Yamaha International Championship (1983) and was twice Welsh Professional champion.
Following his playing career he has maintained a presence in the game, notably assisting Ronnie O'Sullivan during the 2004 World Championship.
Having grown up in the coal mining community of Tredegar, Reardon left school at the age of 14 to follow in the footsteps of his father and work in the mines. During his time as a miner, he spent every spare moment he had in the local Workman's Institute honing his potting skills.
Born in Bedwellty on October 8, 1932, Reardon first picked up a cue at the age of eight, though as was the case with many players of his generation, it was billiards that was to take up much of his time initially.
Eventually, though, snooker began to take over and in 1950 he made the final of the Welsh Amateur Championship for the first of what would be six successive years as he won the title on each occasion.
In 1956, Ray and his family were forced to relocate to Staffordshire in pursuit of work and though he could still compete, just in the English Amateur Championship, it was to take him another eight years to finally capture the title, which he did with a win over a man who would become arguably his greatest rival, John Spencer. A year later he elected to turn professional and begin what was to prove a remarkable 24-year pro career.
Turning professional towards the end of 1967, Ray entered the World Championships for the first time in 1969 as, after a spell in the doldrums, the tournament reverted to the knock-out format recognisable today.
Entering the tournament at the quarter-final stage, however, he was to suffer an agonising 25-24 defeat to seven-times champion Fred Davis and as old rival Spencer went on to take the title, he would have to wait another year for his first big chance.
In 1970, things were to really fall into place for Reardon. Following a revenge win over Davis and then victory over defending champion Spencer – who he had recently defeated to take the Pot Black trophy for good measure – he overcame John Pulman 37-33 to take his first World Championship title.
"It was a very different sort of game then because it was a week's worth of play," said Reardon. "It was very enjoyable, I didn't get tired during it. I often hear people nowadays saying they are tired. I've never seen a tired winner. I've seen a tired loser, but certainly not a winner."
Reardon's title defence in 1972 did not go to plan as he lost out heavily to Spencer before a quarter-final defeat to Rex Williams the following year put paid to his chances again.
Despite the manner of these two defeats, they were ultimately to prove nothing more than a blip as, in 1973, he took his second world crown with victory over Australian Eddie Charlton and with subsequent final victories over Graham Miles, Charlton again and Alex Higgins, was not to lose again in the tournament until the 1977 event at the Crucible Theatre.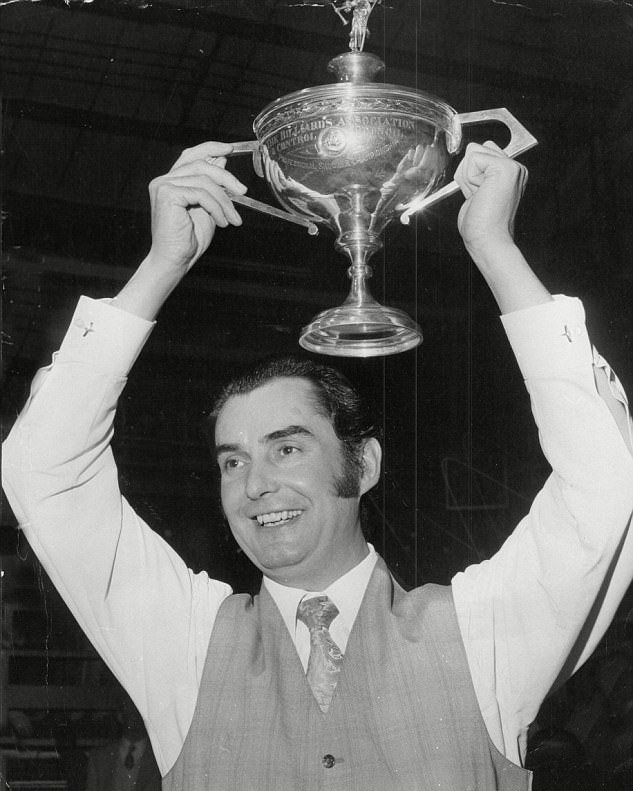 When defeat eventually came it was perhaps no surprise that it was at the hands of Spencer, who was to go on to take his third and final World Championship title. Reardon was not to be denied a sixth and final world title, though, as he took victory at The Crucible the following year with a 25-18 win over Perrie Mans.
He enjoyed something of an Indian summer as he reached the World Championship final once again in 1982 but he was to come unstuck against Higgins in the final as the popular Northern Irishman took his second title.
However, Reardon, who was awarded an MBE in 1985, had inspired a generation of young snooker players and one of them, Llanelli-born Terry Griffiths, emerged to win the World Championship on his first attempt in 1979.
Griffiths would play for 19 years as a professional, reaching a high ranking of world number three in 1981/82, and again reached the World Championship final in 1988, finishing runner-up to Englishman Steve Davis.
The west Walian's career earnings of £1.2m would again inspire large numbers of young Welsh hopefuls to fill the snooker halls of Wales in search of fame and fortune on the baize. Indeed, Griffiths would go on to become a successful coach of young talent himself in later years.
Griffiths, known for his slow, cautious, yet elegant style of play, achieved the notable feat of reaching at least the quarter-finals of the World Championship for nine consecutive years from 1984 to 1992. He also won the Masters in 1980 and the UK Championship in 1982, making him one of only 11 players to have completed snooker's 'Triple Crown'.
In the same year as he became world champion, he was part of the Welsh team that won the inaugural World Cup of snooker; Reardon, Mountjoy and Griffiths defeating England 14–3 in the final.
Unusually for a snooker player, Griffiths retired whilst still inside the top 32 and 23rd in the rankings, despite only entering the 1997 World Championship qualifiers in his final season as a professional. He won his qualifying match to play in the main tournament at The Crucible one last time, where he lost in the first round to fellow countryman and debutant Mark Williams, in another final-frame decider, 9–10. During his professional snooker career, Griffiths played a total of 999 frames at The Crucible.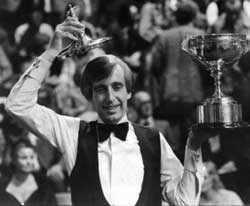 Griffiths became well known as a coach and coached many top players, including Williams, Marco Fu, Mark Allen, Ali Carter, Joe Perry, Barry Hawkins, Ding Junhui, Stephen Hendry and Stephen Maguire. He has also been a frequent commentator on snooker for the BBC and was rewarded for his services to snooker with an OBE in the Queen's Birthday Honours of 2007.
Williams, born in Cwm, near Ebbw Vale, earned the nickname 'The Welsh Potting Machine' as he became a three-time world champion, in 2000, 2003 and 2018 and held the world number one ranking for a total of three seasons in his career.
In the 2002/2003 season, he held all three other BBC-televised titles simultaneously with the World Championship. He was World runner-up to Hendry in 1999, has achieved the maximum 147 break on two occasions and boasts career earnings in excess of £5.6m.
The first left-handed player to win the World Championship, Williams has won an impressive 21 ranking tournaments, including the UK Championship twice, in 1999 and 2002. He has also won the Masters on two occasions, in 1998 and 2003. As a prolific break-builder, Williams has compiled more than 400 century breaks during his career.
Williams is also a keen poker player. He is proud of his Welsh heritage, and has a tattoo depicting the Welsh dragon eating the English flag. Williams was awarded an MBE in June 2004.
The first of Williams's world titles, in 2000, came in an all-Wales final against Matthew Stevens. Stevens lost 18-16, the same scoreline that saw him finish runner-up to Shaun Murphy five years later. On both occasions, the Carmarthen-born player missed out after holding four-frame leads overnight.
Stevens has, however, won two of the game's most prestigious events, the Benson and Hedges Masters in 2000 and the UK Snooker Championship in 2003. He reached a career-high ranking of number four for the 2005/2006 season.
Doug Mountjoy, born in Tir-y-Berth, Caerphilly, was another popular Welsh player during the 1970s and '80s and remained within the top 16 of the world rankings for 11 consecutive years.
Brought up just outside Ebbw Vale, he worked for some years as a coal miner, playing snooker in his spare time. A well-known player in the valleys as a youth and young man, he won many amateur tournaments including two Welsh Amateur titles and the World Amateur title in 1976.
He began his professional snooker career by clinching the title at the 1977 Masters tournament, which he had entered as a late replacement. He won both the 1978 UK Championship and the 1979 Irish Masters, and reached the final of the 1981 World Championship where he lost to Steve Davis.
Mountjoy enjoyed a resurgence in his 40s, and at the age of 46 he defeated future seven-time world champion Hendry in the final of the 1988 UK Championship. He followed this up with the 1989 Classic title, and by the end of the 1988–89 season he was back in the top 16, where he remained until 1992. His world ranking peaked at number five in 1990/1991. He also won five Welsh Professional titles during his career.
Diagnosed with lung cancer in 1993, Mountjoy qualified for the World Championship at the age of 50, just weeks before having one of his lungs surgically removed. He continued to play professionally until 1997 and was coach to the United Arab Emirates snooker association between 1997 and 1999.
Other notable Welsh snooker players include Darren Morgan, Cliff Wilson, Gary Owen, Ryan Day and Dominic Dale.
Darren Morgan, from Newport, earned over £1m during an 18-year professional career. He won the World Amateur Championship in 1987 and played on the professional main tour from 1988 until 2006. He was ranked within the top 16 for six years despite never winning a ranking event. He compiled 111 century breaks in his career.
His best achievements as a professional were to win the Irish Masters in 1996, beating Steve Davis 9–8 in the final, and he captained Wales to victory in the 1999 Nations Cup. He was also a semi-finalist in the 1994 World Championship and a quarter-finalist on three occasions.
He went on to run a snooker club in Cross Keys, named The Red Triangle, where he would coach young players.
Wilson (May 10, 1934 -May 21, 1994) reached the highest ranking of 16, in 1988-89. He was the 1978 World Amateur Champion and won the 1991 World Seniors Championship. He was a successful junior player, known for his fast attacking snooker and potting ability, and won the British Under-19 Championship in 1951 and 1952. In the early 1950s both Wilson and future six-times World Professional Champion Reardon lived in Tredegar, where they played a succession of money matches that attracted large, enthusiastic crowds.
A combination of factors, including Reardon leaving Tredegar, led to Wilson virtually giving up the game from 1957 to 1972, but after being asked to take up a vacant place in a works team, he returned to playing and later became the 1978 World Amateur Champion, achieving his victory with an 11–5 win in the final against Joe Johnson. In 1979 Wilson turned professional, aged 45, and, still playing with an attacking style, reached several ranking tournament quarter-finals during his career.
At the inaugural World Seniors Championship in 1991 he beat Eddie Charlton 5–4 in the final to take the title. He won the Welsh Amateur Championship in 1956, 1977 and 1979, and was runner-up in the Welsh Professional Championship in 1981 and 1984. He suffered from a number of health conditions, including poor eyesight, during his career, but continued to play professionally until his death in 1994 at the age of 60.
Owen, born in Tumble in 1929, became world amateur champion for a second time in 1966, beating future world professional champion Spencer, who was the runner-up.
In 1968, Owen, Spencer and Reardon become the first players in a generation to turn professional. His best performance as a professional came in 1969 when he reached the final of the reconstituted World Professional Snooker Championship, losing to old rival Spencer by 37 frames to 24. A semi-finalist in 1970, he was defeated in the last eight in 1973 and 1975.
Owen emigrated to Australia, taking a job as the resident professional at a snooker club in Sydney, and was runner-up to Charlton in the 1972 and 1973 Australian Professional championships. After gaining Australian citizenship, he represented his new country at the Snooker World Cup in 1979.
Owen, who a world high ranking of 10 during an 11-year pro career, died in Brisbane, Australia, in 1995.
Day, from the former mining village of Pontycymer, Bridgend, has had a reputation as a prolific break-builder, compiling more than 350 century breaks during his career and earning him the nickname 'Dynamite'.
He has one maximum break of 147 to his name, compiled at the Haining Open in 2014. He is a three-time World Championship quarter-finalist, a former world top six player and has won two ranking tournaments.
Dale won the Welsh Amateur Championship and was a beaten finalist at the World Amateur Championship in Bangkok before turning professional for the 1992–93 season.
He has won two ranking tournaments in his career, the first of which – the Grand Prix in 1997 – he won while ranked number 54 in the world, beating then world number two John Higgins 9–6 in the final.
It took him a decade to repeat the achievement at the 2007 Shanghai Masters, where he defeated compatriot Day 10–6 in the final, from 2–6 behind.
His best World Championship performances were in 2000 and 2014, when he reached the quarter-finals.
World Snooker Championship finals involving Welsh players
1969 John Spencer (England) bt Gary Owen (Wales) 37–24
1970 Ray Reardon (Wales) bt John Pulman (England) 37–33
1973 Ray Reardon (Wales) bt Eddie Charlton (Australia) 38–32
1974 Ray Reardon (Wales) bt Graham Miles (England) 22–12
1975 Ray Reardon (Wales) bt Eddie Charlton (Australia) 31–30
1976 Ray Reardon (Wales) bt Alex Higgins (N Ireland) 27–16
1978 Ray Reardon (Wales) bt Perrie Mans (South Africa) 25–18
1979 Terry Griffiths (Wales) bt Dennis Taylor (N Ireland) 24–16
1981 Steve Davis (England) bt Doug Mountjoy (Wales) 18–12
1982 Alex Higgins (N Ireland) bt Ray Reardon (Wales) 18–15
1988 Steve Davis (England) bt Terry Griffiths (Wales) 18–11
1999 Stephen Hendry (Scotland) bt Mark Williams (Wales) 18–11
2000 Mark Williams (Wales) bt Matthew Stevens (Wales) 18–16
2003 Mark Williams (Wales) bt Ken Doherty (Ireland) 18–16
2005 Shaun Murphy (England) bt Matthew Stevens (Wales) 18–16
2018 Mark J Williams (Wales) bt John Higgins (Scotland) 18-16
And they say that imitation is the sincerest form of flattery, so here is John Virgo giving his memorable snooker impressions of Ray Reardon and other stars of the game…
BACK TO HOME PAGE