Wilf Wooller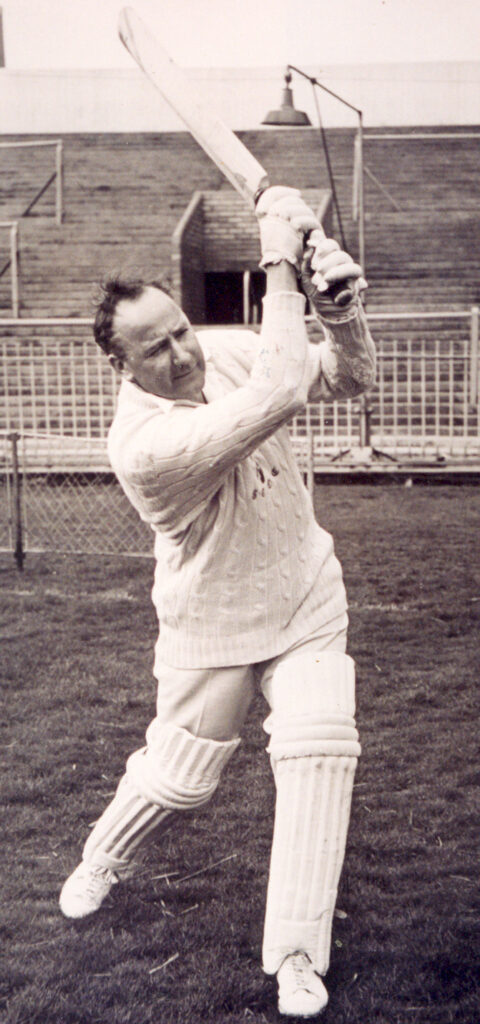 WILF WOOLLER was a Welsh cricketer, rugby union footballer, cricket administrator and journalist. He was acclaimed as one of the greatest all-round sportsmen that Wales has ever produced.
The Independent described Wooller as "a sportsman par excellence who displayed, on and off the field of play, a combative spirit shot through with self-belief".
A sporting all-rounder, he was capped 18 times for Wales at rugby. He captained Glamorgan County Cricket Club for 14 years, was secretary for 30 and president for six, and played soccer briefly for Cardiff City and represented Wales at squash.
Wooller was born on November 20, 1912, at Rhos-on-Sea in Denbighshire. He was educated at John Bright School, Llandudno, Rydal School (later Rydal Penrhos) and Christ's College, Cambridge, where he graduated with a third-class degree in Archaeology and Anthropology in 1936.
He married twice, first to Gillian Windsor-Clive, an unsuccessful wartime marriage that was dissolved in 1946, and in 1948 to Enid James. The couple had five children. Wooller survived incarceration by the Japanese in the Changi prisoner of war camp in Singapore during the Second World War.
In his last decades, he was a familiar sports broadcaster on the BBC and sports writer for the Sunday Telegraph, known for his strong opinions.
His support for South African sports when many wanted a boycott in protest at the country's apartheid policies led to many public clashes with anti-apartheid campaigner Peter Hain (later Labour MP for Neath and Secretary of State for Wales).
Wooller, a tall, long-striding centre threequarter, first played rugby in the back row for Rydal School and made his international debut when converted to centre for Wales while still a schoolboy.
In 1932, he turned out a few times for North Wales Schoolboys, then lined up for Sale in the school holidays. While representing Sale he played alongside established Welsh international Claude Davey and the two joined up in a 1933 Welsh selection game as part of the 'Possibles' team.
Wooller himself believed the selectors were "mucking about" with him and Davey, so the two were over-physical with their opposing numbers, which led the selectors to choose both of them to face England at Twickenham in 1933.
The game is seen as a classic in Welsh rugby history as it was the game when the 'Twickenham bogey' was broken after nine failed attempts to beat England on their home ground.
Wooller went on to win 18 international rugby union caps for Wales and was inspirational in 1935's Welsh victory over the All Blacks.
His sheer determination and never-say-die attitude helped Wales to its most famous victory of that era, against New Zealand. With Wales trailing 12-10 and a man short, Wooller's opportunism led to the thrilling late winning try. He made the carefully-judged kick ahead that deceived the All Blacks and allowed Geoffrey Rees-Jones in for the decisive score.
He represented Cardiff RFC at club level and was a Cambridge Blue in 1935 and 1936. Wooller also represented the Barbarians invitation side during the 1930s.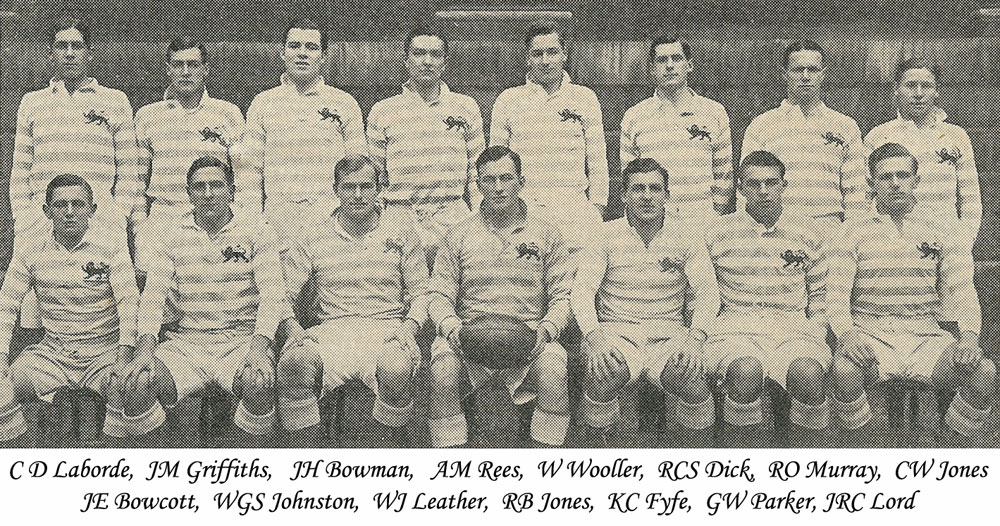 Baa-Baas team-mate and England international Peter Cranmer recalls an adventure with his Welsh counterpart from the 1933-34 Easter tour of south Wales when the squad traditionally made their base at the Esplanade hotel in Penarth.
"There was this attractive redheaded maid working at the Esplanade so Wilf Wooller and I thought we'd better get more acquainted," said Cranmer. "So one evening we went to the servants quarters, that house on the hill opposite the hotel entrance. All the lower doors were locked, but a half-opened window upstairs looked promising.
"There just happened to be a ladder lying on the ground, so we propped it up against the wall, but it could not stand the strain of our combined weight and we crashed, luckily feet first, through the cucumber frames below. No injury and we both played against Cardiff next day and won."
Wooller captained Wales in 1939, but it was in the Middlesex Sevens of that year that he achieved what he considered a highlight of his rugby-playing careeer – leading Cardiff, as the guest side, to victory in the annual Middlesex Sevens. "Six of us had never played sevens before," he said many years later.
He was still in his prime when the outbreak of war effectively brought his international rugby career to an end. He was commissioned into the Royal Artillery serving with the 77th Heavy Anti-Aircraft Regiment, but managed to figure prominently in many of the popular war-time charity internationals staged in 1939-40.
All that was missing from his otherwise impeccable rugby CV was a place on a British Lions tour. In 1938, he was invited to make the visit to South Africa with Sammy Walker's tourists, but business commitments with a Cardiff company prevented him from accepting.
He had entered the coal trade that flourished in Cardiff Docks, working for the business tycoon Sir Herbert Merrett, and could not afford to take unpaid leave for the duration of a major tour.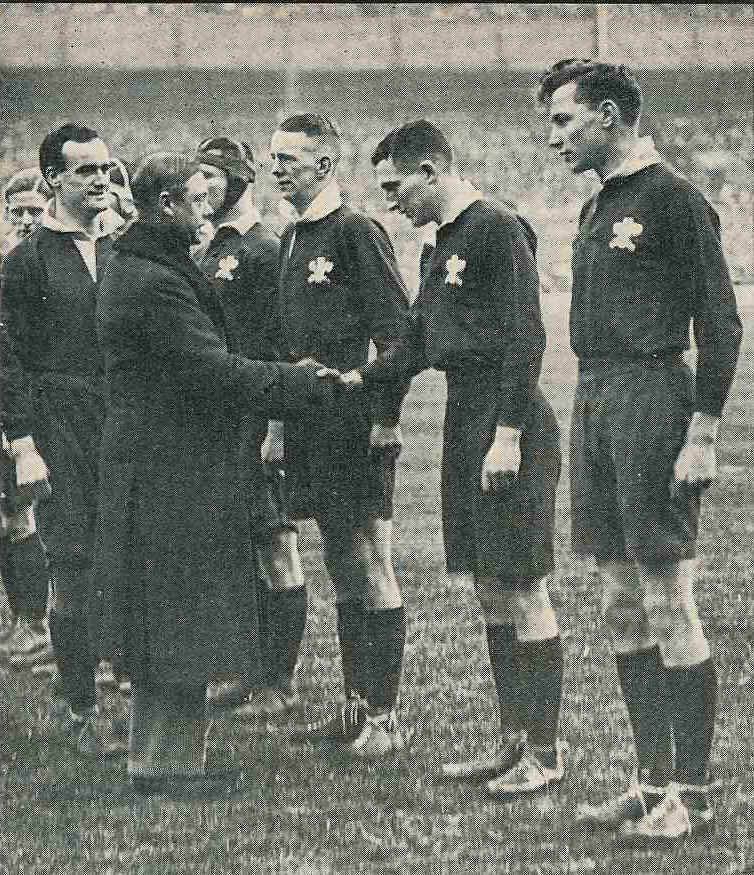 However, as one door closed another opened, and in mid-June of that summer he made his Glamorgan debut, taking 5-90 at Cardiff Arms Park on the opening day of the Championship match against Yorkshire.
He played cricket as part of his annual paid leave. Later his cricketing commitments would prevent him from covering a Lions tour as a critic. It was one of the few regrets he had in a career that otherwise brought him complete fulfilment.
His last international rugby appearance was at the Parc-des-Princes in February 1940 when a British Army side, playing exhilarating rugby, demolished France 36-3. Wooller scored a hat-trick of tries.
Wooller's first cricket was played at Rydal School and the local club, Colwyn Bay, where he played alongside his father Roy and brothers Jack and Gordon.
He made his Minor Counties debut for Denbighshire in 1930 and his first-class debut for Cambridge University in May 1935 against Sussex. In the same year, he was selected for Cambridge University against Oxford University, so becoming a Double Blue.
After graduating from Cambridge, Wooller took up his employment in Cardiff and joined the St Fagans club north of the city. His bowling performances and aggressive batting attracted the attention of Maurice Turnbull, Glamorgan's influential county captain.
After the war Wooller was appointed captain-secretary of Glamorgan in 1947 and led them to an unexpected first County Championship title in 1948. As a formidable all-rounder, he was twice thwarted from playing Test cricket for England in 1948-49 and 1951-52, once again due to business commitments.
He retired from first-class cricket in 1960 (reappearing briefly in 1962) having appeared in 430 first-class matches, scoring 13,593 runs and taking 958 wickets.
He served as a Test selector from 1955 to 1961 and eventually retired as Glamorgan secretary in 1977.
John Griffiths, writing for Rugby Relics, recalled: "He ruled Glamorgan with an iron fist; there were never any velvet gloves around when Wooller was present. Some players, even on his own side, were intimidated by his overbearing manner; others – usually opponents – resented it. But his heart was always in the right place and he put Glamorgan cricket on the national map.
"Vivian Jenkins, his old rugby and cricket friend, recalled that Wooller was always the first to buy the opposition a pint afterwards, no matter how heated the cut and thrust of the game had been."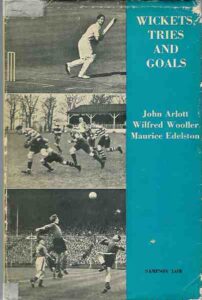 One cricketing dispute at Swansea, when Wooller was secretary, was well documented. He became so annoyed by Brian Close's captaincy during a Somerset match at St Helen's in 1972 that he announced over the tannoy: "In view of Somerset's negative approach, we are happy to refund the admission money of any spectator who wishes to call at the county office."
JBG Thomas, the doyen of Welsh sports writing who worked closely with Wooller as a journalistic colleague in the rugby season and reported Glamorgan cricket in the summers, referred to him as "The Godfather of Glamorgan Cricket". Thomas furthermore described him as enigmatic. "To those who know him well [he] is, deep down, a shy and kindly man, far more retiring in manner than his public image would suggest."
A compelling figure, Wooller was an outspoken broadcaster as well as a trenchant critic for the now defunct News Chronicle after the war.
His observations on sport, perceptive and provocative but always honest, continued to entertain readers, listeners and viewers in Wales. He spoke with enthusiasm and a depth of knowledge.
One of his most memorable outside broadcasts came from St Helen's on a lazy Swansea afternoon in the late summer of 1968 when cricket history was made by Garry Sobers. Playing for Nottinghamshire, the former West Indies captain craashed a record six sixes off a Malcolm Nash over while Wooller was at the microphone.
Wooller campaigned vigorously in support of sporting relations with South Africa at the time of the anti-apartheid demonstrations against the rugby and cricket tours in 1970, argueing that politics should not relate to sport.
Wooller played for Cardiff City FC at soccer, once scoring a hat-trick at centre-forward. He also signed for Barry Town in 1938, with the intent of playing for the club on week nights while continuing his rugby at weekends. Wooller also represented Wales at squash racquets and the Cardiff Athletic Club at bowls.
Never one to back down or bow to political correctness, he relished challenges. Even as a pensioner on the Cardiff crown-green bowls circuit his combative spirit, by all accounts, was still to the fore.
Among the many tributes paid following his death, aged 84, in March 1997, Sir Tasker Watkins VC, president of the Welsh Rugby Union, said Wooller was "one of the greatest sportsmen Wales has ever produced… indeed there is any amount of evidence to suggest that he was the greatest of them all."
Back to HOME PAGE