Ian Rush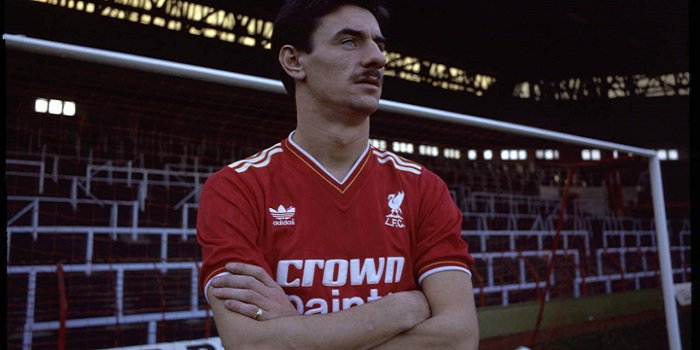 IAN RUSH MBE is a Welsh former professional footballer who played as a forward for Liverpool from 1980–1987 and 1988–1996 and is the club's all-time leading goalscorer with 346 goals in all competitions. At international level, Rush made 73 appearances for the Wales national team and remained the record goalscorer for his country until 2018, with 28 goals between 1980 and 1996.
Regarded as one of the greatest ever Liverpool players, Rush came third in the club's 100 Players Who Shook The Kop official fan poll.
His predatory instincts in front of goal were instrumental in the Reds dominating the game for most of the 1980s. He was loved at Anfield, feared at every opposition ground and renowned throughout Europe.
Electric pace and eagle-eyed anticipation meant he was a nightmare to mark and his attacking partnership with Kenny Dalglish is regarded as one of the best ever.
Rush also had short spells with Chester City, Juventus, Leeds United, Newcastle United, Sheffield United, Wrexham and Sydney Olympic. Since retiring as a player in 2000, Rush has had a stint as manager of Chester City (2004–05), and has worked as a television football pundit.
Born in St Asaph, Flintshire, on October 20, 1961, Rush was raised with four sisters and five brothers in the town of Flint.
After attracting attention from league scouts while playing for Deeside Primary Schools at 13, his early playing reputation was enhanced by scoring for Chester in a shock 2–0 FA Cup third round win at Second Division side Newcastle United in January 1980, with Chester City equalling their best run by reaching the last 16.
Despite interest from Manchester City, and in spite of Rush being a boyhood Everton fan, Liverpool won the race to sign the 18-year-old in April 1980. Recommended by chief scout Geoff Twentyman, Liverpool paid a record fee for a teenager of £300,000. Much of the credit for Rush's development is given to youth manager Cliff Sear. Nearly 20 years later, Rush and Sear worked together on the coaching staff at Wrexham.
Rush made his international début in May 1980, just before he officially became a Liverpool player. His Reds début came in December that year in a First Division fixture against Ipswich Town. Liverpool finished fifth in the league, but they did win the European Cup and the League Cup that season.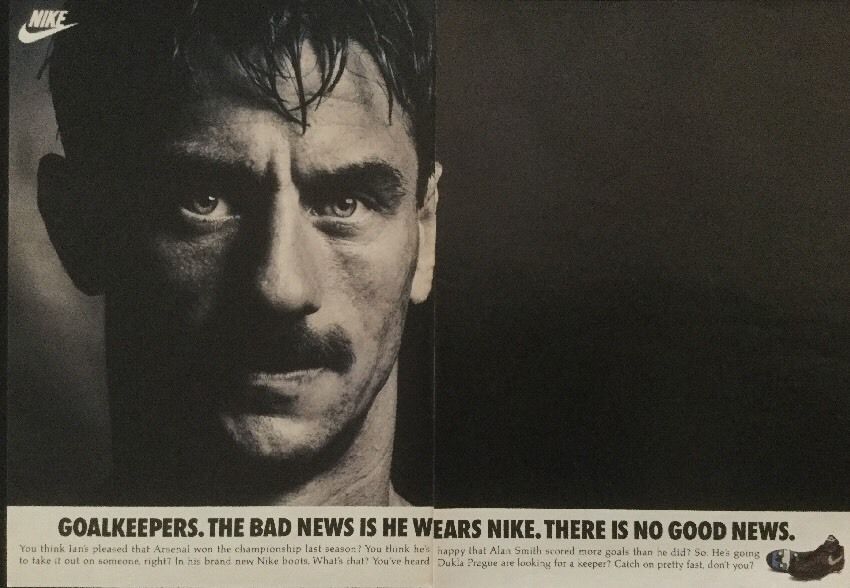 His first two league goals came on October 10, 1981, in a 3–0 home win over Leeds United, and a month later he scored in the Merseyside derby at Anfield in a 3–1 win. After Christmas however, Rush and Liverpool moved from 10th up to the top of the league. He scored a hat-trick in the 4–0 away league win over Notts County on January 26, 1982, and was on the scoresheet in both of the next two games. He managed a total of eight goals in the League Cup (one of them in the final win over Tottenham Hotspur) and three of them in the FA Cup campaign which ended in a fifth-round defeat by Chelsea.
He ended the season as the club's top scorer, netting 30 times in 49 appearances in all competitions, 17 of those goals coming in the League as he helped Liverpool reclaim the championship from Aston Villa.
He was voted PFA Young Player of the Year in 1983 after helping Liverpool to a second successive First Division/League Cup double. He scored 24 League goals as Liverpool finished 11 points clear of runners-up Watford. On November 6, 1982, Rush scored four goals against Everton in a 5–0 victory, a post-war record for goals by a single player in a Merseyside derby.
Liverpool's third successive League Cup triumph was added through a 2–1 win over Manchester United after extra time at Wembley. He was voted PFA Player of the Year and BBC Wales Sports Personality of the Year in 1984 as Liverpool retained both the League and the League Cup and won the European Cup to complete a unique treble that season.
Rush also added the Football Writers Footballer of the Year to the PFA award he had already claimed – the same feat that his strike partner Kenny Dalglish had achieved a year earlier.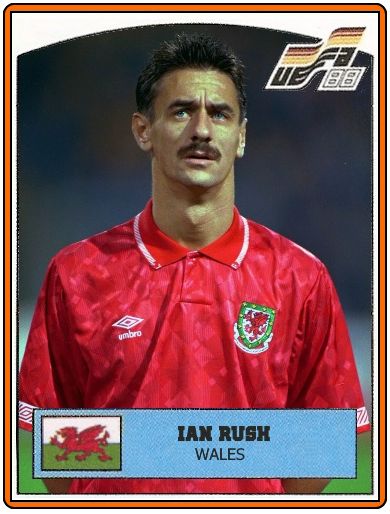 He scored 47 goals in 65 games (making him the highest goalscorer in all competitions for any professional club that season) as Liverpool finished three points clear of closest rivals Southampton in the League. They beat derby rivals Everton 1–0 in the replayed final of the League Cup (after a 0–0 draw in the first-ever all-Merseyside final). They also won their fourth European Cup by defeating AS Roma 4–2 on penalties (Rush made it 3–2 before Bruce Grobbelaar's famous 'jelly legs' antics) following a 1–1 draw after extra time.
The 1984–85 season was Liverpool's first trophyless season in 10 years, though they did reach their fifth European Cup final against Juventus in the game of the Heysel Stadium disaster. Before the match kicked off rioting football hooligans caused a retaining wall to collapse, killing 39 Juventus supporters. The game ended in a 1–0 win for Juventus.
Liverpool were beaten to the title by neighbours Everton, who were crowned champions with four matches to spare. The sequel to the Heysel disaster was an indefinite ban on all English clubs in European competition, with Liverpool set to serve an extra season once the ban was lifted on other English clubs.
The 1985–86 season saw Rush score twice as Liverpool beat Southampton 2–0 in an FA Cup semi-final at White Hart Lane, booking a place at Wembley to face Everton in the first all-Merseyside FA Cup final. Liverpool had pipped their city rivals to the League title. Everton opened the scoring, but Rush scored twice as Liverpool held on to win 3–1 and complete a first League and FA Cup double. Rush added the Man of the Match award to his winner's medal.
After attracting much interest from top European sides, Rush accepted an offer to sign for Italian club Juventus in July 1986 for a British record transfer fee of £3.2m. However, he continued to play at Liverpool for one season on loan before making his Juve début. He was the second highest goalscorer in the Football League for the 1986–87 season with 30 First Division goals.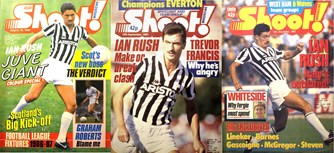 However, the move to Italy was viewed as a new challenge for Rush who would have the task of unlocking the much tighter defences in Serie A. His time at Juventus was less than successful, however, as he scored only eight times in 29 games.
He denied struggling to settle in Turin, stating: "I was homesick at times, but it is one of the best things I've done in my life".
After just one season at the Stadio Comunale, he returned to Anfield, rejoining Liverpool for £2.7m in August 1988 – a record signing for an English club at the time, which remained unbroken for three years.
On his return to Anfield, Rush had serious competition for a place in the new-look Liverpool attack, with John Aldridge having joined the club just before Rush's move to Juventus and Peter Beardsley arriving shortly afterwards.
However, Rush finished the season in style as he came off the bench to score twice against Everton in a thrilling 3–2 extra-time win in the 1989 FA Cup Final.
That final took on even greater significance because of the events of April 15 that year. In the semi-final, Liverpool had been drawn against Nottingham Forest at Hillsborough, home of Sheffield Wednesday. However, the game was brought to an abrupt end at 3.06pm due to an unfolding disaster. Ninety-four fans were crushed to death that day, with the final death toll eventually reaching 96. Rush, along with his team-mates, attended many of the funerals.
At the end of that season, UEFA voted for the ban on English teams in European competitions to continue for at least one more season, meaning that Rush and his team-mates would be unable to challenge for the Cup Winners' Cup.
The 1989–90 season saw Rush win another League title, his fifth and last, as Liverpool finished nine points clear of Aston Villa, the Welsh striker scoring 18 times in 36 games.
In 1992, Rush picked up a third FA Cup winners' medal, scoring Liverpool's second goal in the 2–0 win against Second Division Sunderland at Wembley.
Rush returned to his peak during the final weeks of the 1992–93 season with 11 goals during the final two months, and he finished the season as the club's top scorer with 14 league goals. He topped the goalscoring charts once again in 1993–94.
Rush picked up his fifth League Cup winners' medal in 1995, when two goals from Steve McManaman saw off a spirited challenge from outsiders Bolton Wanderers. Earlier in the competition, Rush scored a hat-trick as Liverpool beat Blackburn Rovers at Ewood Park, the team who would go on to win the Premier League that season.
On April 27, 1996, Rush played his farewell game at Anfield. He came on as a substitute in a 1-0 win over Middlesbrough, but couldn't get on the scoresheet. Rush was applauded by both sets of fans. He took his shirt off and threw it into the Kop. "It was an emotional day but also a fantastic day for me," Rush said after the final whistle. "The reception I got will live with me forever. I'm sorry I didn't score. The fans were willing me to score and I wanted to score as much as they wanted me to. I wanted to stay on the pitch forever."
Rush said farewell a month later when he agreed to sign for Leeds United. Rush spent a season with Leeds but scored just three times in 36 Premier League games and was given a free transfer at the end of the 1996–97 campaign.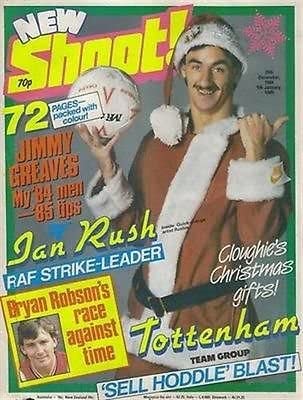 He then linked up with former Liverpool strike partner Dalglish at Newcastle United on a one-year contract but lost his place in the side after Christmas, when Alan Shearer returned from a long-term injury. However, Rush did score an important goal in a 1–0 win over Everton in the third round of the FA Cup, his 43rd in the competition (a 20th-Century record).
He had a loan spell with Sheffield United later in the season, before leaving St James's Park in the summer of 1998 to sign, amid much fanfare, for Wrexham. The by now 37 year-old Rush failed to score in 18 Division Two starts for the north Wales club, and was moved into midfield towards the end of the season. He made a brief playing comeback with Sydney Olympic in Australia, scoring one goal in three games, before finally retiring, aged 38, in 2000.
Rush made his Wales debut before he had been handed his first start for Liverpool, playing his first match on May 21, 1980, against Scotland in Glasgow, a 0–1 loss. He played his last international match on January 24, 1996 – a friendly match against Italy in Terni which Wales lost 0–3. In between, Rush played regularly for the Welsh national team for more than 15 years, scoring 28 goals in 73 games.
He scored in a friendly against Italy in Brescia on June 4, 1988, the only goal in a shock win. During his career the team never qualified for a major tournament, although in 1991 he scored the winning goal in a memorable Euro 1992 qualifier against Germany. On October 9, 1992, he netted a hat-trick in a 6–0 win over the Faroe Islands at Cardiff Arms Park. Rush was Wales's record goalscorer until 2018 when his record of 28 goals was surpassed by Gareth Bale.
Wales star Ryan Giggs is amongst his biggest admirers: "As a schoolboy the three strikers I admired most were Ian Rush, Mark Hughes and Gary Lineker. But Rushie stood out because he was such an inspiring example to youngsters with so many other assets to his game."
After working as a part-time striker's coach for Liverpool under Gerard Houllier in 2003, Rush was appointed manager of his first professional club, Chester City, in August 2004. The appointment last less than one season, during which time he had ruled himself out of the running for the vacant Welsh manager's job.
Since November 2005, Rush has been involved in media work within the game, including a stint as an analyst with ESPN. He also appears as a pundit and reporter for Sky Sports and Sky Sports News and has done work on LFC TV.
Rush was inducted into the English Football Hall of Fame in 2006 due to his achievements in the game.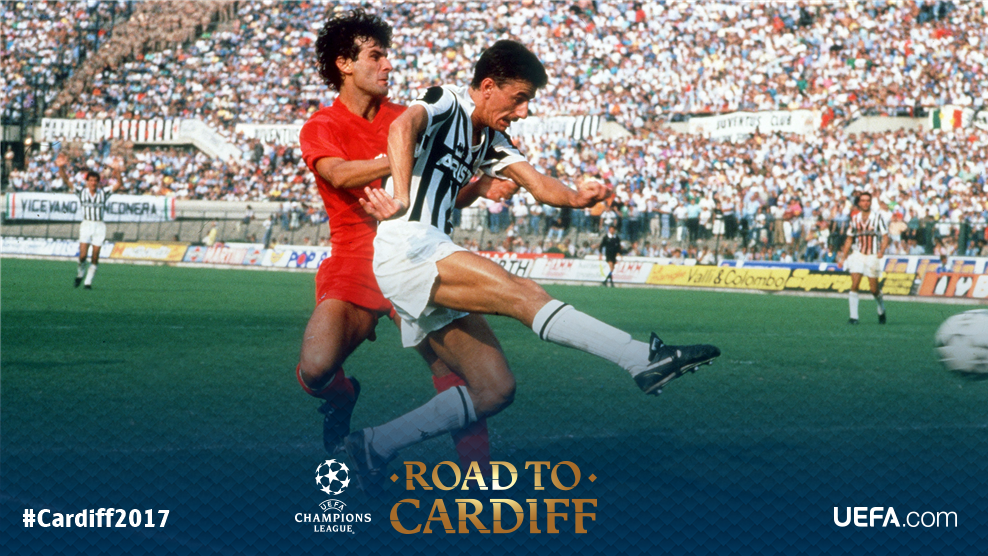 On September 7, 2007, it was announced that Rush had been appointed Elite Performance Director for the Welsh Football Trust, a part-time role in which he would help develop the next generation of players for Wales's national teams.
Rush released his autobiography on August 21, 2008, Rush: The Autobiography, through Ebury Press.
On 26 April 2010, it was announced that Rush had returned to work with Liverpool FC, becoming the club's new Soccer Schools Ambassador and it was announced he would also work with the club's commercial team to help develop and support partnerships with other global sponsors and brands.
In August 2016, Rush was named as ambassador for the 2017 UEFA Champions League Final, which took place in Cardiff.
BACK TO HOME PAGE