Lynn Davies
THE performances of former Welsh track and field athlete Lynn 'The Leap' Davies more than half a century ago still place him amongst the world's sporting elite today.
Davies won the long jump gold medal at the Tokyo Olympc Games in 1964 with a mark of 8.07 metres (26ft 6in).
He would jump over eight metres no fewer than 21 times; compare that to 2009 when only two British athletes exceeded the eight-metre mark.
In Davies's Welsh Athletics biography, it is noted: "His long jump best of 8.23m, set in Berne in June 1968, is still the fourth best long jump of all-time by a British athlete – despite the improved facilities of today, where all-weather run-ups have replaced the soggy loose cinders that Lynn mostly competed on… Put in a nutshell, he was a brilliant and extraordinary athlete, like Barry John, JPR, JJ, Gareth and John Charles all rolled into one."
Davies became the first athlete to hold Olympic, European and Commonwealth titles at the same time and his 43 senior international appearances for Britain included a remarkable tally of 28 victories in 100 metres, long jump and relays.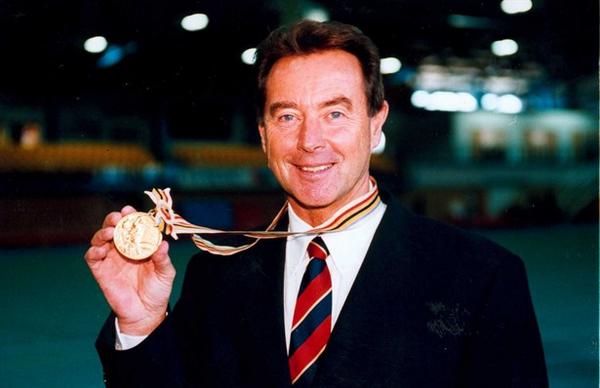 Outside the Olympics, Davies was the 1966 European champion in the long jump and a silver medallist three years later. He was also twice the Commonwealth Games champion, winning titles for Wales in 1966 and 1970. He set 17 British and Commonwealth records.
Davies was born in Nantymoel, near Bridgend, on May 20, 1942, and emerged from Roath Harriers to become a member of the Cardiff Amateur Athletic Club and compete for Wales and Great Britain with distinction.
A talented all-round sportsman, Davies shone at football and rugby while at Ogmore Grammar School, playing on the wing for his school team, and also had a trial for Cardiff City FC.
But when the former Cardiff Training College student was spotted at an athletics meeting by the then newly-appointed Wales national athletics coach, Ron Pickering, he noticed Davies's "fantastic" potential.
Ron, who died in 1991, said: "I asked him if he wanted to be greatest athlete Wales had ever produced and whether he was prepared to work harder than any other athlete had ever worked. Although quiet and shy, he was quite firm in saying that he wanted exactly that."
Lynn remembers that occasion in 1961 well: "I won the triple jump in a new Welsh record and came second in the long jump to the late Bryan Woolley, the reigning champion. By absolute coincidence Ron was there and that was how it all started."
After finishing second in that Welsh Championships long jump at Maindy, and still only 20 years-old, Davies's first major championships were the Commonwealth Games in Perth the following year.
He just missed the bronze medal by a tantalising one centimetre, setting a new Commonwealth and British record of 7.72m to beat Peter O'Connor's British best set 61 years previously.
Not many people had predicted a medal for the Welshman in Tokyo, let alone a gold. He went into the competition fifth in the world with 8.04m, with Ralph Boston of the USA leading the list with his world record 8.34m. But it was Davies who triumphed in a rain-swept stadium, jumping 8.07m, four centimetres ahead of reigning champion Boston and eight clear of Russian bronze medallist Igor Ter-Ovanesyan.
His performance earned him that 'Lynn The Leap' nickname and he returned to a hero's welcome in Cardiff, bringing the centre of the Welsh capital to a grinding halt.
Welsh Athletics records that Boston was given a chance for revenge in Davies's back yard the following year.
"Maindy Stadium on North Road, Cardiff, was then the Mecca for Welsh athletics. The Welsh Games, started in 1959 to keep alive the spirit of the 1958 Cardiff Empire Games had been held there each year, and was one of the major events in the British calendar.
"Cardiff City Council and the Welsh Games Council decided to bring the still world record holder Boston over from the United States to jump against Lynn to give his Welsh fans a first-hand view of their Welsh idol.
"At great expense, Cardiff City Council dug a special long jump pit in front of the main grandstand to give the event maximum exposure. For a whole hour there were no other events on the programme so that the crowd had no distractions, and Ron Pickering gave a commentary on the event over the public address system.
"Boston won with a leap of 8.18m which still stands as a Welsh all-comers' record to this day. Lynn says of that day in his autobiography Lynn Davies: Winner Stakes All: 'He slaughtered me in front of 10,000 Welshmen… It was so quiet when I jumped… I could hear my own footsteps on the cinders… Everybody was shouting for me as I jumped… But I was absolutely humiliated'."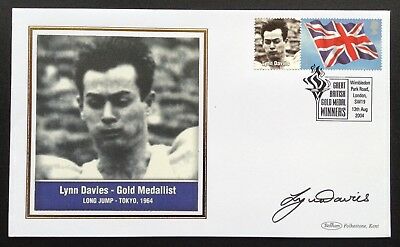 Bob Beamon put paid to Lynn defending his Olympic title in 1968 by soaring to 8.90m in the rarefied atmosphere of Mexico City for a world record that was to stand for almost a quarter of a century.
Davies's European title came in Budapest in 1966 when he beat great rival Ter-Ovanesyan by 10cms with his last jump. He took the first of his two Commonwealth titles for Wales in Jamaica in 1966 and defended the title in Edinburgh in 1970.
As well as his long-jumping exploits he was an outstanding sprinter being a regular in Britain's sprint relay team.
His last major championships were the Munich Olympics – his third appearance in the Games – in 1972 where he was Britain's team captain, narrowly failing to reach the final round.
His last competitive event came in the colours of Cardiff AAC, in a British League fixture at Cwmbran in 1973. He ran the last leg of the sprint relay to seal Cardiff's win and lay the foundation for them to eventually retain their British League title that year.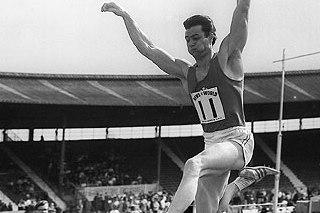 After retiring from competition he became technical director of Canadian athletics until 1976. He returned home to a new appointment as technical officer for the Sports Council for Wales and was later appointed British athletics team manager. He remained at the forefront of British athletics as the well-respected President of UK Athletics.
He was one of the first five athletes inducted into the Welsh Athletics Hall of Fame in 2007 and is a vice-patron of Welsh Athletics, the governing body of the sport in Wales.
Davies was twice a winner of the BBC Wales Sports Personality of the Year award, taking the honour in 1964 and 1966.
He was created a CBE on June 17, 2006, having previously received an MBE in 1967.
BACK TO HOME PAGE