Wales at the Olympics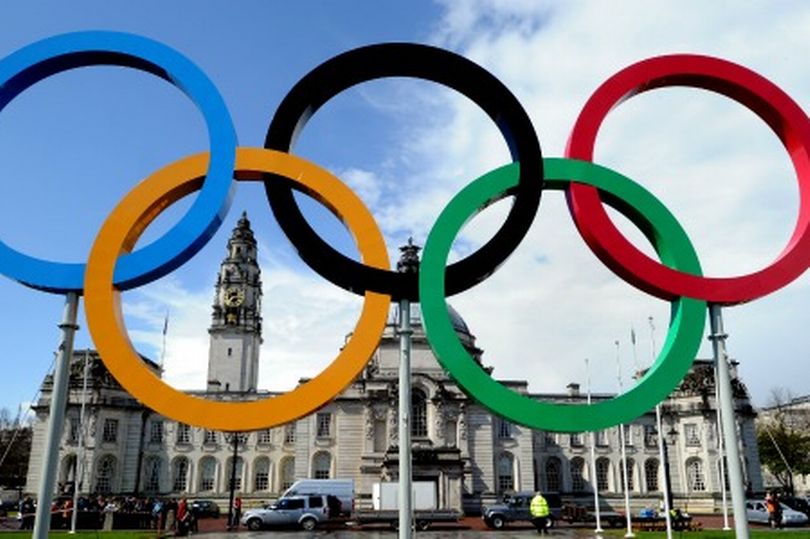 UNLIKE the Commonwealth Games, Wales competes under the British flag at the Olympics. The 2016 Olympic Games in Rio was by far the most successful yet for Welsh members of the GB team with a haul of four gold and seven medals medals.
Jade Jones defended her women's taekwondo under-57kg Olympic crown, while Hannah Mills went one better than the 470 class silver she won in London four years earlier in the women's sailing. The other two golds went to cyclists Owain Doull and Elinor Barker in the men's and women's team pursuit races respectively.
Yet Jones was not the first double Olympic champion to hail from Wales – cyclist Geraint Thomas and rower Tom James each took gold at both the 2008 Olympic Games in Beijing and London 2012.
Prior to that, however, Welsh competitors had been through a few lean decades – you would need to go back to Munich 1972, in fact, when Richard Meade struck double-gold in the equestrian three-day team and individual events. That took Meade to three personal gold medals after his feat of becoming the first British equestrian rider to win an individual Olympic title at Mexico in 1968.
Not that Wales had not enjoyed Olympic success on horseback prior to that, with Sir Harry Llewellyn picking up team show-jumping gold and bronze medals back in the late '40s and early '50s and David Broome bagging two more show-jumping bronze medals in the 1960s.
Another Welsh double Olympic gold medallist at a single Games – Los Angleses 1932 – was rower Hugh Edwards, but you would have to look back to the very earliest Olympic Games to find Wales's greatest-ever Olympian – and arguably greatest-ever sportsman – Paolo Radmilovic.
The Cardiff-born swimmer and water polo giant won four golds over three Olympics between 1908 and 1920 and was Great Britain's most successful Olympic athlete until rower Sir Steve Redgrave won his fifth gold medal in successive games in Sydney 2000.
Wales played its part in the 2012 London Olympic Games, hosting the very first event of the 'greatest show on Earth' when close to 40,000 people were at Cardiff's Millennium Stadium to see the Great Britain women's football team take on New Zealand in front of a television audience of millions across the globe.
Wales's Olympic Roll of Honour
1908 LONDON OLYMPICS
Paulo Radmilovic, Water polo – GOLD
Paulo Radmilovic, 4×200 freestyle swimming – GOLD
Albert Gladstone, Men's coxed eights – GOLD
Reginald Brooks-King, Archery (Men's double York Round) – SILVER
Welsh team, Hockey – BRONZE
1912 STOCKHOLM OLYMPICS
David Jacobs, 4x100m sprint relay – GOLD
Irene Steer, 4x100m freestyle swimming – GOLD
Paulo Radmilovic, Water polo – GOLD
William Titt, gymnastics – BRONZE
William Cowhig, gymnastics (men's team all-round) – BRONZE
1920 ANTWERP OLYMPICS
Paulo Radmilovic, Water polo – GOLD
Christopher Jones, Water polo – GOLD
Cecil Griffiths, 4x400m relay – GOLD
John Ainsworth-Davies, 4x400m relay – GOLD
1932 LOS ANGELES OLYMPICS
Hugh Edwards, Coxless pairs rowing – GOLD
Hugh Edwards, Coxless fours rowing – GOLD
Valerie Davies, 100m backstroke swimming -BRONZE
Valerie Davies, 4x100m freestyle swimming – BRONZE
1948 LONDON OLYMPICS
Thomas Richards, Marathon – SILVER
Ken Jones, 4x100m sprint relay – SILVER
Ron Davis, Hockey – SILVER
William Griffiths, Hockey – SILVER
Sir Harry Llewellyn, Team show jumping – BRONZE
1952 HELSINKI OLYMPICS
Sir Harry Llewellyn, Team show jumping – GOLD
John Disley, 3000m steeplechase – BRONZE
Graham Dadds, Hockey – BRONZE
John Taylor, Hockey – BRONZE
1960 ROME OLYMPICS
David Broome, Show jumping – BRONZE
Nick Whitehead, 4x100m sprint relay – BRONZE
1964 TOKYO OLYMPICS
Lynn Davies, Long jump – GOLD
1968 MEXICO CITY OLYMPICS
Richard Meade, Equestrian – GOLD
Martyn Woodroffe, 200m fly swimming – SILVER
David Broome, Show jumping – BRONZE
1972 MUNICH OLYMPICS
Richard Meade, Three-day equestrian team event – GOLD
Richard Meade, Three-day equestrian individual event – GOLD
Ralph Evans, light-flyweight boxing – BRONZE
1980 MOSCOW OLYMPICS
Michelle Probert, 4x400m relay – BRONZE
Charles Wiggin, Coxless pair rowing – BRONZE
1984 LOS ANGELES OLYMPICS
Robert Cattrall, Hockey – BRONZE
1988 SEOUL OLYMPICS
Colin Jackson, 110m hurdles – SILVER
1992 BARCELONA OLYMPICS
Helen Morgan, Hockey – BRONZE
1996 ATLANTA OLYMPICS
Jamie Baulch, 4x400m relay – SILVER
Iwan Thomas, 4x400m relay – SILVER
2000 SYDNEY OLYMPICS
Ian Barker, Sailing (49er class) – SILVER
2004 ATHENS OLYMPICS
David Davies, 1,500m freestyle swimming – BRONZE
2008 BEIJING OLYMPICS
Nicole Cooke, Women's road race cycling – GOLD
Tom James, Coxless four rowing – GOLD
Geraint Thomas, Cycling team pursuit – GOLD
Tom Lucy, Coxed eights rowing – SILVER
David Davies, 10km open-water swim – SILVER
2012 LONDON OLYMPICS
Geraint Thomas, Men's cycling team pursuit – GOLD
Tom James, Men's coxless four – GOLD
Jade Jones, Women's taekwondo under-57kg – GOLD
Fred Evans, Men's boxing welterweight – SILVER
Chris Bartley, Men's lightweight four rowing – SILVER
Hannah Mills, Women's sailing 470 class – SILVER
Sarah Thomas, Women's hockey – BRONZE
2016 RIO OLYMPICS
Owain Doull, Men's cycling team pursuit – GOLD
Elinor Barker, Women's cycling team pursuit – GOLD
Hannah Mills, Women's sailing 470 class – GOLD
Jade Jones, Women's taekwondo under-57kg – GOLD
Becky James, Women's cycling keirin – SILVER
Jazz Carlin, Women's 400m freestyle – SILVER
Victoria Thornley, Women's 2000m double sculls – SILVER
Sam Cross, Men's rugby sevens – SILVER
James Davies, Men's rugby sevens – SILVER
Jazz Carlin, Women's 800m freestyle – SILVER
Becky James, Women's cycling individual sprint – SILVER
Welsh Olympic Greats
PAOLO RADMILOVIC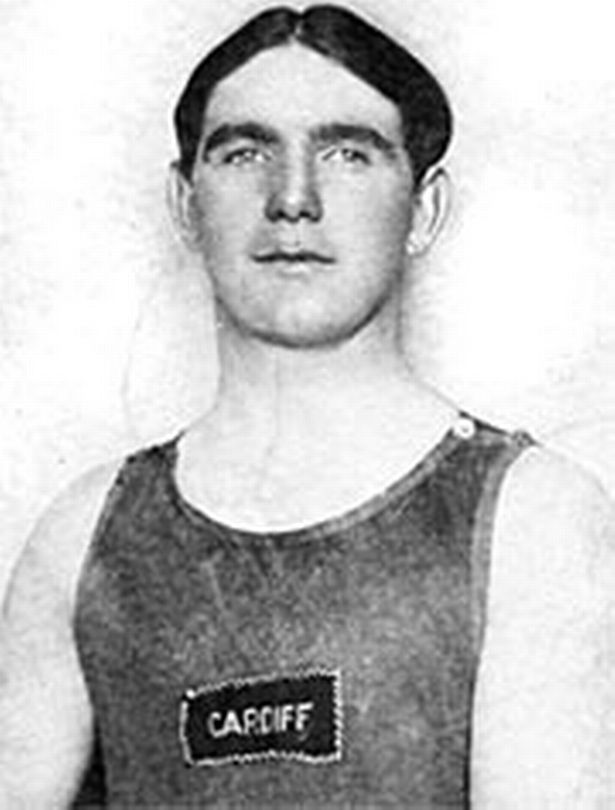 Radmilovic (March 5, 1886-September 29, 1968) was a Welsh water polo player and competitive swimmer. He was of Croatian and Irish origin, but represented Great Britain at five summer Olympic Games, winning four titles in a 22-year Olympic career. His four gold medals across three successive Olympic Games, was a British record until broken by Sir Steve Redgrave when he won his fifth rowing gold medal at Sydney in 2000. In 1928,
Radmilovic, affectionately known as the 'Shark Man of the Taff', was the first person to compete for Britain at five Olympic Games, a record that would remain until surpassed by fencer Bill Hoskyns in 1976. Radmilovic, whose father was once the landlord of the Glastonbury Arms public house in Bute Street, Cardiff, died in 1968 aged 82. He was still swimming 400 metres a day at age the age of 78.
Two statues in his memory were unveiled at the LC leisure centre near the centre of Swansea in 2014. A spokeswoman for the LC said: "The idea is to recognise his incredible sporting accomplishments and to resurrect the legacy of Radmilovic and remind people of his outstanding achievements in order to inspire a new generation of young athletes… he is a true inspiration to Welsh athletes everywhere." A plaque bearing his name was also unveiled at the International Swimming Pool in the Cardiff Bay Sports Village.
RICHARD MEADE
Richard Meade OBE (December 4, 1938-January 8, 2015) was Britain's most successful male equestrian Olympian. He was a triple Olympic gold medalist and the first British rider to win an individual Olympic title. He also won five World Championship medals, including team golds in 1970 and 1982.
Meade's Olympic victories came in the three-day team event in 1968 and 1972 and in the individual event in 1972. He also competed in the 1964 and 1976 Olympics when he matched David Broome's record of being the only British rider to compete in four Olympic Games. However, Broome reclaimed the record as his own in 1988 when he took part in his fifth Olympics. Meade had the honour of being British flagbearer at the closing ceremony of the 1972 Olympics in Munich.
Apart from his Olympic successes, Meade was a member of the winning team at the 1967 European Championships and the 1970 World Championships and placed second individually in the 1967 and 1970 World Championships. He also won at Badminton in 1969, 1970, and 1982 and won the Burghley Horse Trials in 1964.
Meade, whose parents were Joint-Masters of the Corre Hounds in Monmouthshire, was born in Chepstow and educated at Lancing and Magdalen College, Cambridge, where he took an engineering degree. After Cambridge he served in the 11th Hussars and later worked in the City.
TOM JAMES
Thomas James MBE (born March 11, 1984) is a British rower, twice Olympic champion and victorious Cambridge Blue. James was born in Cardiff and spent part of his childhood in Berlin, Germany as his father was an officer in the British Army, but considers his home town to be the village of Coedpoeth, near Wrexham. Whilst at Cambridge University, James took part in The Boat Race four times in five years, winning at the fourth attempt.
James stroked the Great Britain eight to a bronze medal at the World Championships in Milan and, at his second Olympics, was part of the GB coxless four which edged out Australia for the gold medal in Beijing.
At the 2011 World Rowing Championships in Slovenia, James raced in the men's four which won gold ahead of Greece and Australia. During the 2012 World Rowing Cup in Lucerne, James was in the four which set a new world record during the heats. At the London Olympics, they beat main rivals Australia in the semi-finals, and then repeated their win in the final.
Postboxes in Wrexham and Coedpoeth were painted gold to celebrate James's triumph at the 2012 Olympics, and, along with other British gold-medal winners he was honoured by appearing on a Royal Mail postage stamp. He was also awarded the Freedom of the Borough of Wrexham after successfully defending his Olympic title in the coxless fours event.
JADE JONES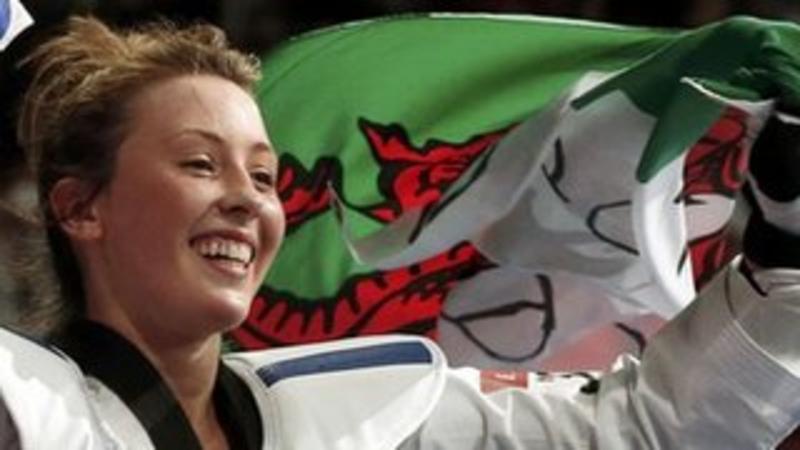 Jade Jones OBE (born March 21, 1993) is a Welsh taekwondo athlete who won gold at the 2012 and 2016 Olympic Games in the women's 57kg category. She is also the 2019 world champion, 2016, 2018 and 2020 European champion and 2015 European Games champion at the same weight. Her 2012 success in London was Britain's first taekwondo Olympic gold medal in this category.
Jones, who was introduced to taekwondo by her grandfather for self-defence at the age of eight, was at the time the reigning Youth Olympic champion in the girls' 55kg category, winning gold for Great Britain in 2010.
Jones was born in Bodelwyddan, Denbighshire, and attended Flint High School, leaving aged 16 to take up taekwondo full-time. She was named BBC Cymru Wales Junior Sportswoman of the Year 2010. She is nicknamed 'The Headhunter' because she prefers to try to score higher points from successful kicks at her opponent's head rather than the body.
Jones won the public vote for the BBC Wales Sports Personality of the Year 2012 after her London Olympics success and was appointed Member of the Order of the British Empire (MBE) in the 2013 New Year Honours and Officer of the Order of the British Empire (OBE) in the 2020 New Year Honours for services to taekwondo and sport.
HANNAH MILLS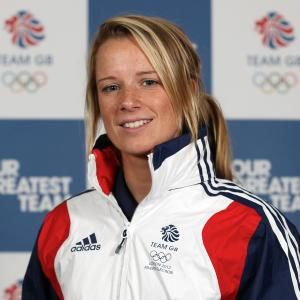 Hannah Mills MBE (born 29 February 1988) is a British competitive sailor and two-time world champion in the women's 470 class, having won in 2012 and 2019. Mills won a silver medal for Team GB with her crew Saskia Clark in the 2012 London Olympics at Weymouth and then won gold in the same event at the 2016 Olympics in Rio de Janeiro.
Mills was born in Cardiff, Wales, and started sailing at Cardiff Sailing Centre (then Llanishen Sailing Centre) when she was eight years-old after trying sailing on a family holiday in Cornwall.
In 2002, Mills was voted UK Young Sailor of the Year and BBC Wales Young Sports Personality of the Year. She won the Female World Sailor of the Year award in 2016 and was appointed Member of the Order of the British Empire (MBE) in the 2017 New Year Honours.
Mills was named among 12 sailors by the British Olympic Association for the covid-delayed 2020 Tokyo Olympics.
ELINOR BARKER
Elinor Jane Barker MBE (born 7 September 1994) is a Welsh road and track racing cyclist. Representing Welsh Cycling and Great Britain in international competitions, Barker is an Olympic, two-time world and six-time European champion in the team pursuit, as well as a two-time world champion in the points race and scratch race. Barker, from Heath, Cardiff, was appointed Member of the Order of the British Empire (MBE) in the 2017 New Year Honours for services to cycling.
She attended Llanishen High School and took up cycling with the Maindy Flyers at the age of 10. She was recruited into British Cycling's Olympic Development Academy, but remained based in Wales until she completed her A-levels in 2013, after which she moved to Manchester to train full-time at Manchester Velodrome.
She became the Junior Time Trial world champion in 2012 and was named Carwyn James Junior Sportswoman of the Year at the BBC Wales Sports Personality of the Year awards that year.
In 2013, she became a senior world champion for the first time as a member of the team pursuit squad at the UCI Track World Championships. Barker represented Wales at the Commonwealth Games in Glasgow, 2014, winning silver and bronze medals.
At her home world championships in London, Barker was part of the pursuit team to claim the bronze medal. At the 2016 Olympic Games, Barker, along with Katie Archibald, Rowsell Shand and Laura Trott claimed the gold medal in the team pursuit in a world record time of four minutes and 10.236 seconds.
At the World Championships in 2017, Barker claimed two silver medals, one in the scratch race and the other in the Madison and went on to win her first individual world title in the points race.
OWAIN DOULL
Owain Doull MBE (born May 2, 1993) is a Welsh road and track cyclist, who currently rides for UCI WorldTeam Ineos Grenadiers. Doull specialises in the team pursuit on the track and won a gold medal in the discipline at the 2016 Olympics in Rio de Janeiro; as a result, he became the first Welsh-speaking athlete to win Olympic gold.
Doull was born and raised in Cardiff, where he was educated at Ysgol y Wern and Ysgol Gyfun Gymraeg Glantaf. As a child he was a keen sportsperson and played rugby as a schoolboy as well as cycling for the Maindy Flyers.
In 2010 he was selected for the 2011 British Cycling's Olympic Development Programme, along with fellow Welsh cyclists Amy Roberts and Elinor Barker. Roberts and Barker were also part of the Wales team that entered the 2011 Commonwealth Youth Games on the Isle of Man. Doull took two medals at the games, the silver in the Men's road race and bronze alongside Dan Pearson in the men's team road race. In 2012 Doull completed the Olympic Development Programme and was accepted into the British Cycling Academy Programme.
Doull followed his first European victory 2013 with success on the world stage when he was part of the team pursuit team to take gold at Manchester in the first leg of the 2013–14 UCI Track Cycling World Cup. Then in December 2013 he won two further medals in the second leg of the World Cup, this time in Mexico. He was again part of the team pursuit which took the bronze medal, and then won his first major individual medal when he took gold in the scratch race.
Doull turned professional for the 2014 road season and represented Wales at the Commonwealth Games in Glasgow that year.
He was appointed Member of the Order of the British Empire (MBE) in the 2017 New Year Honours for services to cycling.
SIR HARRY LLEWELLYN
Llewellyn, 3rd Baronet CBE DL (July 18, 1911–November 15, 1999) was a British equestrian champion. He was born in Aberdare, south Wales, the second son of a colliery owner, Sir David Llewellyn, 1st Baronet.
A younger son, Llewellyn was second in line to inherit the baronetcy on the death of his father. He was educated at Oundle School and at Trinity College, Cambridge, before going into the army. He inherited the title on the death of his older brother, Sir Rhys Llewellyn, 2nd Baronet in 1978. His younger brother Sir David Llewellyn was a Conservative politician.
He achieved some success as a show-jumping champion during the 1930s, and competed in the Grand National steeplechase, coming second in 1936.
During World War II he saw action in Italy and after D Day in Normandy and served as a liaison officer to Field Marshal Montgomery, eventually rising to the rank of Lieutenant Colonel in the British Army. He was appointed Officer of the Order of the British Empire (OBE) in 1945 and Commander in 1953 for services to British International Show Jumping.
After the war he concentrated on show jumping, buying Foxhunter in 1947 after a long search. The duo were part of the British team that won a bronze medal in the team event at the 1948 Summer Olympics, winning the bronze medal. They captured the public imagination for their role in winning Great Britain's only gold medal at the 1952 Summer Olympics, in the team jumping equestrian event.
Foxhunter and Llewellyn won 78 international competitions during their joint career. Llewellyn later served widely in the administration of British show jumping, and was knighted in 1977 before inheriting the Llewellyn Baronetcy upon the death of his brother. After Sir Harry's death, his ashes were scattered near Foxhunter's grave and memorial on the Blorenge mountain above Abergavenny.
In 1990 he was inducted into the Welsh Sports Hall of Fame.
HUGH EDWARDS
Edwards (November 17, 1906-December 21, 1972), also known as Jumbo Edwards, attended Christ Church, Oxford, and was an rower who competed for Great Britain in the 1932 Summer Olympics. He was born to Welsh-speaking parents in Woodstock, Oxfordshire.
While rowing with London Rowing Club, he was successful at Henley Royal Regatta in 1928, 1929, and 1930, winning the Grand Challenge Cup in 1930. At the British Empire Games in Canada in 1930, London Rowing Club crews representing England, and which contained Edwards, won two gold medals, in the eights and in the coxed fours. He was then invited to row in the 1930 Oxford Blue Boat.
In the 1932 Olympics he won the gold medal in the coxless pairs event with Lewis Clive, and a second gold in the Great Britain coxless four, on the same day.
He later turned to competitive flying, coming second in the 1935 King's Cup Race.
During the Second World War Edwards served in RAF Coastal Command, once saving his own life by rowing four miles through a minefield in a dinghy after his plane crashed in the Atlantic Ocean.
He was invited back to be a member of the Oxford coaching team, but provoked a rebellion by certain members of the crew over his demands on them. Despite the resignation of certain members of the squad, Oxford beat Cambridge, and his subsequent coaching efforts made him an Oxford legend.
In 1962, he coached the Wales four containing his two sons that won silver at the Commonwealth Games in Perth, Australia.
JOHN AINSWORTH-DAVIS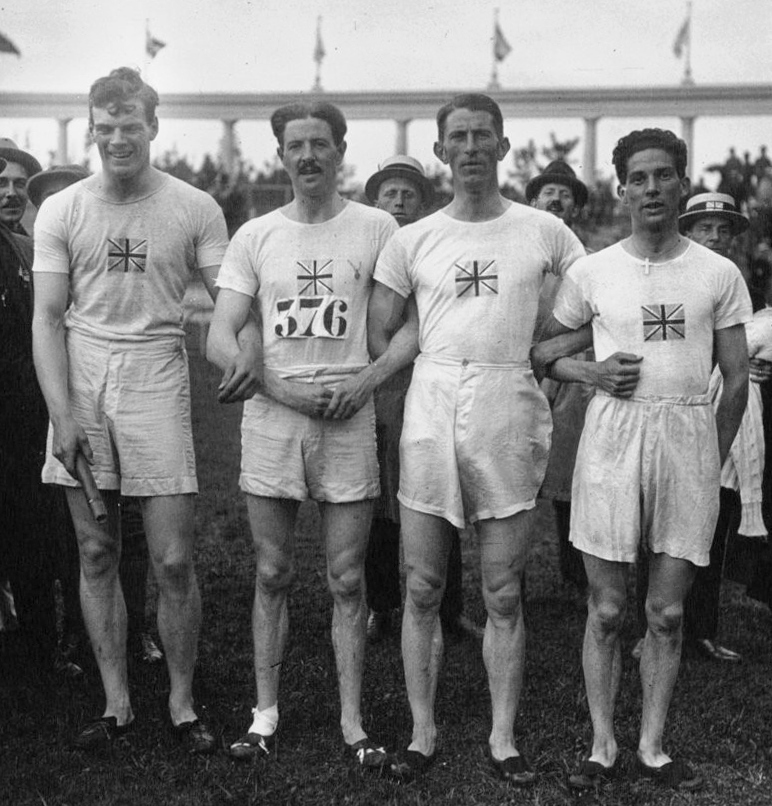 Ainsworth-Davis (April 23, 1895-January 3, 1976) was a Welsh surgeon and sprint runner who won a gold medal in the 4×400m relay at the 1920 Summer Olympics.
Ainsworth-Davis studied at Westminster School. During World War I he first served as a captain with the Rifle Brigade and then as pilot in the Royal Flying Corps.
At the 1920 Summer Olympics Ainsworth-Davis ran the third leg for the British relay team, which won the event. He also competed in the individual 400m, to replace Cecil Griffiths who fell ill, and finished fifth.
After graduating from University of Cambridge Ainsworth-Davis studied medicine at St. Bartholomew's Hospital and played music at a nightclub to support his family. He could not make time for sport, and retired from competitions after placing fourth in the 440 yards at the 1921 AAA Championships.
He became a respected urological surgeon and the Secretary of the Royal Society of Medicine. During World War II he was head of the surgical division of the RAF hospital at RAF Cosford. Later he served as Secretary and President of the Hunterian Society (1958) and Secretary of the Royal Society of Medicine.
CECIL GRIFFITHS
Griffiths (February 18, 1900–April 11, 1945) was a Welsh athlete who won a gold medal at the 1920 Summer Olympics. He was subsequently barred from competing at the 1924 Summer Olympics due to a ruling that he had competed as a professional during his early career, but continued to successfully race in domestic competitions.
Griffiths' father, Benjamin, was a former able-bodied seaman born in a workhouse who settled in Neath upon leaving the Royal Navy. He was a successful local businessman, town councilor and committee member of Neath RFC. Griffiths showed promise as a winger for Neath RFC but did not progress beyond the junior sides due to the outbreak of the First World War. One of Griffiths' uncles, George Trick, was a captain of Neath RFC. A cousin, Kathleen Trick, is thought to be the first identifiable female depicted in rugby kit.
Upon leaving school, Griffiths began work at the Great Western Railway depot in Neath. When he reached his 18th birthday in February 1918, he volunteered for the Queen's Westminsters, a Territorial Army regiment in London. The war ended before Griffiths was sent on active service.
While in the army, Griffiths ran in several races, including winning the 440 yards at the 1918 Inter-Services Championships at Stamford Bridge. When the war ended, Griffiths joined Surrey Athletics Club and made his first appearance in the AAA Championships in 1919, finishing third in the 440 yards. Third place in the same race the following year led to Griffiths being selected in the British team for the 1920 Summer Olympics. Griffiths made his only Olympic appearance in the 1920 Antwerp Games, running the opening leg in the British 4×400 metres relay team which won the gold medal. He was also picked to represent Britain in the 400m but illness forced him to withdraw before the event.
In September 1920, soon after the Olympics, Griffiths was a member of the British Empire team that broke the 4×440 yards British record in a time of 3:20.8. The following year, Griffiths claimed the Welsh records in 220 yards and 440 yards. In 1922, Griffiths switched focus to 880 yards. In his first season, he broke the Welsh record at this distance. He won the AAA Championships 880 yards in 1923 and 1925.
At the end of 1923 or in early 1924, Griffiths was banned by the International Amateur Athletics Federation and Amateur Athletic Association for receiving prize money at unregistered races in Neath and Swansea in 1917, the cumulative prizes of which totalled less than £10. As a reinstated professional, Griffiths was allowed to compete in domestic competitions but was prevented from representing the UK in international competitions. This barred him from the 1924 Summer Olympics in Paris, where it is likely that Griffiths would have competed in the 800m and 4×400m relay.
CHRISTOPHER JONES
Jones (June 23, 1884 in Penarth–18 December 18, 1937) was a British water polo player who competed in the 1920 Summer Olympics. He was part of the British team which won the gold medal.
IRENE STEER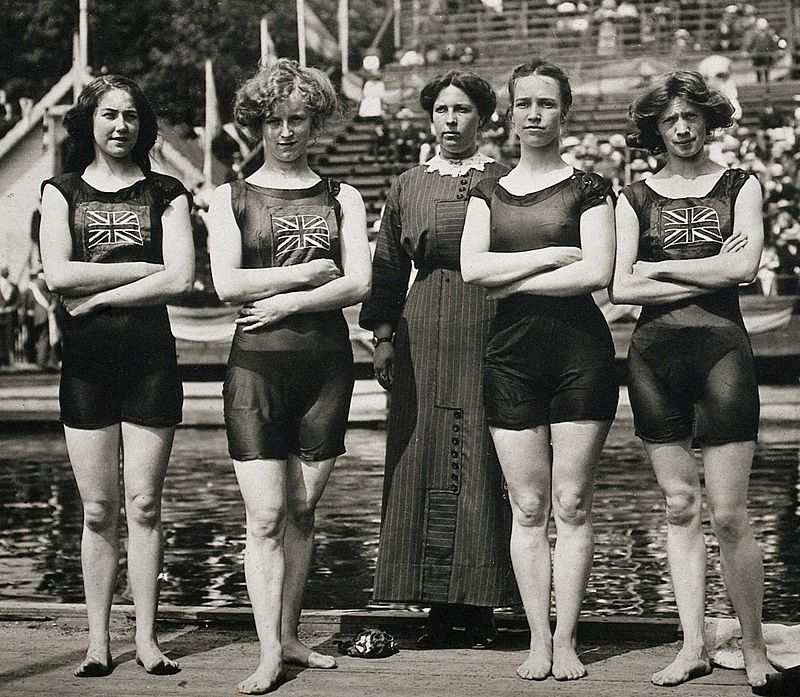 Steer (August 10, 1889–April 18, 1977) was a Welsh freestyle swimmer. She was the first of three Welsh women who have won Olympic gold medals, the others being Nicole Cooke (cycling, 2008) and Jade Jones (taekwondo, 2012 & 2016). In 1912, Steer won gold in the 4×100m relay but failed to reach the final of the individual 100m race. Steer started as a breaststroke swimmer, but in 1908–1909 changed to crawl. After retiring from competitions she married William Nicholson, director and chairman of Cardiff City FC.
DAVID JACOBS
Jacobs (April 30, 1888–June 6, 1976) was a Welsh-born track and field sprinter. He was the first British Jew to win an Olympic gold medal.
He was born in Cardiff, to John Jacobs (previously Yaakov), who was a general dealer from London. His athletics career started in London with Herne Hill Harriers in 1908. His interest in athletics was aroused by watching the 1908 Olympic Games.
At the 1912 Summer Olympics in Stockholm, Jacobs won a gold medal as the first leg in the British 4×100m relay team, in spite of finishing second behind the United States in the semi-finals. The United States was later disqualified for a fault in passing the baton, the same mistake made in the finals by the world record holder and main favourite German team. Jacobs also competed in the 100m and 200m individual events, but was eliminated in the semi-finals.
Although many times a Welsh champion, Jacobs never succeeded in winning a AAA title. He retired from active sport after World War I.
He died suddenly in Aberconwy, aged 88, while on holiday from his London home. At the time of his death he was Britain's oldest Olympic gold medallist.
SIR ALBERT GLADSTONE
Gladstone (October 28, 1886-March 2, 1967) was born at Hawarden Castle, Flintshire, the eldest son of the Reverend Stephen Gladstone and Annie Wilson, and the grandson of the former Prime Minister, William Ewart Gladstone. As a 12-year-old, he attended William Gladstone's state funeral. He was educated at Eton College and graduated from Christ Church, Oxford, in 1909 with a BA.
During his time at Oxford he was a member of the rowing eight and rowed for Oxford in the Boat Race on four occasions between 1906 and 1909. He was a member of the Christ Church eight that won the Grand Challenge Cup at Henley Royal Regatta in 1908. Four weeks later, he was a crew member of the Leander eight, which won the gold medal for Great Britain rowing at the 1908 Summer Olympics.
He also rowed in the Leander boat that won the Grand Challenge Cup in 1913. His brother, Charles Andrew Gladstone, rowed with him in the Christ Church boat at Henley in 1908. The Olympic Regatta in 1908 was on the same Henley course.
Gladstone served in Mesopotamia and Gallipoli in WW1 and was Mentioned in Despatches. He was promoted to Captain in the 2nd/5th Gurkha Rifles, in the Indian Army Reserve, and was appointed a Member of the Order of the British Empire (MBE) in 1919.
Gladstone was a successful businessman and held many important positions, being a director of the Bank of England from 1924 to 1947 and a senior partner of Ogilivy, Gillanders & Company, East India merchants. He was appointed Lieutenant of the City of London and was High Sheriff of the County of London in 1929. In 1935 he became Constable of Flint Castle and held the post until his death. He succeeded his cousin Sir John Evelyn Gladstone as baronet, on the latter's death on February 12, 1945.
MAJOR SPORTING EVENTS IN WALES
BACK TO HOME PAGE